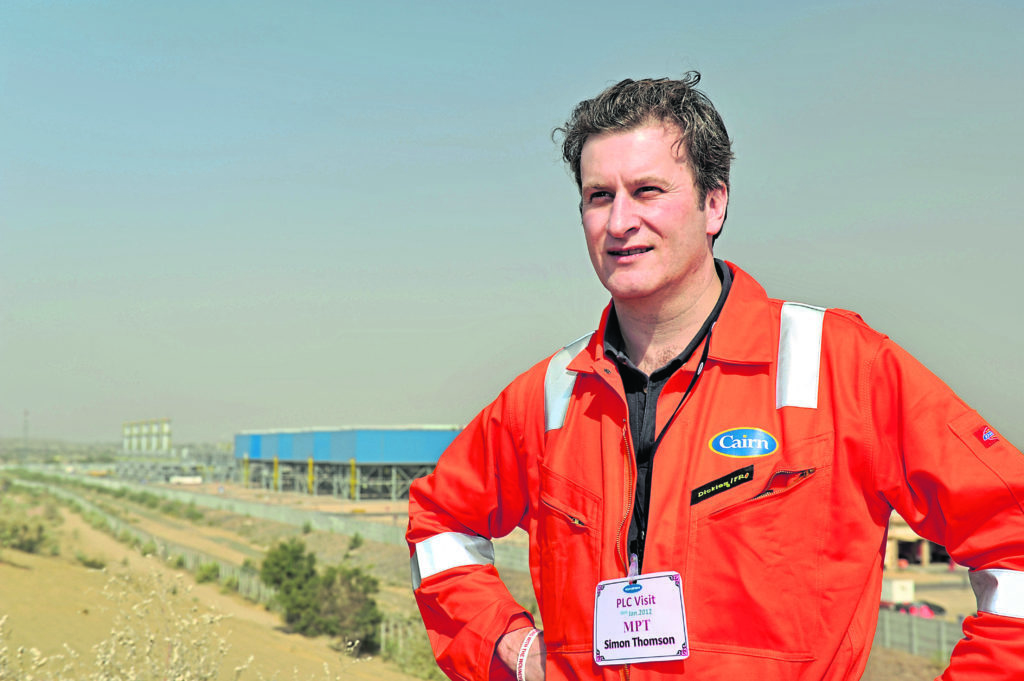 Cairn Energy's boss said today that the company was "in control of its own destiny" and would aim to capitalise on opportunities to beef up its portfolio, including in the North Sea.
Chief executive Simon Thomson said "multiple packages of assets" were coming on the market as oil and gas majors look to divest and that "right now is an attractive point in the cycle" for doing deals.
Mr Thomson said Edinburgh-headquartered Cairn would not target oil and gas fields at the end of their production lives, but was keen on assets that could prolong, sustain and grow its production base.
He was speaking after the London-listed firm reported its results for the six months to June 30 2020.
Cairn, which has interests in the UK, Israel, Mauritania, Senegal, Cote d'Ivoire, Mexico and Suriname, slid to pre-tax losses of £221 million, from profits of £57m in the corresponding period last year.
Its figures were hit by an impairment charge of £187m, linked to losses on its Senegalese assets and lower oil and gas price assumptions, while revenues fell to £167m from £210m.
The group had £65m in cash at the end of June and no drawn debt.
Mr Thomason said 2020 had been a "difficult and challenging time", but that asset sales and efforts to reduce capital expenditure had given Cairn "financial flexibility" and positioned the firm for growth.
The business completed the sale of its Norwegian subsidiary in February and struck a deal to divest its Senegalese portfolio to Russian firm Lukoil in July.
Australian operator Woodside subsequently exercised its right to pre-empt the up-to £310m Senegal sale, meaning Lukoil misses out. The transaction should go through later this year.
Cairn's production comes from its 20% non-operated interest in Premier Oil's Catcher area and a 29.5% non-operated interest in EnQuest's Kraken area, both in the UK North Sea.
It said expenditure on both fields had been reduced, with certain activities deferred, including the drilling of some satellite wells at Catcher.
Capex for the full year is now expected to be £105m, reduced from £167m.
The company also gave an update on its UK exploration interests, saying the Agar-Plantain discovery was "no longer expected to proceed to development".
Cairn farmed into the project in mid-2018, acquiring a 50% stake in the Agar-Plantain well, operated by Azinor Catalyst, and 25% of the wider P1763 licence area, operated by Apache.
Announcing the discovery in November 2018, Azinor said Agar-Plantain held recoverable resources of 15-50m barrels of oil equivalent.
Mr Thomson said a final decision had not been "firmly" made, but Cairn has "not seen sufficient commerciality" to proceed with the development of the assets, located near the Beryl area, 200 miles north-east of Aberdeen.
In March, Cairn and Shell did a 50-50 swap deal involving two exploration wells, Jaws and Diadem, near the oil major's Nelson platform. Drilling is planned for late 2021 or early 2022.
In addition, Cairn is still waiting to learn the result of a long-running arbitration with Indian tax authorities, which could result in it being compensated to the tune of £1.1 billion.
The tribunal was expected to make a ruling "after the end of the summer" 2020.
Recommended for you

Ithaca completes $1.5bn acquisition of Cambo operator Siccar Point Energy