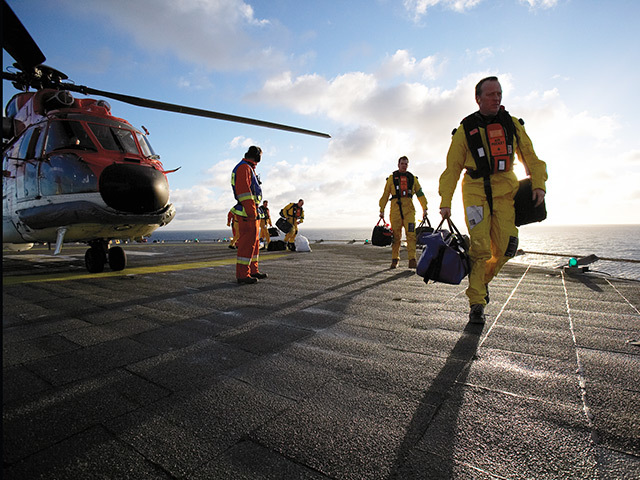 More than 80% of UK oil and gas workers are considering leaving the industry, according to a new report from climate action groups.
Platform, Friends of the Earth Scotland and Greenpeace surveyed 1,383 offshore workers – 4.5% of the overall workforce – and found four in five (81%) would consider switching to another sector.
The findings echo a similar Scottish Renewables report from August, which surveyed just 100 workers.
Oil and Gas UK has responded, calling some of the claims around worker engagement and problems with movement into renewables "misleading".
Job security, low morale and fears their community becoming a "wasteland region" were among the main concerns cited, along with "barriers" to entry into renewables.
Of those surveyed in this new report, 43% said they had been made redundant or furloughed since March.
It comes as talks are advancing on a North Sea Transition Deal from the UK Government to support the sector, which the Oil and Gas Authority has said is hoped to be delivered by the year's end.
However, the climate groups said this deal has "no vehicle for consulting oil and gas workers".
Based on the findings, Platform, Greenpeace and Friends of the Earth Scotland recommended workers should be "at the heart of shaping policies", that the industry work to improve job security and morale, and creation of better opportunities for entry into the renewables industry.
A major concern for the UK wind sector, for example, is that components are generally manufactured overseas, meaning Scottish yards like those of the firm BiFab, have consistently missed out.
One respondent suggested that a condition of receiving a Scottish wind licence should be that fabrication work goes to a Scottish yard.
Gabrielle Jeliazkov, just transition lead campaigner for Platform, said: "If the UK government is serious about levelling up and transitioning to renewable energy, workers' voices must be at the centre of that transition process.
"The government must ensure oil and gas workers are supported into secure and sustainable jobs."
The study highlighted that 91% of respondents had not heard the term "Just Transition", referring to areas like renewables and decommissioning providing sustainable jobs as the sector gradually moves away from fossil fuels.
One respondent said: "I just think it's a better work environment out of the oil and gas industry. It's always boom and bust to some degree but the last five years have not been a pleasant environment to work in – that's five years of mental toil."
Offshore union RMT, who said 300 of its members were surveyed, welcomed the report.
General secretary Mick Cash said: "The skills and expertise of offshore oil and gas workers are key to a Just Transition.
"Yet the testimony of RMT members and their colleagues lays bare the fact that chronic job insecurity in offshore oil and gas is not being alleviated by clear pathways to employment in growth areas like decommissioning, renewables and decarbonisation, despite this being central to a Just Transition."
Recommended for you

Matheson: Industry should rise to 'challenge' of climate checkpoints