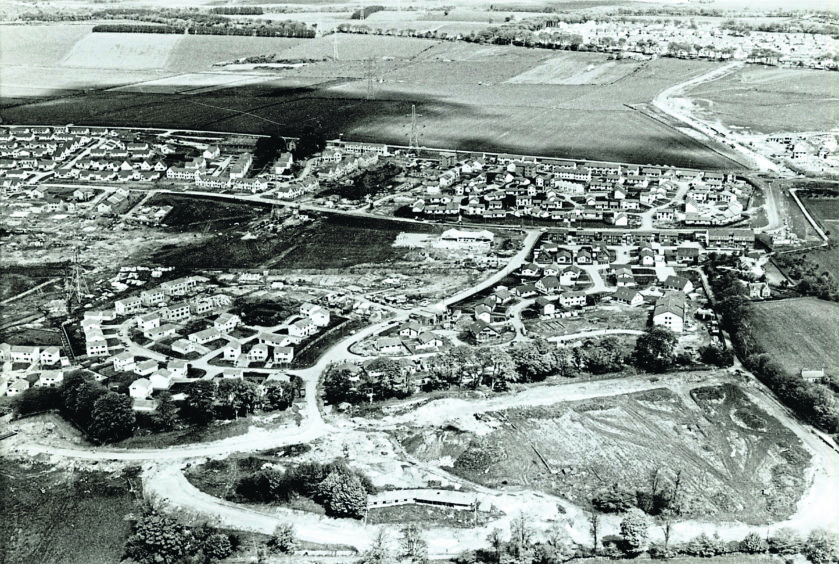 Stewart Milne vividly remembers the impact which the discovery of the Forties Field in the North Sea had on the region when he and his generation grew up.
Nowadays, he might be better known as the former chairman of Aberdeen FC, and the name behind one of the country's leading housebuilding companies.
Mr Milne was just 20 when BP's executives told the media they had struck oil, but the news was the catalyst for a remarkable transformation in his fortunes.
Yet, even though he capitalised on the expansion which happened across Aberdeen and Aberdeenshire in the aftermath of the energy revolution, he has told The Press and Journal about his regret that more was not done to spread the wealth equally.
He said: "My first memories of the oil industry arriving in Aberdeen were when I was serving my time as an apprentice electrician.
"At this time, the city council were encouraging kitchen-bathroom conversions in tenement properties, and were making grants available for this.
"This was largely driven by need, but also by the increase in wealth as a direct result of the oil industry. The opportunity this presented was what first sparked the idea of setting up my own business.
"With an influx of Americans into the city and more money around, there was a real drive to deliver new housing. The one memory that stands out and perhaps changed the perspective towards development in Aberdeen was when an auction was held in the Station Hotel for the first acres of land opening up in Westhill.
"Up until then, land in the region was selling for between £4-£7,000 per acre. The high interest in and demand at Westhill saw prices shift to around £20,000 per acre. Today, we're looking at anything between £750,000 and £1m for an acre. Westhill and the Bridge of Don, which was also developing at this time, were hot spots for homes for workers in the fledgling oil industry.
"Many of my fellow apprentices were attracted to working offshore, lured by the money and the potential of working two-on, two-off. I wasn't tempted because I was concentrating on serving my time and carrying out 'homers'. The appeal of being my own boss was more attractive to me.
"To begin with, many of the Americans who had arrived in Aberdeen saw it as a short-term thing and moved into rented accommodation and I was kept busy carrying out jobs for them in these properties. I remember being surprised by the number of power sockets they wanted. Where typically a room had two sockets, the Americans wanted four or five!
"However, in a short period of time, when it became clear that they were going to be here for longer, they started buying their own properties. With more wealth and more people buying homes, the property market in Aberdeen and Aberdeenshire was suddenly booming, but the city's amenities struggled to keep pace.
"It was a great time for the hotels, most of which were also the favoured drinking holes of such popular entertainers as Sydney Devine, who was a regular at the Cloverleaf.
"There is no doubt that these early days of oil accelerated Aberdeen's development and created a more enterprising culture which, although maybe always inherent in the region and its people, was taken to a new level.
"Since those heady early days, we've seen many ups and downs due to the cyclical nature of this commodity-driven industry but this is what has made us more innovative and resilient.
"The industry has undoubtedly put us on the map globally in a way that no other industry could have done. There are some regrets, however – that we didn't capitalise on it enough at the beginning as a city and make sure that the wealth it generated was invested in our sustainable, long-term future.
"Being more visionary and forward-thinking back then may have helped secure more investment in our communities and a more equitable distribution of the wealth which oil has generated."
However, the transformation of the north-east hasn't simply been a tale of profit and loss. In recent years, links between energy companies and charity organisations have been pivotal in the creation of all manner of entrepreneurial initiatives.
Many companies, ranging from Wood to BP and Balmoral have actively encouraged the creation of philanthropic ventures and ground-breaking schemes which have bolstered – and continue to boost – the NHS, the arts, sport and culture.
There will probably always be a sense of what might have been, while a number of fatal helicopter crashes demonstrated the risks involved for workers and pilots flying to and from oil installations.
But while the oil revolution has petered out in recent years, and almost ground to a halt during the ongoing Covid-19 pandemic, it is still at the front and centre of everything Aberdeen does.