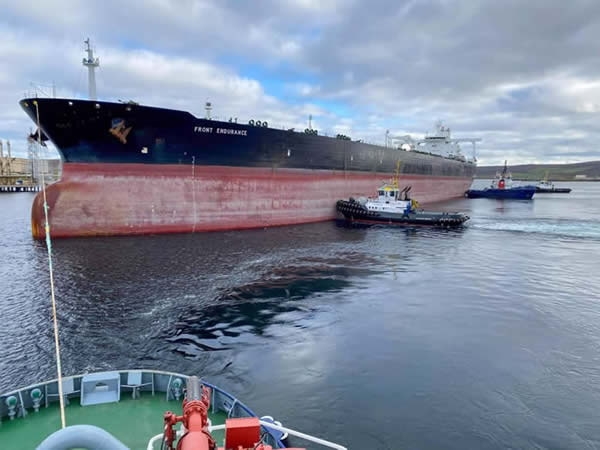 Sullom Voe has welcomed a supertanker that's been described as one of the "largest vessels" seen in the harbour for several years.
The Front Endurance crude-oil tanker, built in 2009, arrived at the port on Saturday after a voyage of 23 days from Rotterdam in the Netherlands.
According to Shetland Islands Council, the Marshall Islands registered ship will uplift around two million barrels of Brent crude oil from the jetties at Sullom Voe Oil Terminal before departing tomorrow.
At 333 metres long and with a beam of 60 metres, the vessel is in the Very Large Crude Carrier (VLCC) class, placing it among the largest ships in the world.
In comparison, the latest 'Queen Elizabeth' class of Royal Navy aircraft carriers are around 280 metres long, while the two Northlink passenger vessels, MV Hrossay and MV Hjaltland, are both 125 metres in length.
The 'Front Endurance' was escorted into Sullom Voe harbour by the pilot and harbour tugs in a carefully planned operation on Saturday morning.
Greg Maitland, harbour master at Sullom Voe Harbour, said: "Our tug crews and pilots are fully trained to safely handle ships of this size in the harbour and it's great to see vessels of this class calling at Sullom Voe again."