Extinction Rebellion activists have dumped "mounds of manure" outside the BP offices in Aberdeen as part of a climate protest.
With a bit of toilet humour, the group said it was calling out the "bullsh*t" of the oil giant's climate goals after the firm announced it would be teaming up with Aberdeen City Council on its net zero ambitions.
Yolanda Cowen, part of the Aberdeen team who delivered the soil spill, said: "You wouldn't trust a tobacco company to provide cancer care, so why are our political representatives allowing the least trustworthy company to muscle in on the most pressing issue of our time?
"They are literally the last people who should be asked. Based on the evidence – their track record – BP will always put their profits before anything else. This has moved past greenwashing, this is gaslighting."
BP highlighted its recent pledge to cut oil demand by 40% by 2030, while increasing renewable investment.
A spokesperson said the firm arrived at that pledge, and its goal to become a net zero emitter by 2050, through "dialogue, not by stunts".
BP added it ackowledges some remain "sceptical" and it must "demonstrate through our transformation that we are on target for net zero by 2050 or sooner".
Industry body Oil and Gas UK said Extinction Rebellion's "tactics stink" adding it "brings us no further forwards towards the low carbon recovery we all want to see".
The XR activist group said the demonstration is taking place as part of its three-week campaign, linking the financial sector and the Scottish Government to fossil fuels.
This is the second time this year that Extinction Rebellion has hit Aberdeen, after staging a blockade outside the Shell HQ in the city back in January, before the Covid-19 pandemic.
Scottish Conservative energy spokesman and north-east MSP, Alexander Burnett, condemned the action, stating the North Sea industry is a "huge asset" for domestic fuel supply in the UK.
He added: "Climate change will be solved by practical actions not unlawful protests which harm and cause unrest in the area – in this case Dyce."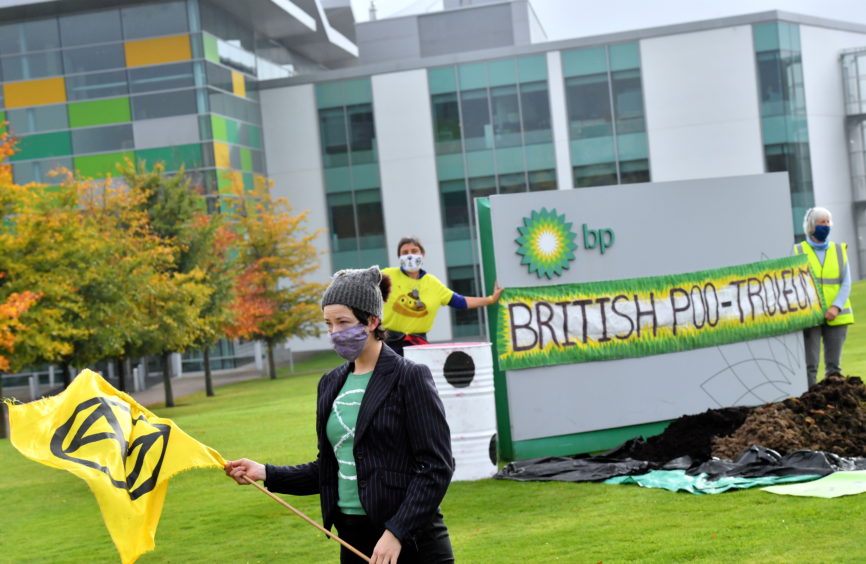 Industry-wide, the Oil and Gas Authority is making net zero a part of its regulatory regime, with penalties for breaches, while Oil and Gas UK (OGUK) has been driving Roadmap 2035 – a goal towards net zero.
It comes after BP has announced in August its plans to cut oil production by 40% by 2030.
BP's plans, part of its broader goal to go net zero by 2050, have seen its share price sink as investors remain sceptical about the capital-intensive shift to renewables.
Asked about these plans, Extinction Rebellion said: "We see their net zero by 2050 goal as really another PR stunt, if you look at their history of greenwashing and attempt to rebrand to Beyond Petroleum."
The group highlighted the "continued investment" in fossil fuels by BP.
It also comes while BP is in the process of cutting 10,000 jobs worldwide, 2,000 of which are expected to be in the UK.
An OGUK spokesperson said: "Extinction Rebellion's tactics stink. At a time when many are worried about their jobs and all companies face an uncertain economic future, this is another piece of theatre which sadly brings us no further forwards towards the low carbon recovery we all want to see."
Recommended for you

Aberdeen Shell HQ hosts Extinction Rebellion's 'Oil Slicks' protest