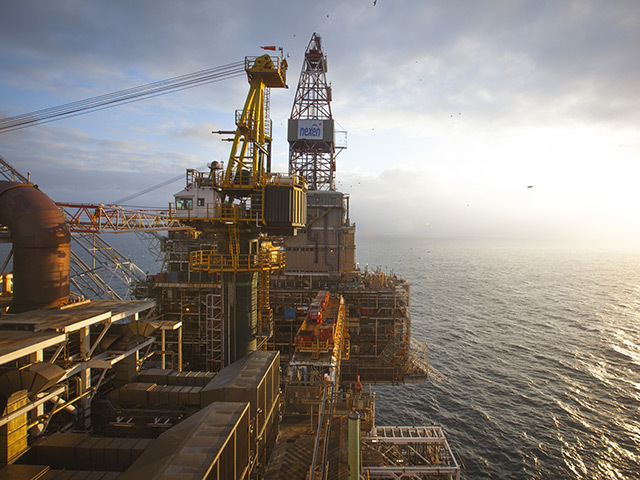 Parkmead Group's boss said yesterday that the Aberdeen-based energy firm hoped to settle on the best development option for its flagship UK North Sea oil project next year.
Executive chairman Tom Cross said the company had completed "major studies" showing oil from its Greater Perth Area (GPA) could be taken ashore via Chinese firm Cnooc's Scott platform and Ineos' Forties pipeline without any "technical hurdles".
Parkmead has been in commercial discussions with Cnooc about tying GPA back to Scott, six miles away, for well over a year.
Mr Cross said the firm was still mulling alternatives for the GPA, in the outer Moray Firth, including a standalone floating production vessel and tie-backs to other platforms in the vicinity, but Scott was in "pole position" to host oil from the development.
The GPA is thought to be capable of producing up to 130 million barrels of oil equivalent (boe).
Technical and support studies conducted with Cnooc and Ineos have convinced Mr Cross the project is "robust" and "bona fide".
He was speaking after Parkmead published results for the 12 months to June 30 2020, showing pre-tax losses of £792,000, against profits of £4.8 million in 2018-19.
Figures were dented by a £1.6m non-cash impairment related to the release of non-core acreage from Parkmead's portfolio.
Gross profits totalled £1.3m, down 78% year-on-year, while revenue was halved to £4m as oversupply into the European market and Covid's impact on demand sparked a slump in gas prices.
Parkmead's current production comes from four onshore gas fields in the Netherlands, where further development opportunities are being weighed up.
The company is also assessing several acquisition and investment opportunities in upstream natural gas in the Netherlands and UK North Sea, as well as in the renewables sector.
Last year, Parkmead bought farmland in Aberdeenshire from a company majority-owned by Mr Cross' family as part of its expansion into green power.
Studies are now being carried out to gauge the potential for a large wind farm on acreage owned by Parkmead near Stonehaven.
The site is next to Fred Olsen Renewables' 33-turbine Mid Hill wind farm and Mr Cross would like to construct a project of a similar scale.
He revealed Parkmead had been approached by "major wind power companies" who were keen to help develop the project as partners, but said Parkmead already had the expertise required to handle the project in-house.
Mr Cross' team at Parkmead is the same one that helped him build up Dana Petroleum before it was bought out by South Korea's national oil firm in a hostile takeover in 2010.
Building an onshore wind farm would be a "piece of cake" compared to constructing and operating major offshore facilities, he said, adding: "When you've built steel cities 200-300 miles offshore in the North Sea, that's a lot more complicated than putting up 30 turbines onshore."
Jonathan Wright, research director at stockbroker finnCap, described Parkmead as an exploration and production company "for all seasons", while its diversification into renewables offered some "future proofing" and opened up a new "investor-friendly" avenue of growth.