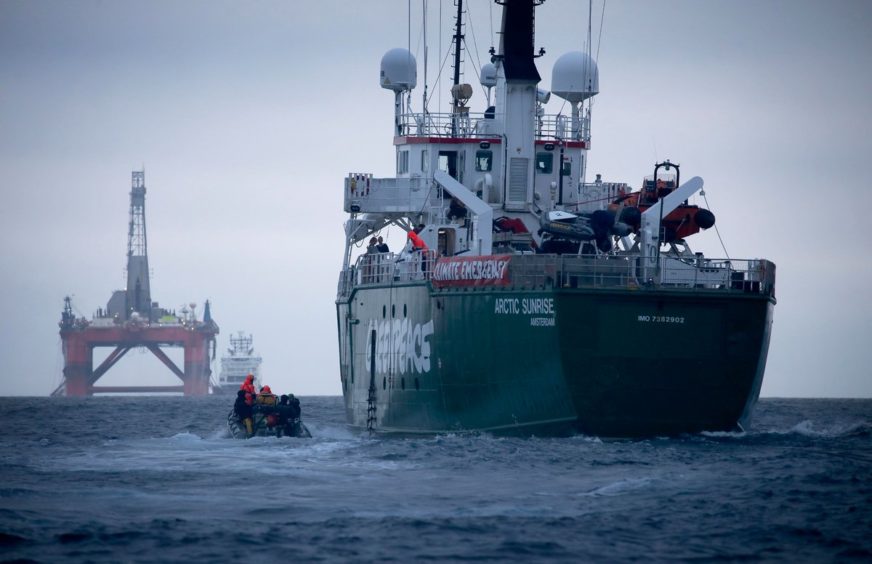 A £200 million North Sea project that environmental activists repeatedly tried to thwart has delivered first oil.
Ithaca Energy, of Aberdeen, announced this morning that production from the 30 million barrel Vorlich field began this month.
The company, owned by Israeli firm Delek Group, said in its third-quarter results statement that it had taken over as operator of Vorlich from energy giant BP.
The project was far from straightforward for the partners. Trouble started brewing in June 2019 when Greenpeace activists clambered aboard a Transocean rig while it was berthed in Cromarty Firth.
The rig had been booked to drill new wells on Vorlich, but couldn't set sail for almost a week.
Protestors then pursued the rig across the North Sea in their Arctic Sunrise vessel, blocking its path to the field for several more days, before backing down.
The standoff resulted in numerous arrests and cost the taxpayer nearly £140,000 as Police Scotland clocked up hundreds of hours of overtime.
In July 2019, a judge slapped Greenpeace with an £80,000 fine for breaching a court order obtained by Transocean to stop protestors interfering with the rig.
A court then refused Greenpeace's bid for a judicial review into the UK Government's August 2018 decision to grant BP permission to develop Vorlich.
Two wells on Vorlich have been tied back to the FPF-1 vessel on Ithaca's Stella field, about 150 miles east of Aberdeen.
First oil was initially on the slate for mid-2020, but Covid-19 led to delays.
Ithaca has a 34% stake in the licence and BP has 66%.
Bill Dunnett, chief executive of Ithaca Energy, said: "Vorlich is a significant addition to our production portfolio, utilising existing infrastructure and maximising value from the Greater Stella Area hub.
"It is a credit to the professionalism of the BP and Ithaca Energy teams involved to safely deliver this project during the global pandemic."
Emeka Emembolu, BP senior vice-president, North Sea region, said: "Our aim is to be the safest, most efficient and sustainable oil and gas producer in the North Sea and projects like Vorlich play a significant role in achieving that.
"Delivered in partnership with Ithaca Energy under extraordinarily difficult conditions, Vorlich also demonstrates BP's commitment to resilient, focused hydrocarbons, which are essential to fuelling our transformation into an integrated energy company."
BP chief executive Bernard Looney also hailed the company's North Sea business for delivering first oil.
In a post on LinkedIn, Mr Looney said the road to production start-up "wasn't always easy", in light of the Covid-19 pandemic, which led to delays.
But Mr Looney, a former North Sea chief at BP, said he loved the team spirit shown by the company and partner Ithaca Energy.
Recommended for you

Deal: Ping Petroleum buys control of Orcadian's Pilot North Sea project