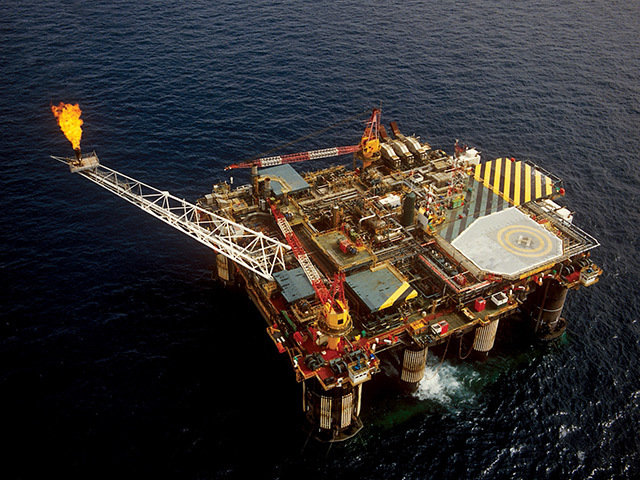 First oil from a North Sea field has been hailed as an encouraging sign that the basin remains attractive.
Ithaca Energy and partner BP yesterday announced production had started at the 30 million barrel Vorlich field, 150 miles east of Aberdeen.
The £200m project, sanctioned in 2018, was plagued by environmental activists' demonstrations, while the Covid-19 outbreak delayed it by several months.
A Transocean rig that had been booked to drill new wells on the field was boarded by Greenpeace activists in June 2019, preventing its exit from the Cromarty Firth.
Protestors then pursued the rig across the North Sea in their Arctic Sunrise vessel, blocking its path to the field for several more days, before backing down.
The standoff resulted in numerous arrests and cost the taxpayer nearly £140,000 as Police Scotland clocked up hundreds of hours of overtime.
In July 2019, a judge slapped Greenpeace with an £80,000 fine for breaching a court order obtained by Transocean to stop protestors interfering with the rig.
Vorlich is now producing via the nearby FPF-1 vessel on Ithaca's Greater Stella Area, and is expected to pump out up to 20,000 barrels per day at peak.
Aberdeen-headquartered Ithaca has now taken over as operator from BP, which managed the project through the development phase.
Ithaca, owned by Isreali firm Delek Group, has a 34% stake in the licence and BP has 66%.
Mike Tholen, sustainability director at industry body Oil and Gas UK, said the news came as a boost at a time when the sector was facing "huge pressures".
He said: "It is encouraging that our basin continues to demonstrate its attractiveness to a wide range of companies.
"It is more critical than ever to develop new resources that will help provide the UK with secure and affordable energy, whilst striving as an industry to reduce our own emissions."
Ithaca chief executive Bill Dunnett described Vorlich as a "significant addition" to the firm's production portfolio and praised those involved for safely delivering the project during the pandemic.
Emeka Emembolu, BP senior vice-president, North Sea region, said: "Delivered under extraordinarily difficult conditions, Vorlich demonstrates BP's commitment to resilient, focused hydrocarbons, which are essential to fuelling our transformation into an integrated energy company."
BP chief executive Bernard Looney lauded the resilience and "team spirit" shown by those who delivered first oil.
"It might not have been easy – but it was certainly worth it," said Mr Looney, a former North Sea chief at BP.
Ithaca also published its results for the first nine months of 2020, showing pre-tax losses of £823m, widening from losses of £12.7m in the corresponding period last year.
The figure reflected the impact of a £600m non-cash impairment arising from the oil price rout earlier this year.
Revenues for the nine months soared to £667m from £204m, primarily driven by increased production resulting from its acquisition of Chevron's UK North Sea business in late 2019.
Ithaca has continued to eat into its net debt pile, which shrank to £900m at the end of September, from £1.12bn at year-end 2019.
Recommended for you

Dozen upcoming North Sea projects to deliver 'golden opportunity'