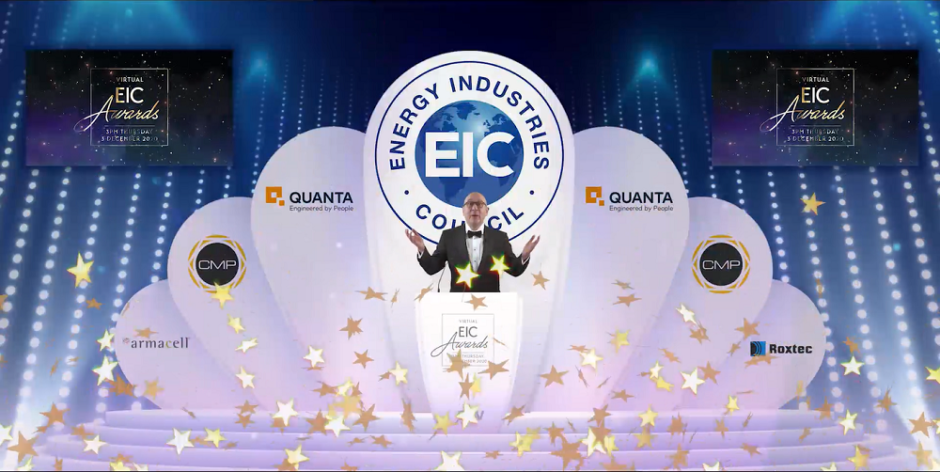 The Energy Industries Council (EIC) has announced the winners of the 2020 EIC Awards, with 13 companies sharing the top prizes in 12 categories, and one lucky Rising Star winning a scholarship worth £18,500 at the Robert Gordon University (RGU).
The annual EIC Awards celebrate energy supply chain innovation and resilience across all energy sectors, with the nominated companies noticeably increasing their focus on diversification and positioning for energy transition.
STATS Group picked up the biggest award of the night, the EIC Company of the Year, with the company's winning submission in the 2020 EIC Survive and Thrive Insight Report highlighting the success of their patented BISEP® technology.
Katarina Balcova, Marketing and CRM Key User at TÜV SÜD won the EIC / RGU Rising Star MBA Award, beating 16 of the best and brightest in the energy sector to win a full scholarship on an MBA programme of her choice at RGU.
EIC CEO Stuart Broadley said: "This year companies have demonstrated their resilience in market conditions never seen before. The competition among EIC Survive and Thrive submissions was fierce, and the finalists made it extremely difficult for the judges to select their winners.
"It's inspiring to be working with some of the energy industry's best business leaders."
The award categories reflect the key growth strategies employed by energy supply chain businesses in tough markets, as detailed in this year's Survive and Thrive report findings. These include three new categories for 2020: Energy Transition, Transformation and Culture.
Judging the Export award, Richard Simon-Lewis, Director of Business Development, Marketing and Communications at UK Export Finance, said: "The high quality of nominees for this award is testament to the strength and ingenuity of the UK energy sector.
"STATS Group stood out as a company whose problem-solving culture and high-tech innovation is a marker to which all its competitors should be striving to reach. UK Export Finance is committed to helping exporters to win contracts, fulfil orders and get paid, and am glad to see that the support we provided to STATS Group in 2018 has spurred it on to greater heights."
The winners of the 2020 EIC Awards are:
OGM – winner of the Innovation award, sponsored by Hughes Safety
DNV GL – winner of the Technology award, sponsored by Babcock
BMT and VWS Westgarth, Veolia – joint winners of the Digital award, sponsored by Booth Welsh
Calgavin – winner of the Collaboration award, sponsored by PX Group
Roxtec – winner of the Diversification award, sponsored by Cargostore Worldwide
SPP Pumps – winner of the Optimisation award, sponsored by BMT
STATS Group – winner of the Export award, sponsored by TÜV SÜD EnergieTechnik
Aquaterra Energy and STATS Group – joint winners of the Service & Solutions award, sponsored by Quanta
DNV GL and Wood – joint winners of the Energy Transition award, sponsored by Armacell
Tube Tech International – winner of the Transformation award, sponsored by CMP
Osbit and Serimax – joint winners of the Culture award, sponsored by Proserv
STATS Group – winners of the EIC Company of the Year Award, sponsored by PIH
Recommended for you

Offshore Achievement Awards: See the full list of winners