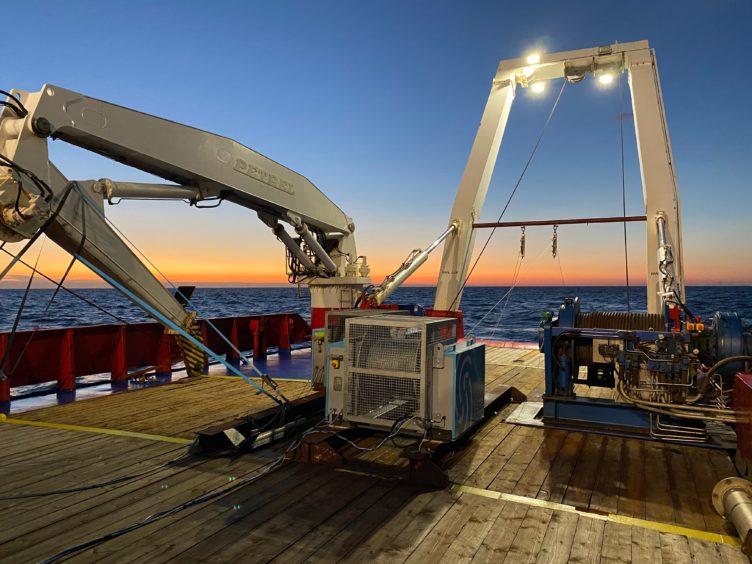 Survey services firm iSurvey Offshore said yesterday it had successfully completed its biggest project to date.
The firm, based in Westill, near Aberdeen, mobilised a 10-strong team of offshore survey experts for the £1 million-plus contract in late July.
Two surveys covering nearly 4,000 "line" miles of seabed were carried out in the central UK North Sea on behalf of Norwegian geophysical surveying and mapping company Magseis Fairfield.
Magseis and French company CGG have, with iSurvey Offshore's help, been working on the largest multi-client ocean-bottom seismic survey ever done in the North Sea.
The Cornerstone survey has targeted two highly prospective areas, creating work for iSurvey Offshore in one of the most challenging locations in the basin.
Andrew McMurtie, the firm's managing director, said: "November marked the end of a long and successful seabed survey programme for the iSurvey team.
"Mobilising on the Northern Survey OSV Cecilia (survey vessel) just a week after contract award, I am hugely impressed with the results we have achieved and proud that our client has been so pleased with our performance.
"Equipped with multi-beam echosounder, side-scan sonar and magnetometers, our spread of equipment and personnel dealt with the full gamut of North Sea weather, while safely achieving all workscope objectives and completing this milestone project on schedule."
A spokesman for Magseis added: "iSurvey understood our unique survey requirements and produced a high-quality product."
It is hoped the Cornerstone data will pave the way for new field development and near-field exploration. Fast-track data from the multi-year surveying campaign is expected to become available to clients during the first quarter of 2021.
ISurvey Offshore is part of Norway-based iSurvey Group, which was founded in 2004 and has since grown to more than 100 employees working from bases in Aberdeenshire, Oslo and Singapore.
The group works with a number of global clients, including Statoil, NKT, Lundin Norway, Eni, Maersk, ExxonMobil, Nexans, and Island Offshore.
Its Westhill operation was established in early 2014, quickly growing to 30 people onshore and offshore.
Norvestor VI, a fund managed by Norwegian mid-market private equity firm Norvestor Equity, is iSurvey Group's largest shareholder, owning around 70% of the shares. The management team and employees hold the remaining 30%.
Recommended for you

Failure on D&I could cut oil firms' funding, warns North Sea's top producer