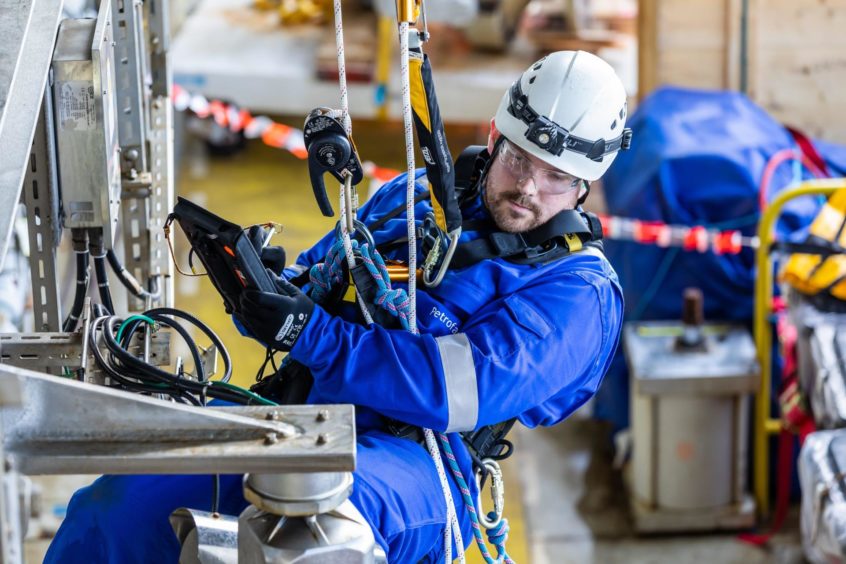 A technology chief at Petrofac says the energy service firm adopted the "art of the possible" philosophy in its mission to bring new digital products to the oil and gas inspection and maintenance market.
The quest started about two years ago and has yielded two products which formed the core of Petrofac's successful bid for the business innovation, large enterprise, prize at the OGUK awards, fending off stern competition from Total, among others.
Petrofac wanted to find new ways of achieving efficiency by harnessing digital tools, allowing it to eradicate activities that don't add any value.
With right-sizing and cost reduction all the rage in the oil and gas industry last year, anything that can help customers streamline and save money is sure to be a hit.
Steven Johnson, vice president, digital engineering and production services, said he realised early on in the process that there was "no shortage" of technology solutions available.
To show colleagues what was "possible" and attainable, Petrofac exposed team members to the chemicals, mining and finance sectors, helping them pick up "all sorts of different ideas".
Johnson said the challenge was understanding where the standout solutions would have the greatest impact.
After weighing up its options, Petrofac, aided by its technology partners, set about bringing the Petrolytics and Connected Worker tools to the fore.
The former is a marriage of machine learning and engineering experience – a data analytics tool which predicts project and equipment health.
Developed alongside Accenture and proven in the North Sea, it converts asset and project data into information that helps companies predict problems before they affect performance and potentially cause costly shutdowns.
Johnson said Petrolytics comes into its own when applied to high value, critical equipment like rotating machinery.
Connected Worker is wearable technology which uses digital twin technology and software to digitalise all forms of maintenance and inspection work.
Connected Worker, therefore, has slightly wider applicability than Petrolytics and is physically "in the hands" of the people doing the maintenance work.
Offshore teams can connect, through hands-free video calls, to office-based subject matter experts, reducing the need to send technical support offshore.
On the face of things, these two, complimentary products don't seem particularly out of the ordinary. Industry seems awash with tablet device-based technology and analytics tools.
But Petrofac is confident that its offerings do differentiate it from the competition.
Unlike many counterparts, the London-listed firm has impressive, illustrative figures it is willing to share, helping to bring a pretty dry subject matter to life.
On one North Sea installation, Petrolytics flagged up an issue with a seal.
Without Petrolytics, the seal would have failed, tripping the platform and leading to production losses of around 16,000 barrels of oil equivalent per day and a financial impact of £540,000.
In another instance it was used to avert downtime which would have cost £1.12 million by identifying gear box vibration in a compressor train.
The early insights helped the asset team manage turbine speed, coordinate the supply of support and equipment from the vendor and mitigate an outage.
For its part, Connected Worker has driven a 200% increase in productivity compared to traditional industry approaches across more than 1,500 North Sea inspections.
It has been said that oil and gas firms are often reluctant to take a risk and try out new technologies on their multimillion, and sometimes multibillion, assets.
Johnson said Petrofac had a number advantages enabling it to get customers past their "healthy scepticism".
In December 2018 the company unveiled its new innovation zone at its Bridge View office in Aberdeen.
"The innovation zone lets us bring clients into an environment where we can talk about what we're doing and show them the technology – let them touch and feel it," Johnson said. "Show them what's possible and get them to experience it."
From the facility, Petrofac can contact and speak to offshore team members who are using the technology, giving customers and partners real, tangible examples of utilisation.
In addition, Petrofac has "taken its own medicine", adopting the products on platforms where it is the duty holder responsible for managing and maintaining the installation, Johnson said.
What's especially encouraging is that the rollout of these products has contributed to Petrofac winning new contracts, which is what it's all about, in the end.
"We've invested and put our money where our mouth is," he said. "We're not in this digital journey just for the sake of the technology, although it is interesting and exciting to play with new things and smart toys if you're someone like me.
"Ultimately, we are a business, so at the heart of our discussions we need to think where the value is going to be generated for us and the client.
"We see those products as key differentiators. Clients have made a commitment to us and rewarded us with more work on the basis of the journey we've been on, though we had already built up a strong track record."
Petrolytics and Connected Worker can also add impetus to companies' efforts to shrink their carbon footprints.
The former can find correlations between emissions data and the way an asset is being run, highlighting how certain actions impacted emissions performance.
These insights are fed out to the operations team, which can decided which option is best for driving down emissions.
Connected Worker's ability to standardise procedures and improve efficiency means inspection and maintenance work can be carried out with fewer offshore visits – and fewer helicopter flights and bodies offshore means fewer emissions.
Johnson said: "We've seen during the pandemic a strong drive to use technology to enable more remote interaction and reduce the number of people going offshore. The long term drive of the energy transition will sustain that."