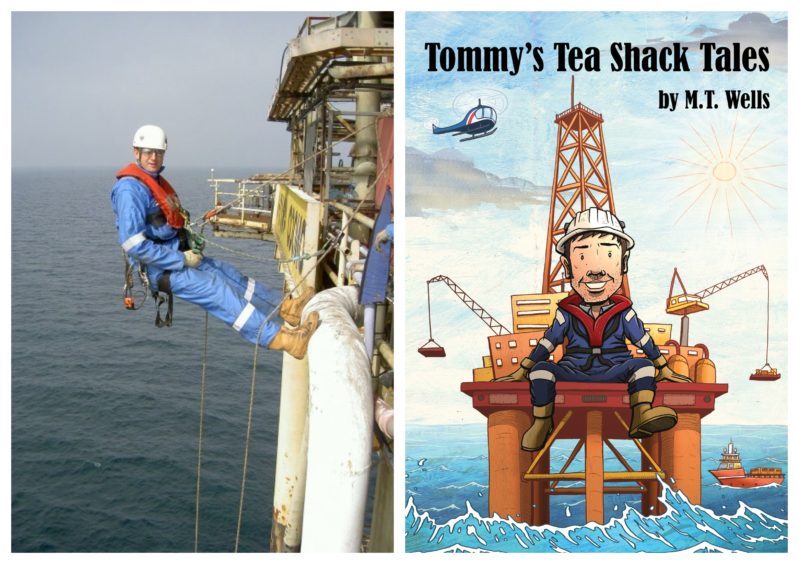 The tall tales of the North Sea tea shack are being brought to light in a new book, with proceeds going to the RNLI.
Sean Sanders has compiled stories over his years offshore for "Tommy's Tea Shack Tales", giving the public a glimpse of what's said around "one of the funniest yet also most abusive places on the platform".
Mr Sanders, a former Royal Marine, spent 17 years in oil and gas and collected tales from colleagues along the way, from stewards to the OIM (offshore installation manager).
He said: "They've all come together from different working backgrounds and that's when the stories can come thick and fast.
"In that tea shack environment people can be humiliated, put on a pedestal, made out as heroes or joked about.
"Over time they just came to me with stories. I can't verify if they're true or not but they made me laugh so I thought it would be good to share them."
Despite going to lengths to compile stories for the book, Mr Sanders said he doesn't consider himself an author ("I'm just someone whose pulling together peoples' tales really and putting them into a book"). So he decided to publish under a pseudonym "M.T. Wells" – a reference to the decommissioned oil field he used to work on.
The names of the people and the companies they work for have been left out, instead calling the characters simply "Tommy", offering them some anonymity which they weren't afforded back when the tales were first told offshore.
"Tommy's Tea Shack Tales" promises to go into everyone from supervisors to supermodels, but the author said "if anyone can relate to the stories, all I'll say is it's purely coincidental and I have no knowledge of who these people are!"
It's not the first big fundraising push for Mr Sanders , who years earlier climbed Scaffell Pike, England's highest peak, with his fellow ex-servicemen while carrying washing machines on their backs to raise £13,000 for the Royal Marines charity.
The RNLI is another organisation that "remains close to my heart", he said.
Having stepped away from life offshore five years ago, now working as a consultant in a business with his wife (also formerly from oil and gas) in Leeds, Mr Sanders felt now was a good time to again make a charitable push, given the economic climate.
He added: "We're both connected to oil and gas but it is more industry across the board now.
"We made that decision to step away, find a work-life balance and, in more recent times, use the book to give a little back, draw a nice happy line under my career offshore and hopefully trigger a few laughs."
More information can be found here.