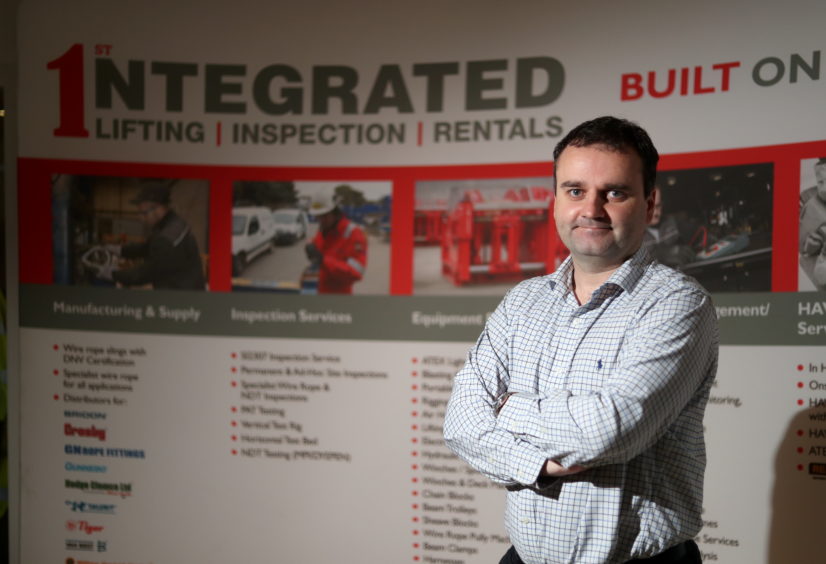 A boss at First Tech said the Aberdeen-headquartered energy service group had "a lot to look forward to" in the coming years as its growth and diversification continue.
Director Martin Suttie said First Tech, owned by his millionaire father Ian, was continuing to invest in expanding its subsidiaries' equipment stocks and services for the oil and gas and, increasingly, renewables markets.
Mr Suttie Jr also said he was "very pleased" with the start First Tech had made to its 2020-21 financial year, which despite Covid-19 looks set to eclipse what was a "good" 12 months of trading in 2019-20.
The group — whose subsidiaries include First Integrated Solutions (FIS), First Marine Solutions (FMS), First Subsea, First Competence and Mooring Systems — turned over £20.6 million in the year to April 30 2020, up 20% on the previous year.
Earnings before interest, taxes, depreciation and amortisation (ebitda) more than doubled to £1.4m in 2019-20 and are expected to rise to more than £3m during the current financial year.
Mr Suttie Jr said the group had won contracts in 2020, but that awards secured in 2019 were making a bigger contribution.
The firm's bottom line was hit by a hefty impairment on its Nautricity subsidiary, established in 2010 to develop a tidal power turbine.
It was placed into administration after directors decided too much money would be required to reach the elusive milestone of proving the technology was viable.
Mr Suttie Jr said it was "a shame" that Nautricity hadn't come good, but stressed the importance of companies trying new things and taking risks.
Nautricity's failure made up the bulk of a £10.6m impairment recorded in First Tech's accounts, contributing to a widening of pre-tax losses to £11.2m in 2019-20 from £1.9m previously.
More of First Tech group's revenues are coming from renewables, with Lancaster-based First Subsea doing particularly well.
It has developed a cable protection system which is in demand in the offshore wind market and is transferring its experience of mooring floating oil production vessels to floating wind turbines.
First Subsea has a project backlog of £11m, almost entirely in the green energy space.
Mr Suttie Jr said First Subsea set out on its renewables "route" five years ago and was starting to reap the rewards.
He said: "Five years is maybe a bit slow, but you have to earn your stripes and show you're not just an oil industry company trying to play a bit in renewables."
He said the expected expansion of floating wind farms in Scottish waters would open up opportunities for the group.
First Subsea also joined forces with James Fisher Offshore to develop and launch a "cut and lift" tool for removing subsea infrastructure, with oil and gas decommissioning projects in mind.
Investment of £6.2m at First Tech in 2019-20 largely went towards the rental fleets of FIS and FMS.
FIS, a specialist in the manufacture and supply of lifting kit and services, is looking to take on another building for stocking and managing equipment.
It suffered from the drop-off in North Sea activity caused by last year's Covid outbreak and crude price drop.
Mr Suttie Jr, who is also managing director of FIS, said quite a lot of employees were furloughed during those lean months.
First Tech group did have to reduce its headcount by around 5%, but expects to offset those cuts by hiring people in new roles.
The group currently employs about 140 people, of whom 115 are in Aberdeen.
The total is expected to return to return to pre-pandemic levels in the next few months.
FMS, which was hit by a reduction in drilling operations in 2020, has recruited enough people to create a survey team, meaning it can offer the full package of services for rig moves.
Mr Suttie Jr said he expected 2021 to be a "busy year" for the group as North Sea operators look to tackle the maintenance backlog which built up last year when offshore staffing levels were lowered to reduce the spread of Covid.
A large chunk of that work is expected to take place during the Forties pipeline shutdown, slated to start in May.
Recommended for you

First Integrated Solutions acquires North Sea Compactors