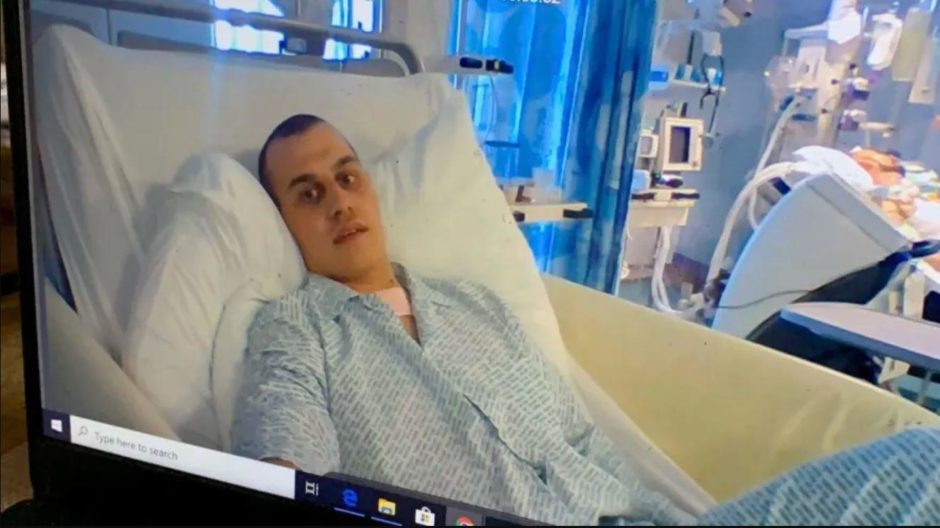 A North Sea worker has revealed how he made a "miracle" recovery in Aberdeen after his heart stopped for nearly two hours.
19-year-old Asbjorn Morell was exercising on a treadmill on board the Esvagt Cantana oil and gas support ship just before 1am on April 18th when he suffered a cardiac arrest.
Three of his crewmates took turns performing CPR for 104 minutes – and gave him five shocks with a defibrillator – before his pulse returned, just before a medical team arrived to airlift Asbjorn to Aberdeen Royal Infirmary (ARI).
He would spend the next 10 days in an induced coma at ARI.
One of his rescuers, 25-year-old Lasse Lebeck, first confused the incident for heat stroke, which he had seen during his time in the Danish armed forces, before realising what had happened.
It wasn't until 4am that his mother, Judith Morell, heard from doctors in Aberdeen about Asbjorn's condition after his heart stopped.
She said: "Check-ups and scans showed that he was fine, but they couldn't wake him up. We had read up on sequelae from longer cardiac arrests, and it didn't look good. The doctors weren't optimistic either.
"We prepared ourselves for him to be severely brain-damaged."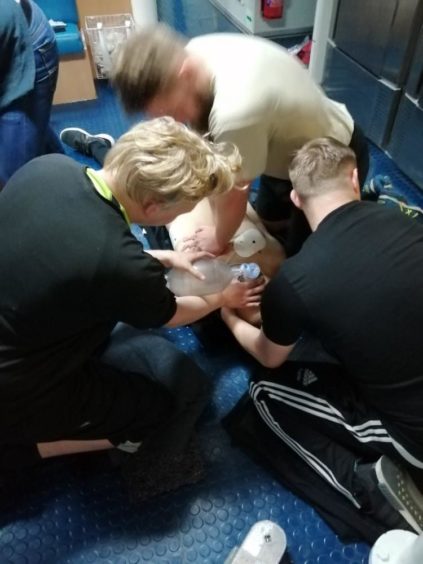 Ms Morell was unable to visit her son in Aberdeen due to Covid-19 restrictions, so the family instead took to video calling twice daily.
"The only exception to that rule was for births and to say farewell," she said.
"Not being able to be with him was awful. But it also became a bright spot for us. As long as we weren't allowed to visit him, he wasn't dying. That's how we interpreted it."
She added: "We were told that the only reason he was still alive was thanks to the terrific work that the crew on board had performed. But we were also told that it was critical that he had been without a heartbeat for so long".
In what was later described as a miraculous recovery by doctors, 10 days after the incident, Ms Morell saw her son sat up on hospital.
"It was a completely indescribable feeling", she said.
Several ribs and his sternum had been broken due to the CPR once his heart stopped, so Asbjorg had assisted breathing in Aberdeen Royal Infirmary, but, aside from the loss of around three weeks of memory, no further brain damage was reported.
Having been moved out of intensive care, it was when he was reported to be flirting with nurses at ARI's cardiology department that the family knew "it was definitely the same boy".
Weeks later – having lost 20kg – he was flown to Odense University Hospital in Denmark for a six hour-long bypass surgery and had a pacemaker implanted.
The cardiac arrest had been the result of one of the main veins in his heart being too short from birth.
By October, he was cleared to return to work by his doctor and psychologist.
Asbjorn said: "'It's wonderful to be back. And it was great to see the lads again. I know who to thank for being alive – and they also know.
"2-3 weeks are completely erased from my memory and will likely never return. I can't remember any knots anymore, but otherwise, everything is normal."
Asbjorn and his family are now nominating the crew of the Esvagt Cantana for the Danish Heart Association's 2021 Heart Saving Award.
Judith Morell added: "I just cannot express how grateful we are that they didn't give up on Asbjorn. Even after an hour they kept on going, on and on and on.
"It is exclusively thanks to the crew that there was still hope when the rescue helicopter arrived after almost two hours."
Esvagt is a Danish-headquartered firm, which has an operating base in Aberdeen, which provides emergency response and rescue vessels for offshore support to the oil and gas industry.