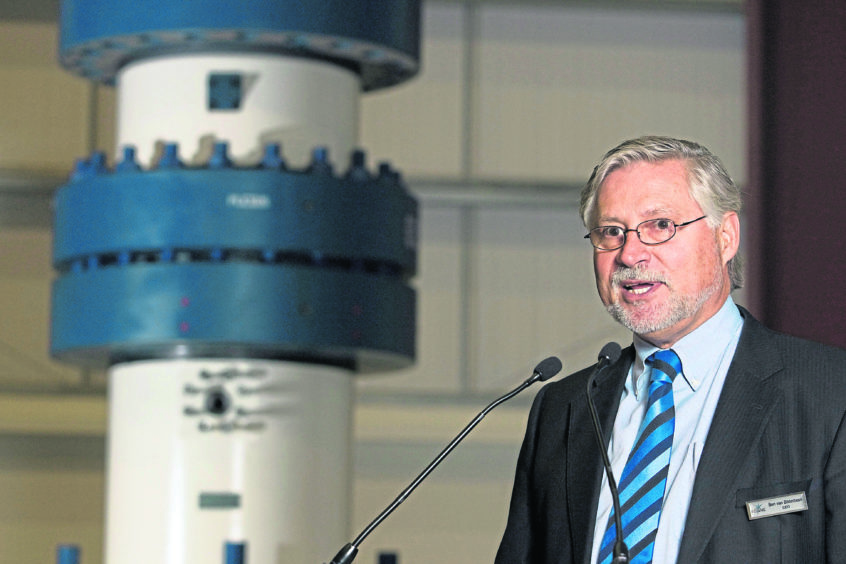 Plexus CEO Ben van Bilderbeek is weighing fundraising options to "extend the runway" for the business, which has been faced with years of losses but may now be on the verge of success.
Based in Aberdeen, Plexus struck a major agreement in November to license out its Pos-Grip wellhead technology to the US oilfield giant Schlumberger.
"Surprise, surprise – I think nobody imagined that we'd manage to do that", Bilderbeek said of the deal. However, as things stand, much needed progress has been "slowed down" due to Covid.
Schlumberger is doing a diligence study to assess the full value of the technology ahead of any projects and, although the Plexus team is "divulging the secrets" over MS Teams, Zoom and however else, they can't currently follow up in person.
So Bilderbeek, the CEO, founder and largest shareholder, is looking at his options for Plexus, which, despite its revolutionary – and successful – technology, has seen "harrowing times", reporting multi-million pound losses every year since 2016.
Meanwhile, a large "pipeline" of opportunities built up after selling its rental "jack-up business" to TechnipFMC in 2017 keeps getting pushed to the right.
So Plexus is "working on ways to extend that runway so we are there when the market returns", Bilderbeek said.
"Every one of those is moving to the right again, again, again, delay, delay, delay.
"No decisions are being made. In the meantime, what we need to do is preserve the availability of this technology under my tutelage.
"We have this happening now, and it is all very difficult for us because progress is not being made at the same pace as it would be.
"At the end of the day, when you're running negative cashflow, progress is something you need instantly, you need now.
"Otherwise you need to raise money in different ways, either contribute your own capital if you have it, or to raise money in the market, which will cause great dilution. Or perhaps hibernating a business until the world turns.
"These are the things we have to think about."
"Shake the tree"
The majority of Plexus' work is in the UK North Sea, but international sources of income such as drilling in Russia, has been a "casualty" of Covid.
The Schlumberger deal – subject to their approvals – would see the US oilfield services firm be licensee of Pos-Grip through to 2030, with royalties to Plexus.
With a lot riding on that, Bilderbeek, who prides himself on "being able to convince people of my point of view", wants to follow up in person.
Speaking to EV from lockdown in Portugal, then, he's finding his idyllic settings far from ideal.
"I was planning to step on a plane and rent an apartment in Houston and spend three months around my new friends.
"Obviously I'm trying to shake the tree, but I wish I could be in Houston doing that.
"It is very difficult to make the transfer of technology work without being able to address this in person."
It's far from radio silence though, with regular meetings with the Schlumberger team, and Plexus is confident its "superhuman" technology will speak for itself.
The firm is aiming for Pos-Grip to become the new "industry standard" for wellheads and metal sealing designs.
It is a "friction-grip" tech using integral metal seals, which are externally pre-loaded against permanent wellhead fixtures, ensuring the wells are "gas-tight" across their lifecycle.
In 2015, Total drilled what was believed to be the highest pressure well ever drilled in the North Sea, Solaris, with a Pos-Grip wellhead.
The Technip sale in 2017 then further "validated" the technology, Plexus said. It currently in the process of delivering a wellhead system to Spirit Energy in the North Sea.
Pos-Grip also fights against CO2 and methane leaks – something Plexus hopes will play in its favour in the US as the climate debate heats up, with Total leaving the American Petroleum Institute (API) last month.
However, firms' lack of appetite to innovate in years amid recent downturns is something Plexus has "suffered from" in the past, Bilderbeek said, and he's aware of the challenge ahead.
"Very often it is more than a job's worth to change from one method of engineering to the other.
"But that takes convincing, because people like to stick with what they know."
Bilderbeek also cited the API allowing standardised wellheads to be built in components "at volume", which can price out Western manufacturers.
Even then, though, Bilderbeek said there's no more steel in Pos-Grip than conventional systems and it has a "fraction" of the number of components, so "it would follow that if you make them at the same volume it should be price-competitive".
He added: "I know what Pos-Grip can do and how it compares. I know what they're going to be seeing.
"At this stage, I'm very very positive.
"I also know that activity levels are picking up in deepwater Gulf of Mexico.
"I am a firm believer that this technology has always spoken for itself and it will speak for itself again."
Recommended for you

KMS hoping to reap rewards of hefty investment in new kit