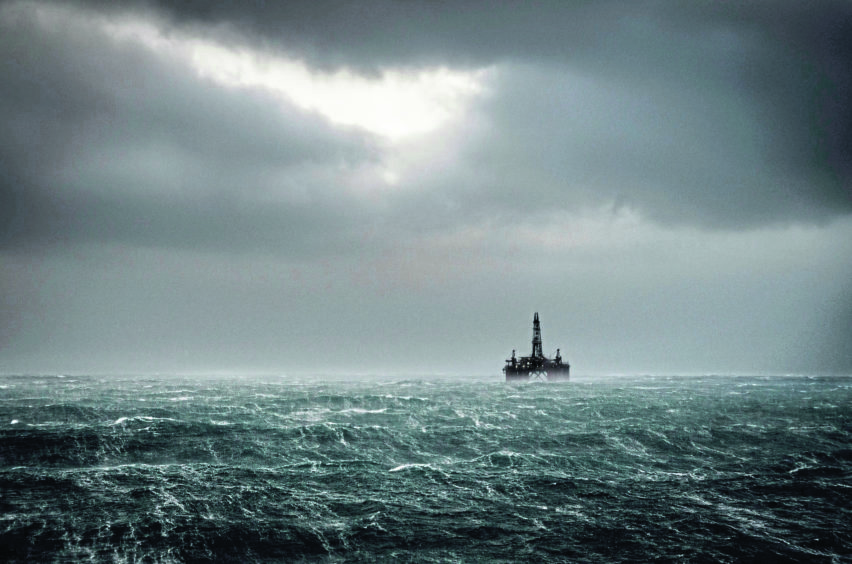 Poor commercial behaviours that blighted the North Sea oil industry during the 2014-16 downturn were increasingly on display in 2020, a new report shows.
The Covid-19 pandemic and oil price slump led to "adversarial" approaches and a strong focus on cost reduction, according to the annual Deloitte and Oil and Gas UK (OGUK) collaboration survey.
The two organisations stressed that collaboration was vital for safeguarding the supply chain, delivering the North Sea's remaining potential and unlocking energy transition opportunities.
Erosion of trust
But the report authors said the tough new market conditions had shifted priorities "towards protectionism for some and survival for others", putting further pressure on an "already strained supply chain".
Some suppliers complained of instances in which long-term contracts were cancelled with "no explanation" or renegotiated to drive down costs.
In some cases, operators demanded immediate price reductions from suppliers, slashing rates to an unsustainable levels.
Some had to accept unfavourable terms for fear of losing other work with the client.
These approaches damaged suppliers' finances and eroded trust between the parties.
Forty percent of tier two suppliers – employing between 2,500 and 10,000 people – said their contracts were not, or only rarely, cash positive, suggesting many are struggling to stay afloat.
Most suppliers complained that they weren't given incentives to innovate, while one company said their ideas were shared with competitors during a tender process. Their rivals were asked to provide the same solution at a lower cost.
The previous report, published in December 2019, noted signs of a shift away from cost reduction as the main reason for collaboration, with the desire for knowledge sharing becoming increasingly important.
But the harsh realities of 2020 have reversed that positive trend.
Thirty percent of respondents admitted cost reduction was their main driver for collaboration last year, up from 26% in 2019.
Just under half of operators resorted to "traditional" cost cutting methods in 2020, compared to 30% the previous year.
These methods include deferring spending on projects, freezing recruitment, reducing the temporary workforce and requesting basic unit cost reductions from suppliers.
Covid copters and care packages
The report did show a slight increase in its collaboration index to 7.1 in 2020 from 7 in 2019. The index number is an aggregation of ratings that respondents allocate partners for their approach to collaboration – on a scale of one to 10.
Last year's improvement was "entirely" due to the higher scores suppliers received from operators, acknowledging the flexibility service companies showed during what was a challenging year.
Some respondents did believe the challenges of Covid-19 strengthened their relationships with suppliers or customers.
The North Sea wasn't bereft of camaraderie, in any case. Operators worked closely with a logistics company that provided dedicated helicopters for evacuating crew suspected of having Covid from offshore platforms.
Operators split the costs associated with providing the service and the helicopter operator received a higher hourly rate.
Meanwhile, one operator put together Covid-19 "care packages", which provided financial support for contractors who had to isolate, shield or tested positive for the virus.
This meant they did not have to worry about not getting paid as a result of Covid-19 and prevented the spread of the virus on to the platforms.
Call to action
Nonetheless, OGUK is issuing a "call to action" to promote adherence – which has been "sporadic" – to its Supply Chain Principles.
Katy Heidenreich, supply chain and operations director at OGUK, said "Greater collaboration will be a key factor in unlocking future industry developments and to strengthening our basin, our versatility, and our resilience.
"The ability to work together well across companies, industry and the wider energy sector will be critical to delivering a successful energy transition which supports jobs and the communities we work in.
"Collaboration needs to be part of our DNA; while it is not a silver bullet, it is good for business."
The principles will be supported by a Framework for Action, developed by Deloitte, which sets out six "building blocks" organisations need to continue building successful collaborative relationships.
Graham Hollis, Deloitte's office senior partner, Aberdeen, said: "In what is an extremely challenging environment, the industry must assess new opportunities and challenges as it addresses the year ahead.
"Organisations need to reimagine their businesses and models and focus on the right set of collaborative behaviours because as the report highlights, working closely with suppliers and customers to support one another will be vital."
The survey, conducted between July and September 2020, attracted 184 completed responses, against 206 in 2019.
It means submissions dipped for the first time since the report's launch, though the most recent poll was only open for six weeks, instead of the usual 10.
Recommended for you

Report finds 100 North Sea storage sites needed to meet 2050 CCUS demand