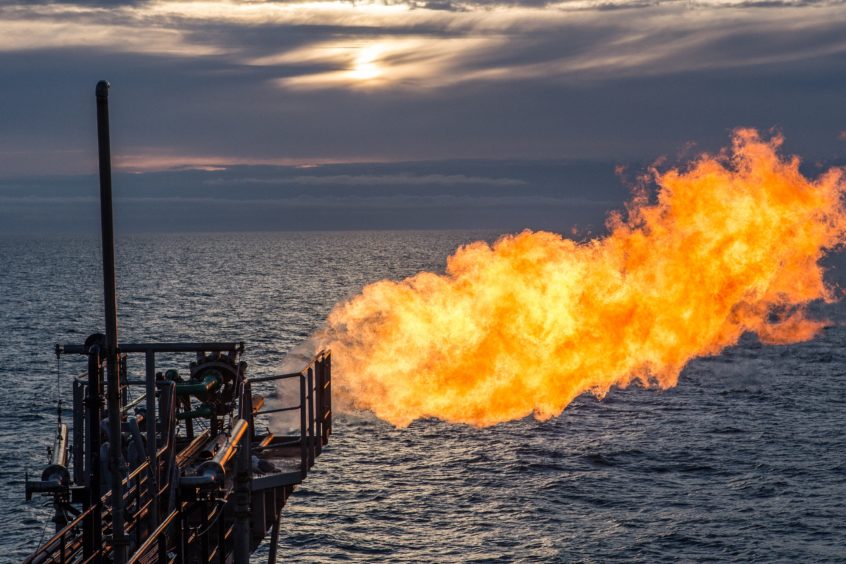 A Greenpeace investigation has named the five worst firms for flaring and venting in the UK North Sea, emitting nearly 20million tonnes of CO2 equivalent between 2015-2019.
Repsol Sinopec, Total, Shell, BP and EnQuest are in the top five, according to environmental information requests made by the activist group to BEIS.
The data does not include 2020, which Greenpeace conceded is "likely to reflect a fall in overall oil and gas production due to the pandemic".
However, with non-emergency flaring banned over in Norway since the 1970s, the group said the UK Government is "asleep at the wheel".
In September, Rystad Energy released data showing that the UK is the worst North Sea country for oil and gas emissions, partly due to Norway's flaring restrictions.
Ed Miliband, shadow business secretary for the Labour party, called for a ban on the practice – which is done for both safety and commercial reasons –  in the UK in light of the figures.
The five firms all said they had taken major steps to reduce flaring in recent years.
Repsol Sinopec, the worst offender with more than 10% of the overall total between 2015-2019, said it is moving ahead of its peers, cutting flaring and venting emissions by 34% between 2018 and 2020. The firm also said it had cut overall emissions by 14% since 2018 and anticipates a 20% reduction by 2021.
French energy giant Total (9%) said it is committed to reducing CO2e emissions in the UK by at least 20% by 2025, and highlighted modifications to its Elgin-Franklin platform in 2020, cutting venting emissions there by 90%.
Shell has reduced emissions from flaring and venting by 50% over the five years, with an overall emissions cut of 19%, while rival BP (7.5%) has slashed UK emissions flaring by nearly 45% thanks in part to flare gas recovery tech installed last year on its Glen Lyon and Clair Ridge assets.
EnQuest said it intends to reduce emissions by 10% over the next three years from a 2020 baseline, while scope 1 and 2 emissions for 2020 are expected to be down 15% on 2019 for the group.
Together the five firms account for 43% of the total amount of flaring and venting emissions in the UK North Sea, with the 20million tonne CO2 figure "comparable to the average annual emissions of a coal-fired power station", according to Greenpeace.
Senior oil campaigner Mel Evans said: "To stand any chance of meeting our climate targets we need strong government action to regulate this industry and secure a safe and fair phaseout of oil and gas that supports workers and communities."
The Oil and Gas Authority (OGA) pointed to a report produced last year which showed flaring dropped 4% between 2018-2019, while venting was cut by 34%.
A spokesperson said: "The OGA is looking to take a robust stance on flaring and venting – through its consents, field development process and project stewardship.
"While it's encouraging to see a fall in volumes flared and vented, we believe there are clear opportunities for industry to go further to advance cleaner production."
The OGA's central obligation has recently shifted to include net zero targets, however no sanctions have been administered as yet by the regulator.
Instead it has raised benchmarking on flaring and venting, which "has already been proven to raise performance levels in other areas, such as production and decommissioning cost efficiency, enabling operators to learn from good examples set by others".
Greenpeace called for an end to new oil and gas licensing, similar to Denmark, ahead of the UN COP26 conference in Glasgow in November.
The UK industry has committed to cutting emissions by 50% by 2030.
Louise O'Hara Murray, emissions improvement manager at Oil and Gas UK, said: "We know that there is more work to be done and we're already in action to ramp up our response as an industry.
"As one of the first industrial sectors to set out our roadmap to net zero, the UK's offshore oil and gas industry has committed to clear sector-wide targets to halve all our emissions by the end of this decade before reaching net zero in 2050."
Recommended for you

Should North Sea assets flare more as storms hit?