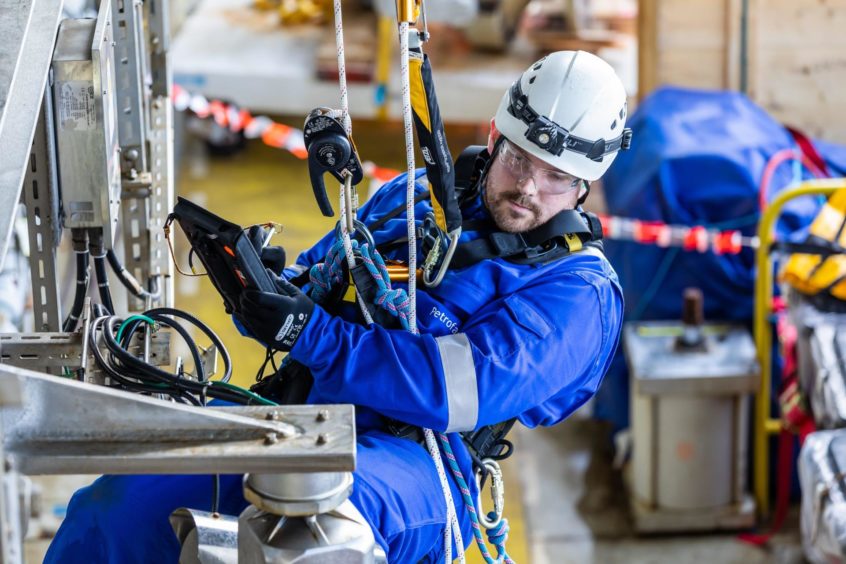 Trade unions have launched a survey seeking feedback from members on a "ground-breaking" collective bargaining agreement that would cover thousands of North Sea workers.
Unite, RMT and GMB opened the survey after 13 major contracting firms confirmed they were willing to sign up to the so-called Energy Services Agreement (ESA).
Union bosses hailed the move and said they would recommend that their members support the ESA, which has been in development for more than a year.
In a joint statement, they predicted the new pact would help prevent the "boom and bust cycles" which have caused "extreme difficulties for workers and employers" in recent years.
They also said the spirit of collaboration between companies and unions was an "illustration of what is required to deliver a just and green recovery".
Companies which have agreed to sign up include Aker Solutions, Altera, Brand, Kaefer, Muehlhan, Navitas, ODE, Oleochem, Petrofac, Ponticelli, Semco Maritime, Wood and Worley.
Unite regional officer John Boland said talks were on-going to bring Altrad, Bilfinger Salamis and Stork into the fold.
The ESA is a replacement for the Offshore Contractors' Partnership Agreement (OCPA), which was dissolved at the end of 2020.
The OCPA, which set minimum rates of pay and standards for employees, had been negotiated by the Offshore Contractors' Association and unions since 1995.
Signatories decided about a year ago that the agreement should be scrapped.
They felt it was outdated, convoluted and put them at a disadvantage to rivals who didn't adhere to it — but they agreed to hammer out a new deal.
If feedback from the workforce survey is positive, the unions will formally sign the ESA, alongside the employers.
Mr Boland added: "Today, after a year of difficult negotiations in which Unite and the other offshore trade unions have done everything possible to get a new offshore collective agreement, talks have ended with an agreement we can recommend to members.
"The ESA will give our members offshore a collective agreement that we can use to protect and improve their terms and conditions going forward."
Deirdre Michie, chief executive of Oil and Gas UK, said: "Today we are pleased to see that the industry has reached an important milestone in the development of the new ESA for the offshore energy sector in the UK.
"Following extensive and proactive engagement across the supply chain, we are pleased that a survey about the newly created ESA, which will set conditions for a large proportion of the UK's offshore workforce, has been issued to union members for their feedback and support.
"Reaching this landmark is the result of a truly collaborative approach by all parties who share an ambition to promote a stable, fair, and sustainable operating environment in the UK North Sea, particularly as we focus on our journey towards economic and green recovery in line with Roadmap 2035."
Recommended for you

The Energy Voice guide to North Sea strike action