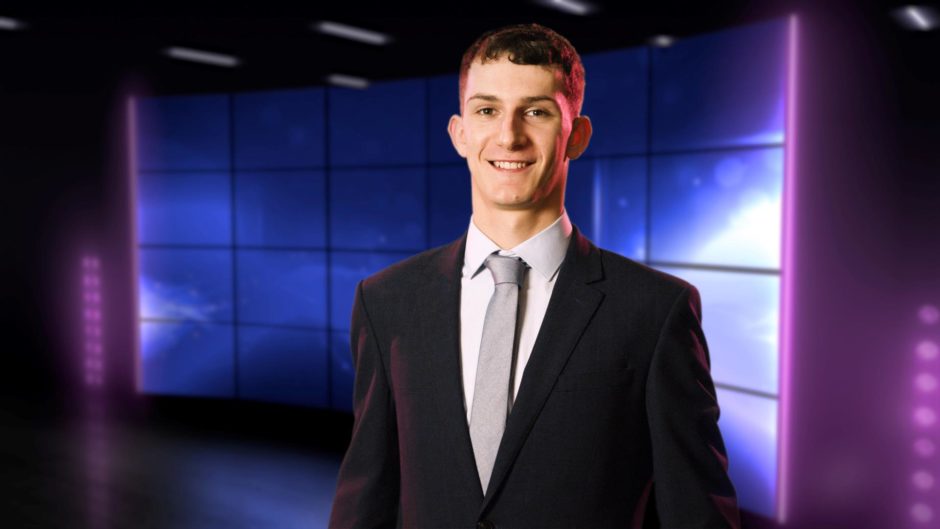 For the vast majority of the UK's workforce, the commute to the office typically involves driving a car, catching a bus or train, hopping on a bike or walking. But not for the thousands of oil and gas workers that travel to installations miles offshore every day – including 20-year-old apprentice Scott Milligan.
A trainee mechanical technician with Cnooc International, Scott is nearing the completion of a four-year modern apprenticeship through the Oil and Gas Technical Apprentice Programme (Ogtap). For Milligan, his first time in a helicopter also marked his first time offshore, an experience that drew mixed emotions.
He explained: "My first time going offshore was so bizarre. It took me a while to think 'this is real'. There I was, standing on a steel structure, 150 miles offshore and all I could see around me were waves, seagulls and fishing boats. When we first landed I thought, 'I've made it, I've achieved something. All that hard work at college and I'm actually here'. It was quite heart-warming.
"It was my first time in a helicopter; not least a helicopter full of people in survival suits going to a rig. My friends often ask me what it's like working offshore but it's so hard to explain if you've never experienced it. I usually start by saying 'well, you get the bus to work and I get a helicopter'."
Although Scott didn't plan for a job in the energy sector, one thing he was sure of was his ambition to work in a practical, hands-on role. He said: "I just knew I wasn't going to work in an office. I'm not wired that way. As a kid, I was always playing with Lego or repairing my bike and, at school, it was always subjects like physics, or design and manufacture, that I enjoyed the most."
In his teenage years, that passion for repairing bikes turned into fixing up cars, with Scott buying his first motor, a VW Polo, before he was even old enough to learn how to drive. Since then, he's amassed quite a collection, including a Honda Civic 96-00 Ek4 Jordan, a Subaru Impreza STI Type R Version 5 GC8 import from Japan and a Renaultsport Clio 182.
Scott said: "My dad started out in the motor vehicle trade, working with lorries and heavy goods vehicles, before he moved into education. We bought my first car together. It had been involved in a crash, so helped me to make it roadworthy again and that's what I learned to drive in."
It was also through his dad, the Engineering Curriculum Manager at Edinburgh College – which operates the college phase of OGTAP's Instrumentation and Control apprenticeship – that Scott first started to consider the possibility of a career in the oil and gas industry.
He said: "I knew a guy who was doing an apprenticeship in Edinburgh and he was really enjoying it. When my dad mentioned a scheme that went through his work, I applied while in fifth year at school and was one of the lucky ones, with my application a success."
In August 2017, aged 17, Scott moved to Aberdeen to begin his training at North East Scotland College (NESCOL). As with all OGTAP apprentices, his first two years involved a combination of practical workshop experience and classroom-based learning. After earning his National Certificate, Scott chose to specialise in his preferred discipline of Mechanical Maintenance, gaining a Higher National Certificate (HNC) before starting to work towards his SVQ Level 3 in Processing Operations: Hydrocarbons.
In his third year, Scott was sponsored by CNOOC and, since then, has spent the past year-and-a-half developing his skills and knowledge further working offshore on his namesake, the Scott installation in the UK North Sea. He firmly believes that his apprenticeship has prepared him well for his chosen career.
"Apprenticeships are a sign of your commitment to the company employing you and show that you are willing to put in the effort," Scott said. "My studies have all been relevant to my working life offshore and every day presents an opportunity to learn something new. I get to work with lots of different people, which is really beneficial.
"There is a lot of support and advice given, and I've run quite a few large jobs that I am very proud of; gas turbine change outs and that sort of thing. For your company and supervisors to trust you to do that is great, and I'm really enjoying it.
"It's a very close-knit community, like a big family. You're never stuck for someone to talk to and there's always people looking out for you, even if you don't realise it. I think that's a really positive part of offshore life."
Proud to be a member of the oil and gas workforce, Scott said his apprenticeship presents "almost endless" opportunities for him to progress in his career. He said: "I could move from mechanical into production, I could change my mind and decide I want to work in an office, or I could go back to university, do my degree and become an engineer. I don't have a set idea yet of where I want to be – I'll just take the opportunities as they come.
"What I can say is that oil and gas is a great industry with doors opening everywhere, whether that's in the UK or worldwide. The skills you get are very transferrable to other areas too, such as decommissioning or renewables."
One such opportunity was the chance to represent CNOOC at the Oil & Gas UK awards last year, where Scott was named Apprentice of the Year. He said: "I got a phone call from OPITO, saying they wanted to put me forward for it. I was very grateful that they thought highly enough of me for that.
"During the awards ceremony I was offshore, and watched it with a couple of guys from the team and my mentor, Grant Ellis, who oversees my apprenticeship. When they announced that I was the winner I was speechless. Even just to be a finalist was a great achievement – for me and for the company. It was a very proud moment.
"I'm very fortunate to have someone like Grant supervising my apprenticeship. He's incredibly knowledgeable and supportive of apprentices, and also knows what's required from a paperwork and competency standpoint too. He trusts me to do tasks and, when I'm stuck, I'm perfectly comfortable asking him for advice."
As with any job, Scott has had to navigate challenges – not least the impact of a global pandemic – but he's certainly not let it put him off his stride. "It's been a challenge for the whole offshore industry, with shift patterns changing to accommodate reduced manning levels allowed," he said. "CNOOC has been really supportive and, because I've been able to work from home, I've been working on completing my SVQ portfolio, which I need to do to get my apprentice papers. There's certainly not a lack of things to be getting on with."
Asked what advice he'd give to other budding apprentices, Scott said: "From my experience, apprenticeships are a great way to join any industry. You get hands-on experience combined with an education, which I think is a bonus in anyone's book."