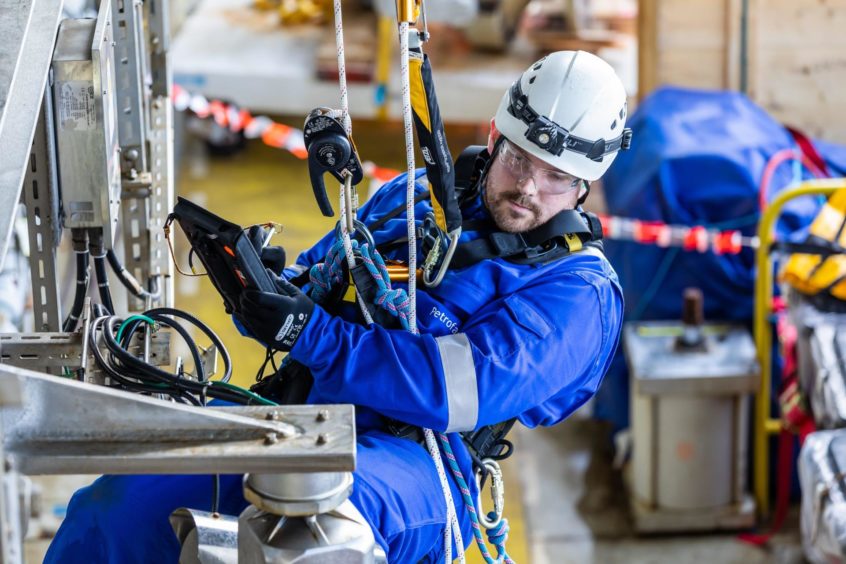 Trade union members have voted in favour of a new collective bargaining agreement covering thousands of North Sea workers.
The Energy Services Agreement (ESA), which was in development for more than a year, will be signed off and implemented over the coming months.
Unite, RMT and GMB launched a survey seeking feedback from members two weeks ago after more than a dozen major contracting firms confirmed their willingness to sign up.
Members from all three unions have now endorsed the pact via a ballot, with 64% of participants voting in favour.
Unite regional officer John Boland said it was understandable that some may feel apprehensive about the new deal.
Workers haven't had a chance to see how it will work, in practice, with its rate adjustment mechanism.
But Mr Boland said the majority of feedback from the survey had been positive, with respondents saying they were glad to have an agreement in place which can be built upon.
Unite insisted the deal would put workers on an "equal footing" in relation to pay, terms and conditions and health and safety standards.
The union also said it would keep putting pressure on other employers to join the ESA.
Companies which have already agreed to sign up include Aker Solutions, Altera, Brand, Kaefer, Muehlhan, Navitas, ODE, Oleochem, Petrofac, Ponticelli, Semco Maritime, Stork, Wood and Worley.
The ESA could take several months to implement because employers will need to amend contracts to reflect the new pact and communicate the change to staff who aren't union members.
Mr Boland said: "This new agreement which has the wide support of the offshore energy industry and encompasses the fair work principles, marks the start of a new way forward, ensuring fair terms and conditions for members offshore.
"This is a positive example of working between unions, contracting companies, and operators to help ensure the security of the offshore energy industry for many years to come.
"Once the agreement is signed, we will then focus our attention on encouraging other contractor companies such as Altrad, Bilfinger Salamis and others to become part of the agreement."
Pat Rafferty, Unite Scottish Secretary, said: "This agreement hopefully heralds a new era for fair work in the North Sea, and is a great achievement for Unite members, and all offshore contractors involved.
"After a year of strong negotiation by our officers, we can say that Unite's campaign to 'Keep the North Sea safe' has been a success for the workers, and this has been confirmed by their vote of confidence to agree we ratify this agreement.
"We will continue to improve conditions for our members offshore, and hopefully other contractors outside the ESA will recognise this positive step for workers, and join with us to improve the North Sea for their workforce."
The ESA is a replacement for the Offshore Contractors' Partnership Agreement (OCPA), which was dissolved at the end of 2020.
The OCPA, which set minimum rates of pay and standards for employees, had been negotiated by the Offshore Contractors' Association and unions since 1995.
Signatories decided about a year ago that the agreement should be scrapped.
They felt it was outdated, convoluted and put them at a disadvantage to rivals who didn't adhere to it — but they agreed to hammer out a new deal.
Deirdre Michie, chief executive, OGUK, said: "We're pleased that the ongoing development of a landmark employment agreement for the UK offshore energy industry has today been endorsed by the workforce and will now be implemented by a large proportion of our industry's supply chain.
"The Energy Services Agreement, which will set base terms and conditions for many employees working offshore in the UK, is a leading example of impactful, cross-industry collaboration and is an excellent demonstration of OGUK's supply chain principles in action.
"The delivery of this agreement will help promote a safe, stable, and fair operating environment as our industry journeys towards economic and green recovery in line with Roadmap 2035."