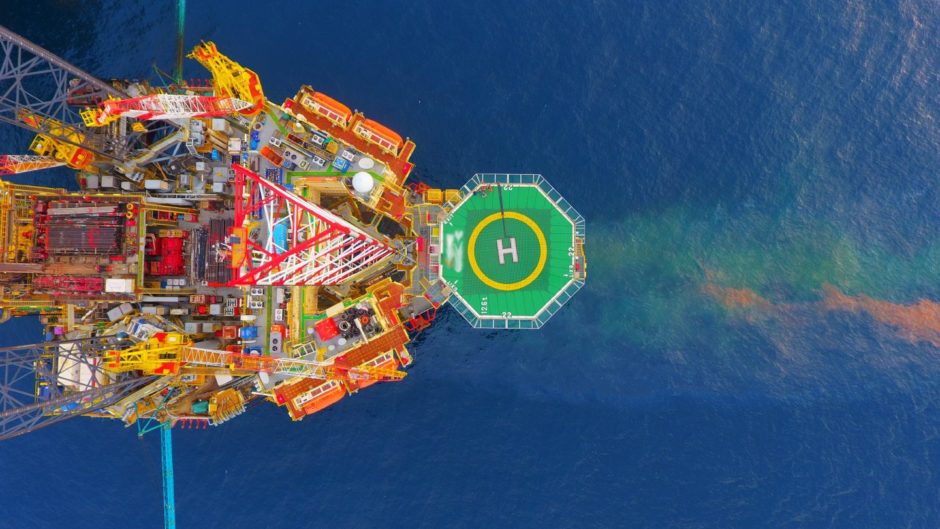 The joint heads of a taskforce are "absolutely confident" the group's work will help stimulate an imminent ramp-up in North Sea oil-well decommissioning activity.
That's despite an apparent snub from the UK Government for funding support for well plugging and abandonment (P&A) work.
Bosses from the Oil and Gas Authority (OGA) asked Westminster last year to provide a £100 million loan to help companies finance P&A campaigns in 2021.
Stuart Payne, co-chairman of the supply chain and exports taskforce, said in September that the proposal would "save about 1,000 jobs" and was being "considered".
But Mr Payne, also supply chain director at the OGA, now understands government "does not currently plan to progress that proposal".
However, he claimed there would be activity around well P&A this year that would not have happened without the taskforce.
Significant P&A work on the horizon
The group brings together a wide variety of industry trade associations and regulators – and the UK and Scottish governments.
Mr Payne said the taskforce had approached 17 operators with wells that need to be decommissioned in the near future and offered to help advertise the work to the supply chain.
In the last six weeks, 52 wells have been added to the OGA's Pathfinder online resource, which represents "a potential activity level in excess of £150 million over the next five years".
Last month, an operator agreed to put together a well P&A campaign in tandem with two or three other parties and a supply chain firm.
Meanwhile, OGA head of decommissioning Pauline Innes' team has required operators with suspended open-water wells to come up with P&A plans covering all of their well-stock in "the coming month or two".
Some of this year's activity "might be office-based work that leads to drilling in 2022," Mr Payne said, adding, "But it's fair to say activity is being driven now that would not have happened without our interventions.
"There will be significant P&A work in the two, three and four years from now that would not have happened otherwise.
"That's important and I'm proud of that from a taskforce point of view.
"The activity that comes from the OGA – that's our day job, so we're not heaping praise on ourselves for that.
"You won't see an OGA ticker-tape parade around the number of wells decommissioned."
Pathfinder is getting plenty of use. Over the last nine months, 51 entries have been added to it, including 11 production projects, 36 for decommissioning, three exploration and one carbon capture.
It appears to be effective. Mr Payne said one operator which was "struggling to get a project over the line" recently used the tool to ask the supply chain to help it lower costs.
Mr Payne said the operator had whittled bids down to the final two for a project that "would otherwise not have flown".
Though he didn't name the project, it is understood to be Ravel, the name of a field which operator Cnooc intended to tie back to the Scott platform.
Tackling late payments and off-putting tenders
The taskforce is also attempting to tackle the bugbear of late payments to North Sea suppliers.
It has got more than 20 companies to agree to pay up within 30 days.
John Pearson, the taskforce's other co-chairman, said some big invoices were being held up because one or two items did not look right.
In such instances, he says companies should simply remove those items, pay the rest of the invoice, then return to the points of contention, rather than hold everything up unnecessarily.
In addition, the taskforce is spearheading efforts to make tendering less expensive and time consuming.
Mr Pearson, also chief operating officer of Petrofac's engineering and production services division, said more complex tenders could take around a year to complete, which is off-putting to service firms.
The taskforce is bringing together more than 30 supply chain professionals for workshops aimed at thinking up ways of making tendering "frictionless".
Mr Payne said: "This is not a silver bullet, but we hope it will help companies stop wasting vast amounts of time and money on tendering.
"The workshops will present their feedback in April. If we can champion their recommendations, we will get on with it, if not, we will move onto the next problem.
"Having a fail-fast mind-set and setting clear finish dates is something this industry needs to get better at."
Mr Pearson and Mr Payne said the taskforce's four aims were to help companies stimulate activity, make that activity visible, get the work awarded swiftly, and see to it that suppliers are paid in a timely manner.
Mr Pearson said these objectives were designed to help the supply chain "survive 2020-21" and urged companies to "help each other again".
A recent report by Deloitte and Oil and Gas UK on industry collaboration suggested firms could improve in that regard.
It did show a slight increase in its collaboration index to 7.1 in 2020 from 7 in 2019.
But report authors observed that the Covid-19 pandemic and oil price slump led to "adversarial" approaches and a strong focus on cost reduction in 2020.
Couldn't give a monkey's who gets credit
Mr Pearson is encouraged by the "uptake" on the taskforce's schemes and is confident supply chain companies would recognise the group is having an impact.
Both men insisted the work of the taskforce wasn't about forcing companies to sign up to new rules or bogging them down with dozens of new initiatives, guidance documents or buzzwords.
Mr Pearson accepted it was important to be able to demonstrate the success of the taskforce and insisted they group was measuring itself against "leading indicators", such as the number of projects jump-started.
But he said focusing on metrics like numbers of jobs created and safeguarded might be "tricky".
Mr Payne agreed, saying there was a balance to be struck between "just talking nonsense" and getting to a point where organisations become "territorial".
"The taskforce couldn't give a monkey's who gets credit for securing jobs and investment in the basin," he said, adding: "The second we need to start justifying our existence on that granular level we risk driving the wrong behaviours."
He did say the taskforce had made important contributions to the original oil and gas sector deal's proposals and elements of the North Sea Transition Deal, currently being negotiated with the UK Government.