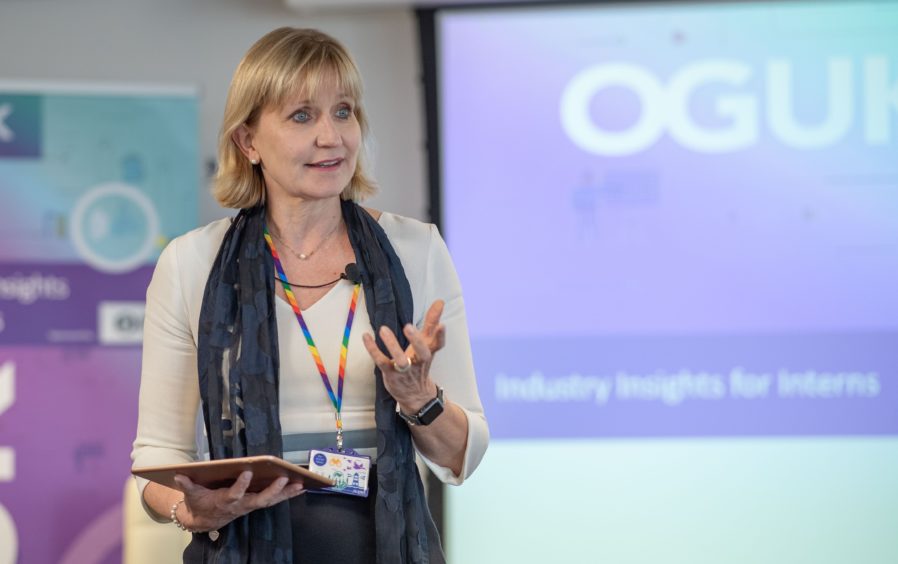 Industry chiefs welcomed the North Sea Transition Deal last night and vowed to work with government to deliver a "homegrown" leap to net zero.
Deirdre Michie, chief executive of industry body Oil and Gas UK (OGUK), said the agreement was the first of its kind by any G7 country and a striking example of the UK showing global leadership on climate change ahead of COP26
Ms Michie also described it as a "transformative partnership" which would harness the oil industry's expertise to meet green goals while unlocking billions of pounds of investment.
Sir Ian Wood, chairman of economic development body Opportunity North East, said the announcement was a "massive boost" for the north-east and paid tribute to OGUK for its role in securing the deal.
He said: "There is no doubt that the north-east is uniquely positioned within Scotland and the UK to take advantage of this massive opportunities presented by energy transition.
"As we continue to transition from oil and gas, this deal will allow us to develop a world-class supply chain and create new significant green job and investment opportunities."
Andy Samuel, chief executive of industry regulator the Oil and Gas Authority (OGA), vowed to monitor and hold industry to account on its emissions reduction performance.
Mr Samuel said: "This deal marks an exciting new chapter for the North Sea, confirming energy transition in action.
"It is the culmination of a lot of work between government, industry and the OGA.
"As long as oil and gas remain part of the UK's energy mix, they must be produced more cleanly and in line with net zero."
Colette Cohen, chief executive of OGTC said: "We fully support the Deal in its focus to decarbonise hydrocarbon production, unlock investment in carbon capture and storage and create the economic environment in which low carbon hydrogen production can flourish.
"It is encouraging that the deal recognises the importance of a just transition by anchoring technology development and manufacturing in the UK and focusing on the creation of jobs and skills."
John McDonald, chief executive of skills body Opito said: "The North Sea Transition Deal is excellent news for the oil and gas industry, the wider energy sector, and the many thousands of talented people it employs across the country.
"As part of the deal, I am delighted that Opito, and the Energy Skills Alliance, will work with industry, trade unions and government to develop a people and skills plan for the transition of the North Sea industry.
"Reskilling the workforce, enabling the transfer of people and skills across the sector, and inspiring the next generation are essential to deliver a sustainable net zero energy future."
Stephen Flynn, SNP MP for Aberdeen South, said support should have been provided sooner to stem the tide of North Sea redundancies.
Mr Flynn also said north-east Scotland must be the lead beneficiary of funding for carbon capture and storage and hydrogen production, and not Teesside.
He said: "It's now over a year since the oil price collapsed and the fact it has taken this long for the UK Government to put forward these proposals is deeply regrettable – too many jobs have already been lost.
"As is always the case with such announcements the devil will be in the detail and it is very much my hope, and expectation, that this is new government money that will actually protect and create jobs here in Aberdeen, where it is most needed."
Green groups accused the UK Government of a "colossal failure in climate leadership in the year of COP26" in light of its decision not to ban new oil and gas licences.
Mel Evans, head of Greenpeace UK's oil campaign, said: "While the government has rightly recognised the need to set a global example in ending fossil fuel finance abroad, its domestic plans for oil and gas continue to fall woefully short, giving mixed messages on the world stage.
"Instead of finding ways to prop up this volatile and polluting sector, a better proposition for workers and communities would be for the government to confirm a ban on new licences, and put all its energies into a nationwide programme of retraining, reskilling and investment in renewables and green infrastructure."
Recommended for you

IOGP boss warns of an energy transition 'disrupted' by energy security fears