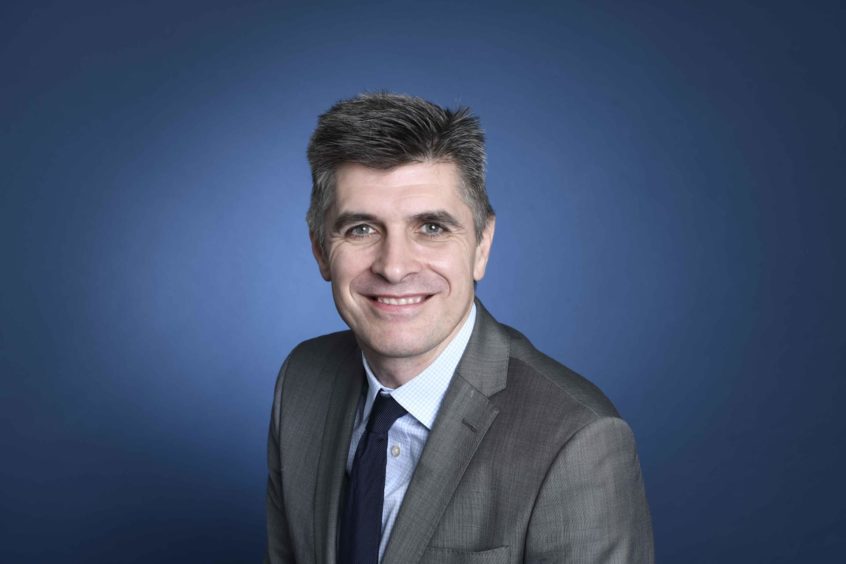 Private-equity house Bluewater has sold its controlling stake in px Group, which operates and maintains St Fergus gas plant, near Peterhead.
The institutional investors who provided backing for the acquisition were not named initially.
But it has emerged that the interests were bought by Aksiom Services Group (ASG) and the management team at px, led by CEO Geoff Holmes.
ASG is a partnership between Dublin-headquartered venture capital business Aksiom Group and Houston-based private-equity firm Ara Partners.
Bluewater, the new name for Blue Water Energy, said it had "transformed" px during its five years as majority owner of the energy infrastructure management company.
In that time, Teesside-headquartered px has trebled its revenues and increased Ebitda to more than £15 million from £2m the year before the acquisition.
Bluewater said it was proud to have achieved this growth during one of the "most challenging economic climates in memory, impacted by the Covid-19 pandemic".
The seller would not reveal how much its 70% stake in px had fetched, but did say it had achieved an internal rate of return of 30% on its investment.
Px has operated and maintained St Fergus since 2016 on behalf of client North Sea Midstream Partners, which purchased the facility from French energy giant Total that same year.
Bluewater founding partner Graeme Sword said the award of the long-term O&M contract for St Fergus was the "trigger" for the private-equity business to acquire px.
Mr Sword said the acquisition, growth and sale of px was a "classic private-equity" play by Bluewater.
He said: "The sale is a good outcome. Px is a good company. We bought well and did all the usual private equity things. We made acquisitions and did some refinancing.
"We helped them build a management team. Then, having reached a certain level, it was time for us to exit and return money to our investors. From start to finish, it's a good story."
He said px had become a leader in the energy transition under Bluewater's watch and had a "bright future" under the new ownership.
The company's operated third-party sites have increased from two plants in Teesside to eight sites across the UK, making px responsible for 30% of the country's natural gas demand.
Natural gas is viewed as a bridging fuel in the UK's efforts to decarbonise.
Furthermore, the Acorn carbon capture and storage and hydrogen project is being developed at the St Fergus site.
Last year, px hired Mark Hobbs, formerly of Apache, as its managing director, offshore oil and gas, to spearhead its push into the upstream oil sector.
It also brought in Garry Lewis, who used to work for Worley, as its chief strategy officer, tasked with leading the group's business development team.
Furthermore, North Sea veteran Ray Riddoch joined the board to help drive forward px's offshore ambitions.
Mr Riddoch had stepped down as UK managing director of China National Offshore Oil Corporation (CNOOC) International in March 2020.
The appointments followed px's acquisitions of a 65% stake in Aberdeen-based NRG Well Management in April 2020 and Camm-Pro, an oil and gas project management company based in Newmachar, in November 2019.
Mr Sword praised px chairman Chris Picotte, who co-founded Aksiom in 2017, for playing an "important role" in the firm's growth.
An experienced energy and private-equity professional, Mr Picotte took a stake in px in 2013 before co-investing alongside Bluewater in 2016.
Mr Sword said: "Chris owned a stake throughout our ownership. Now, he and Geoff and the management team are continuing with the next owners as well, so Chris is going onto his third iteration of px."
CEO Mr Holmes joined px in 2019 from Ineos Upstream Services, where he had been chief operating officer.
Mr Holmes said: "From a company perspective, working with Bluewater has really demonstrated the advantages of private equity.
"We can move fast and take a longer-term view, without being fixated on quarterly results.
"The Bluewater team provided invaluable strategic oversight, sector understanding and support throughout our journey.
"Px is now in great shape and well-positioned for future growth across energy, industrials, and the energy transition."
Charles Cherington, managing partner at Ara, said: "px Group's well-proven technical, project management and operations expertise through the full lifecycle of complex infrastructure assets creates a unique, high-value opportunity for an investor like Ara, with a portfolio of companies developing and building low carbon industrial infrastructure.
"Reducing carbon intensity across all of industry – both the large installed base of existing assets and those assets to be built over the coming decades – is core to Ara's mission, and px Group delivers that objective exceptionally well."