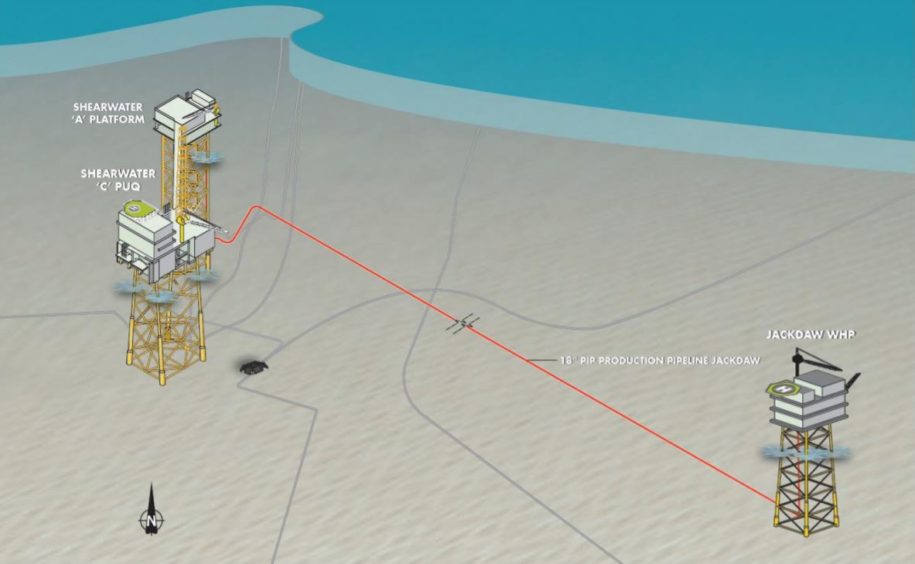 Shell has reached a key milestone for giving the greenlight to Jackdaw, a North Sea project which was delayed amid the Covid-19 pandemic.
The oil major has handed in an environmental assessment for the Jackdaw development to the UK Government, a prerequisite for projects being sanctioned through a final investment decision (FID).
An environmental statement was already handed in to the government back in January last year, however the Jackdaw project timeline was pushed back by Shell in light of the Covid-19 downturn, meaning it needed to be re-submitted ahead of being sanctioned.
FID for the scheme, with reserves between 120m-250m barrels of oil equivalent, was initially expected in Q2 2020 but is now anticipated for later this year.
Shell hit pause on a number of projects in April last year, including Jackdaw, due to the pandemic and its severe impact on commodity prices.
Installation of the jacket, topsides and export pipeline will take place between Q3 2022 and Q1 2024.
After the drilling campaign, first production is expected around Q3/Q4 2024.The documents will be reviewed by environmental regulator OPRED.
Jackdaw, a field which lies 155miles east of Aberdeen, will produce via a new normally unmanned installation (NUI), tied back to the Shell Shearwater production hub, 20 miles away, increasing the latter's longevity.
The Jackdaw field was discovered in 2005 and appraised between 2007 – 2012.
The environmental statement notes that there will be "incremental emissions" from the NUI which will generate electricity from an on-site diesel generator.
However it has been "future-proofed" for "viable electrification opportunities" should they arise.
Shell was just one of many operators who put projects on pause last year in light of the pandemic.
By April 2020, the price of the Brent crude benchmark had dipped below $20 a barrel, hit hard by travel restrictions and a price war between Russia and Saudi Arabia.
Prices have now recovered to around $67 a barrel as vaccination programmes worldwide take effect.
For the North Sea, some signs of recovery, such as Jackdaw, have started to seep through, with other FIDs including Harbour Energy's Tolmount East and Siccar Point's Cambo project expected in the coming months.
The Shell projects, including a delay to commissioning the Arran pipeline, also lead to knock-on delay to the Serica Energy Columbus development, now being drilled, which is another Shearwater tieback.
Shearwater plays a key role in the energy giant's so-called Central Graben Strategy, making the platform the main production site for nearby fields like Arran and Fram,
Ross Dornan, market intelligence manager at Oil and Gas UK said:  "Whilst the industry continues to feel the effects after the severe challenges seen across the last year, the welcome progress on the Jackdaw development in the North Sea is a positive sign that an increase in activity levels could be on the horizon.
"Developments like this will be crucial to ensuring the energy security of the UK, as well as providing much needed new demand for our critical supply chain capabilities to service. These are both essential elements in the context of the transition to a net zero future."
Recommended for you

Wood Mac: New UK licences need major discovery to 'whet Shell's appetite'