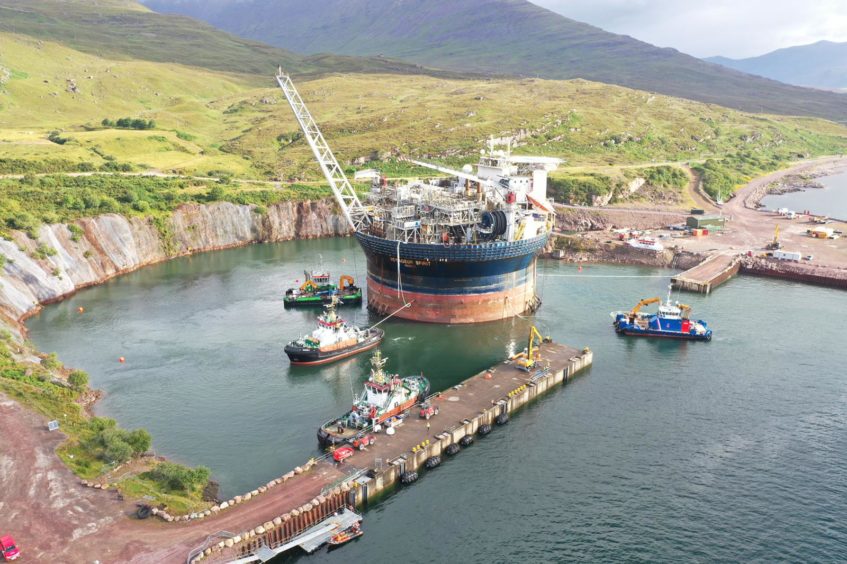 Malaysian oil firm Hibiscus Petroleum and Ithaca Energy, of Aberdeen, have agreed to jointly develop a pair of North Sea discoveries.
Hibiscus said the two firms expected to pick the best infrastructure option for Marigold and Yeoman by the end of August.
They are currently "revisiting" whether to use Teekay's Voyageur Spirit vessel, which used to serve Premier Oil's Huntington field and is currently docked at Kishorn Port.
A tieback of the two fields to Repsol Sinopec's Piper B platform is also being weighed up, Hibiscus said in its latest quarterly results.
Hibiscus handed in its field development plan for phase one of the Marigold project to UK regulators in December 2020.
The scheme comprised three subsea production wells tied back to a floating production, storage and offloading vessel.
Hibiscus then intended to move onto a second development phase, which could have involved more wells on Marigold or the development of Sunflower, Yeoman, Crown and Kildrummy.
But in January the Oil and Gas Authority (OGA) asked Hibiscus to work out whether it would be worth developing the field alongside Ithaca's adjacent Yeoman discovery, now renamed Marigold East.
The two firms are now negotiating a joint development agreement and are looking to settle on a development option in the coming months.
Ithaca, owned by Israeli firm Delek Group, bought the licence containing Yeoman and a second discovery – boasting combined resources of 15m boe — from Total in February 2020.
Hibiscus purchased 50% of Marigold and Sunflower for £28.5 million from Caldera Petroleum, a London-registered subsidiary of Indian firm Aban Offshore, in October 2018.
The firm recently acquired a further 37.5% of the two fields from Caldera, stretching its holding to 87.5%.
Marigold and Sunflower are contained within licence P198, 155 miles north-east of Aberdeen, and are thought to contain 60 million barrels of oil equivalent (boe).
Hibiscus' other UK North Sea interests are in the Anasuria Cluster, 110 miles east of Aberdeen.
The cluster comprises the Teal, Teal South, Guillemot and Cook fields, which produce to the Anasuria FPSO.
It is operated by Anasuria Operating Company (AOC), a joint venture between Hibiscus and fellow Malaysian firm Ping Petroleum.
AOC recently completed a 29-day maintenance turnaround on the Anasuria FPSO, which is gradually being brought back online.
But Hibiscus said several "anomalies" were identified on an important component of the subsea infrastructure during the ramp-up.
Production will be lower until the part is replaced.
Hibiscus recorded revenues of £36.8 million for the first three months of 2021, up from £30m in the corresponding period last year.
Ebitda increased to £20.8m from £16.1m, on the back of higher oil prices.
Recommended for you

Fotla and a delayed Marigold project in the Ithaca Energy FID pipeline