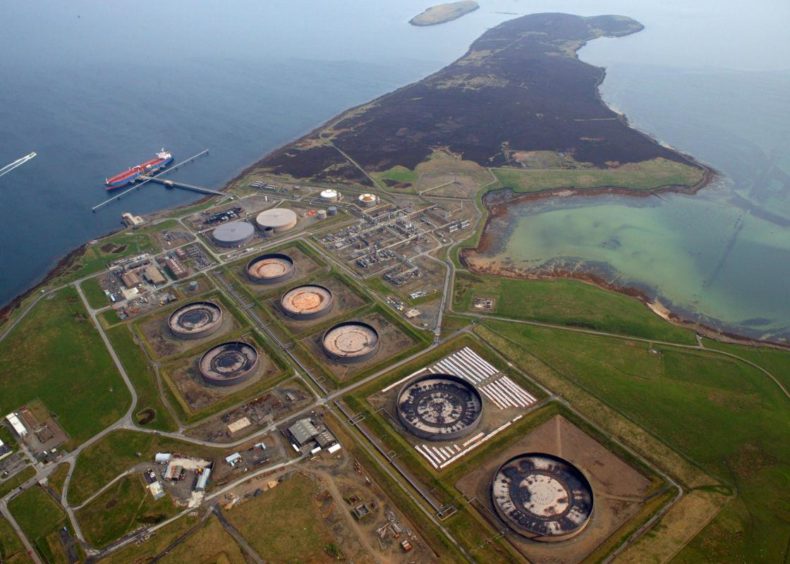 Jobs are at risk at contractor Petrofac after Repsol Sinopec announced "organisational changes" are to be made at the Flotta oil terminal in Orkney.
Unite the union said 14 positions are at risk of redundancy due to the change-up, describing it as a "devastating blow" to the local economy.
A spokesperson for Petrofac said it is working closely with Repsol Sinopec, which operates the terminal, on the new operating model "through a combination of open vacancies and new positions".
They added that Petrofac "will do our utmost to redeploy as many roles as possible across the contract".
Petrofac is due to speak to employees tomorrow, Unite said in a statement.
Repsol Sinopec said last week that steps would be taken to "minimise staff reductions" and "explore redeployment opportunities where possible".
The Spanish-Chinese joint venture company said the proposed changes relate to "emissions reduction and energy transition opportunities" but did not elaborate further.
Unite industrial officer Shauna Wright said: "Unite is disappointed to hear the Petrofac have announced that 14 jobs are at risk of redundancy over in Orkney Flotta Oil Terminal.
"This is a devastating blow to local economy during the current climate.
"Petrofac are speaking with their employees tomorrow and Unite have advised that they will offer ongoing support to members during this difficult time and be pushing the company to mitigate as many redundancies as possible."
Repsol Sinopec has previously said that it plans to keep the terminal, which celebrated its 40th anniversary in 2017, operating beyond 2030.
The terminal was inaugurated in 1977 after Occidental North Sea Group, comprised of Occidental Petroleum, Allied Chemical, Getty Petroleum and Thomson North Sea selected a landfall for their newly-discovered Piper field, 125miles east of Caithness.
The Flotta terminal has previously been involved in a green hydrogen consortium project led by the OGTC called Hydrogen Hub Orkney.
However the scheme failed to receive phase 2 funding and it is understood the current plans do not relate to that project.
Recommended for you

North Sea operators confirm future for Flotta into 2030s and beyond