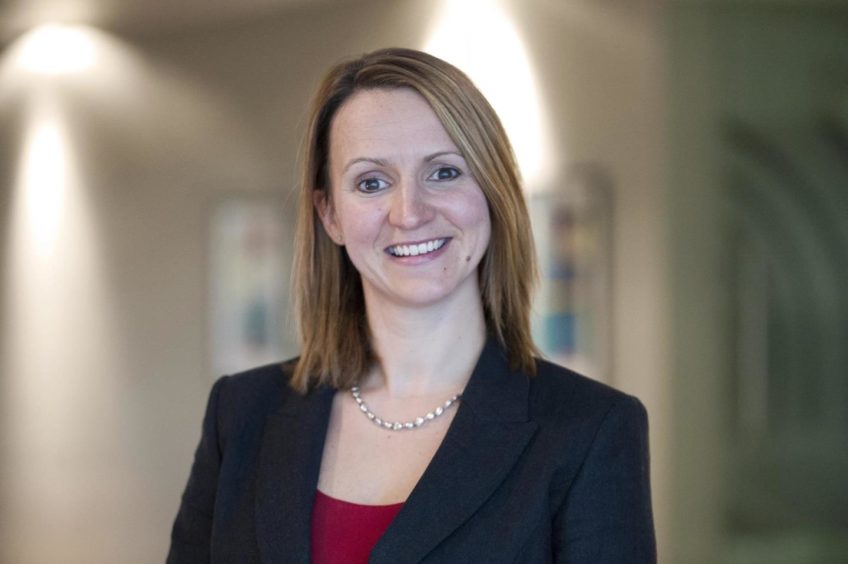 Corporate oil and gas specialist Rosalie Chadwick is comfortable with transition. Some 25 years ago she happily made the switch from hometown Edinburgh to take her first step towards a legal career as a law undergraduate at the University of Glasgow.
Little did she know that just a few years later, as a newly qualified lawyer with McGrigors (now Pinsent Masons), her next transition would be into the much higher-octane environment of the Georgian capital Tbilisi.
Her initial assignment in 2003 was to negotiate a farm-in to the third most productive oil field in the Former Soviet Republic (FSR), but her time coincided with the Rose Revolution in Georgia, and she soon found that corporate life required her being shadowed by an armed bodyguard, and that it was not unusual at meetings for guns to be placed on boardroom tables.
This led to a two year secondment as Global General Counsel for one of the FSU's emerging independent oil and gas companies, where she bought and sold assets in the FSU and Middle East, and shuttled between Tbilisi and New York as the company prepared to float on the NYSE.
Now, in her new role as Global Head of Oil and Gas at international law firm Pinsent Masons, the dealmaker is taking another form of transition in her stride – as many of the firm's long established clients adopt strategies which will see their higher carbon intensity portfolios eventually pivot to renewable energy and lower carbon assets.
Rosalie recalled: "Nowadays we are all familiar with Georgia, but back then as a junior lawyer, I was excitedly thinking I had landed a posting in Atlanta, Georgia. Prior to that, I had thought it was quite punchy moving from Edinburgh to Glasgow for university, so Georgia opened up a whole new world.
"It was all a bit James Bond-esque with an armed bodyguard who went virtually everywhere with me, and there were some hairy moments, including having a gun pointed at my head as my passport was scrutinised at checkpoints as we made our way back to the hotel after tense late-night negotiations.
"But my stint in Tbilisi really piqued my interest in oil and gas – the personalities involved and the geopolitical aspects of that world were all fascinating – and it made me realise it was a brilliant sector to be involved in."
Later in her career in 2007-8, she was seconded to work in a corporate finance role with entrepreneur Sir Tom Hunter's private equity vehicle West Coast Capital. In that role she was their appointed representative on the board of multiple companies across different sectors during the global financial crisis.
On returning to Pinsent Masons she went on to guide West Coast Capital business, PSN, through its $1 billion sale to Aberdeen-based Wood, which at that time was one of the three largest services companies in the UKCS.
She added: "I've been fortunate to build up a career in a sector which is never dull and always challenging, and now it's a real privilege to take on the role of Global Head of Oil and Gas and to head up a very talented team of lawyers working across international borders on multi-billion dollar deals."
With more than 500 lawyers and support staff based in Scotland, and offices in Aberdeen, Edinburgh and Glasgow, not surprisingly Pinsent Masons are to the fore in much of the M&A activity in the UK Continental Shelf.
Currently, Rosalie's team is engaged on behalf of Hitec-backed NEO Energy, which in March announced the $625 million acquisition of Zennor Petroleum from Kerogen Capital, in a deal with includes assets in the Central and Northern North Sea.
Also Pinsent Masons advised Jersey Oil & Gas on its recent fundraising and acquisition and continues to advise the company on the farm-out of its Greater Buchan Area project, described as "one of the most exciting developments in the North Sea", and which includes plans for a major new production hub which will be powered by an electrified platform.
In 2019-20 Rosalie led Pinsent Masons teams which were at the centre of two of the four largest UKCS deals to complete – Ithaca Energy's $2 billion acquisition of Chevron North Sea, and the sale of 10 UK offshore fields owned by TotalEnergies to NEO.
While Pinsent Masons oil and gas specialists are front and centre of many of the major UKCS deals recent and current, the international aspect of their work is significant – at the moment the firm is engaged on projects in Australia, Egypt, Norway, Morocco, Angola, Trinidad and Syria – to name just a few examples.
In Africa in particular, Rosalie can see a similar trend to recent M&A activity in the North Sea: "There is a good deal of movement in both regions, with the major operators selling on non-core assets as they gear up for energy transition towards a zero-carbon future. We are acting for a consortium of Cairn Energy and Chevron in acquiring a package of Shell's assets in Egypt, and this is a good example of the ongoing non-core divestment underway in Africa.
"While Africa is a few years behind the UKCS, it is a very similar proposition to what is going on in the North Sea and I see a new wave of entrants, supported by different or novel forms of finance, fuelling M&A activity in both these geographies.
"Interest in services companies is also ramping up and will continue to be lively with part realisation, part necessity, that companies have to diversify away from pure oil and gas as their core customer base pivots towards energy transition.
"An excellent example of this involved a deal we advised on, in which Aberdeen shipping company North Star was successful in securing a £270 million contract to supply vessels in support of Dogger Bank Wind Farm, the world's largest offshore wind farm.
"North Star has a 40 year track record of working in the North Sea but has demonstrated how oil and gas focussed businesses can embrace opportunities in the renewables space, and I think we will see more of this kind of innovative approach to securing a foothold in green energy."
While Rosalie's career bread-and-butter has been oil and gas, she is enthusiastic about how the firm's hydrocarbon experience can work in tandem with Pinsent Masons' Renewable Energy team, led by colleague Ian McCarlie, who are advising clients on energy transition.
"Ian McCarlie and I are cut from the same cloth in that he started his career in oil and gas, but he now leads our highly respected Renewables practice. His team are advising global oil and gas majors on how they make the transition from the space they have occupied for the last 50 years into green energy, including wind, hydrogen, Carbon Capture Storage (CCS), solar and tidal technologies."
For example, the firm's renewables experts are advising on all aspects of the consenting process for a proposed CCS project in the UK which aims to decarbonise a cluster of carbon-intensive industries by as early as 2030 and proposes to capture up to 6 million tonnes of CO2 each year – making a substantial contribution to achieving the UK Government's Clean Growth Strategy and net zero.
Rosalie added: "Recently we have seen ExxonMobil, bp, Total, Shell and Chevron on a divestment drive, exiting non-core mature assets, which will enable them to redeploy capital in oil and gas assets in geographies which meet their lower carbon intensity investment criteria, or into energy transition assets.
"The energy sector is at a real inflection point as it seeks to meet global demand while reducing its environmental impact and with the objective of reaching a net zero carbon end point. With our Renewables practice at the centre of genuine market leading deals, and working hand-in-hand with our long established Oil and Gas practice, we are in a very strong position to assist major Operators and services companies as they navigate this next chapter in the evolution of the world's energy capabilities."