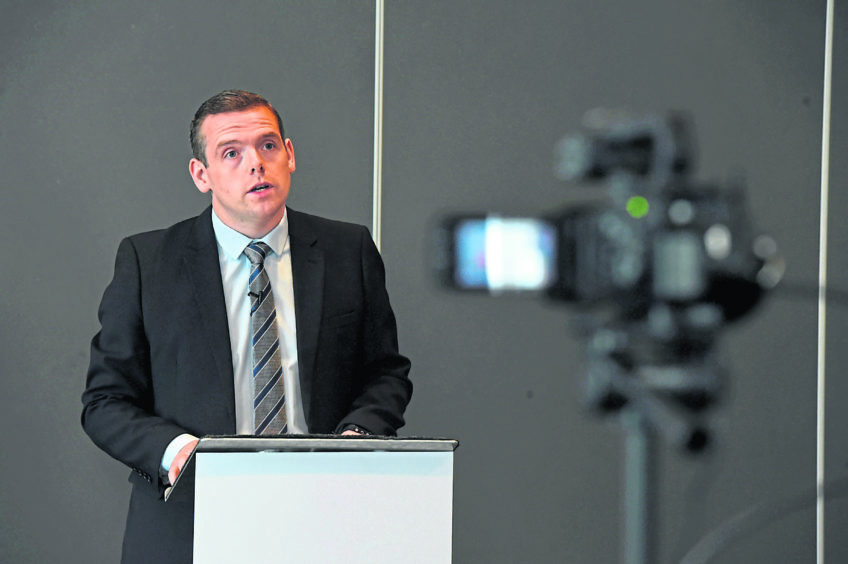 Douglas Ross has accused the SNP of starting to shift towards "extremist positions" that promote the abandonment of the oil and gas industry.
The Scottish Conservative leader claimed in an op-ed that Nicola Sturgeon seemed prepared to "cast aside an industry" that the SNP once championed.
Mr Ross argued that throwing the North Sea oil sector to the wolves would be a "most reckless act of self-sabotage", as it would jeopardise jobs and energy security.
Last week Ms Sturgeon revealed she had written to Boris Johnson asking the UK Government to review previously issued offshore licences where field development hasn't begun.
This includes the proposed Cambo project, west of Shetland, which is the subject of fierce criticism by opponents of the oil and gas industry.
The move followed the publication of an IPCC report which said the death knell for oil and gas should be sounded.
Environmental groups said Ms Sturgeon had not gone far enough and accused her of deferring to the prime minister.
The following day, Mr Ross suggested Ms Sturgeon's intervention was designed to secure the SNP's proposed power-sharing agreement with the Scottish Greens, and to further the pro-independence cause, rather than to help tackle climate change.
In his op-ed, published today, Mr Ross said he was "incredibly disappointed" by the position the SNP has taken on oil and gas.
He said his party was fighting for the future of the industry and the tens of thousands of jobs it supports.
Mr Ross wrote: "We are the only party in the Scottish Parliament who wholeheartedly support the Cambo oil field.
"We are resolute and proud backers of this new field because we reject the misconception that tackling climate change demands opposition to oil and gas.
"In fact, the opposite is true. Tackling climate change demands working closely with oil and gas. A fair and sensible transition to net zero is the only valid course of action."
The UK Government agreed the North Sea Transition Deal early this year, which looks to unlock £16bn of investment.
However, Westminster also authorised the creation of a checkpoint system for determining whether future licensing rounds should take place.
In addition, financial support for exporters who wish to participate in offshore fossil fuels projects is being withdrawn, prompting concerns from suppliers that their hopes of transitioning could be curtailed.
In response to Mr Ross' comments, a Scottish Government spokesperson said: "We are wholly committed to ending Scotland's contribution to climate change by 2045, and to ensuring we do it in a way that is just and leaves no-one behind.
"That is why the First Minister has called for a four nations summit to be convened in order to discuss how we can work together, both in the run up to COP26 and beyond, to ensure that we provide clear leadership to ensure a just transition to net zero that does not repeat the mistakes of the past.
"The IPCC's most recent scientific report published last week only serves to underline how important it is that we take significant, near-term action in response to the climate emergency – for this and future generations.
"That is why the First Minister has called on the UK Government, who have the power to act in this instance, to urgently re-assess all approved oil licenses where drilling has not yet commenced against our climate commitments.
"The oil and gas sector has a positive role to play in our journey to net zero. Indeed, we are clear that the North Sea has a vibrant future in renewable energy, hydrogen, and Carbon Capture Utilisation and Storage.
"Meeting our climate obligations while ensuring a secure energy supply and supporting our highly skilled workforce to transition to the green jobs of the future must all go hand in hand.
"We will continue to work closely with industry, trade unions, communities and workers to ensure the right skills and training are in place to protect and create jobs as we become a net-zero economy."
Meanwhile, UK Government Minister for Scotland David Duguid yesterday met Cambo field operator Siccar Point Energy to discuss the project.
Afterwards he said: "It is vitally important that we engage with the oil and gas industry as they have a critical role as the UK transitions towards clean energy as part of our net zero targets.
"Whilst our reliance and demand for fossil fuels continues to fall, we cannot have a cliff-edge where oil and gas are abandoned overnight as they have a role to play in our electricity supply, in providing local jobs, and in supporting the production of everyday essentials like medicines.
"The UK Government together with industry is pioneering managed change with the North Sea Transition Deal, supporting vital jobs in Scotland while developing technology, innovation and expertise that will be critical to net zero and fighting climate change in line with our aims at COP26 in Glasgow in November."
Jonathan Roger, chief executive of Siccar Point Energy, said: "This meeting provided the opportunity to answer questions the Minister had regarding our development proposal, and its role as one of the fields supporting the UK's energy security strategy as the transition moves forward.
"This includes the creation of more than 1,000 direct UK jobs, and thousands more in the supply chain, over its 25-year life.
"We will continue to provide information to government, regulators and other stakeholders as they require it, as we progress through the statutory process."
Recommended for you

BP to still be producing oil in 2050, believes operations boss