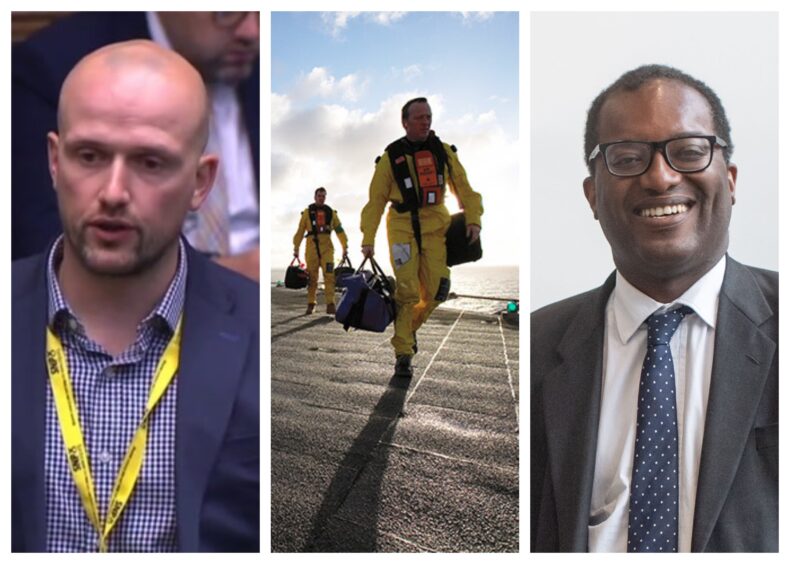 An Aberdeen MP has branded the UK Government a "disgrace" as oil and gas medics have been left in employment limbo by Brexit red tape.
Since the UK left the EU, several offshore industry medical workers have reported being unable to apply for jobs in member countries as their UK Health and Safety Executive (HSE) approved qualifications are no longer being recognised.
Aberdeen South MP Stephen Flynn said they were being "punished because of the Tories' hard Brexit" and has written to Business Secretary Kwasi Kwarteng for answers.
Under the UK's Brexit trade deal, as of January 1 this year, UK-qualified professionals who wish to supply services in the EU need to seek recognition for their qualifications according to the national rules of the relevant member state.
The Department for Business Energy and Industrial Strategy (BEIS) pointed to the Professional Qualifications Bill, currently in the report stage at Westminster, which will allow regulators to "strike deals" with their overseas counterparts.
Mr Flynn said: "I've written to Kwasi Kwarteng to ask him to sort this out immediately and to be perfectly frank, it's a disgrace that his department are aware of the issue, but are refusing to act – our energy sector, our city and our country are an afterthought to this Tory Government."
In his letter to Mr Kwarteng, Mr Flynn said that the bill being in the report stage means workers "will not see a resolution any time soon", adding "it is simply not good enough".
He said: "This is a perfectly straightforward issue that the UK Government should have ironed out with the EU long ago, but instead offshore medics have been left high and dry, unable to work with EU firms because of Tory red tape.
"Please provide assurances that the UK Government will engage with the EU and sort this matter out to ensure that offshore medics are no longer left high and dry by your government's shambolic Brexit deal."
On online forums several offshore medics reported that their HSE approved qualifications were no longer being recognised by EU employers, with listings for "EU only" applicants.
One described the situation as "utterly embarrassingly shambolic".
The Health and Safety Executive said the matter is not one for the regulator to comment on. The Scottish Conservatives have been contacted for a response.
The UK Government said it has established a "Recognition Arrangements team" to provide advice, expertise and other forms of support to regulatory and professional bodies.
A BEIS spokesperson said: "The Professional Qualifications Bill means we can further empower UK regulators to strike deals with their overseas counterparts.
"The government is committed to supporting individuals and businesses adjust to our new relationship with the EU, and the guidance we are providing will help regulators to establish arrangements with their EU counterparts so professionals can get their qualifications recognised overseas."