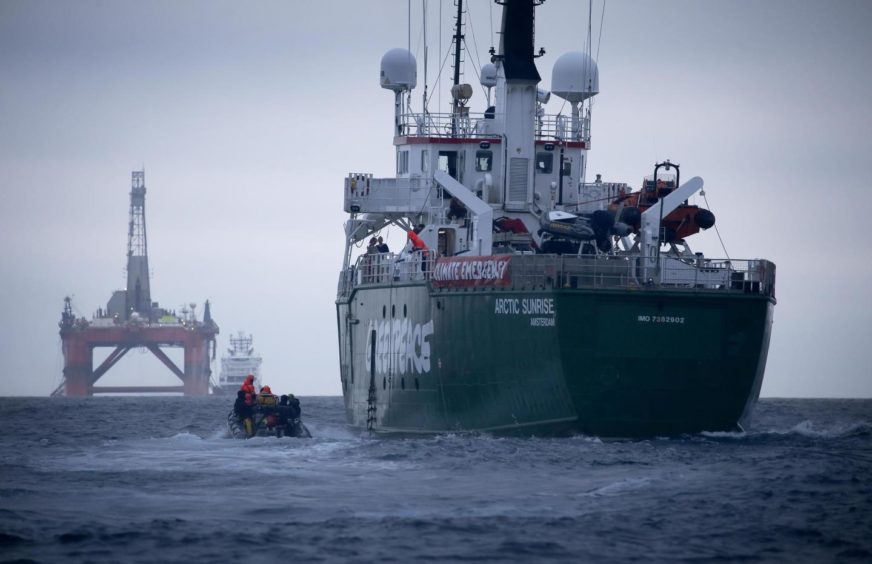 Greenpeace is launching a court challenge against the UK Government, Ithaca Energy and BP over permits for a North Sea oilfield.
The activist group has made numerous attempts to thwart production from the Vorlich oilfield, around 150miles east of Aberdeen, including a 12-day rig protest in 2019.
A two-day hearing in the Court of Session in Edinburgh will begin on Wednesday, with Greenpeace against the Department for Business, Energy and Industrial Strategy (BEIS), the Oil and Gas Authority (OGA), BP and Ithaca Energy.
Greenpeace argues that the decision to grant a permit for Vorlich in 2018 did not take climate impacts into account and is calling for it to be revoked.
BP was the operator of the Vorlich project through its development but handed over the reins to partner Ithaca Energy when it started up production in November 2020.
Greenpeace said the case will "cause much embarrassment" for the government, two months ahead of the COP26 climate summit in Glasgow.
The group added that, if successful, its bid would have major implications for any future North Sea drilling permits.
A spokesperson for BEIS said: "We cannot comment on ongoing legal proceedings.
"However, whilst the UK's reliance on fossil fuels continues to fall, advice from the independent Climate Change Committee is that we cannot have a cliff-edge where oil and gas are abandoned overnight as the sector has a key role to play in our electricity supply, in providing local jobs, and in supporting the production of everyday essentials like medicines.
"Without a domestic source of oil and gas while we gradually transition to a low carbon future, the UK would be even more reliant on imports from other countries."
The OGA said it does not comment on matters that are before a court, while Ithaca Energy and BP said they would not issue further comment while proceedings are live.
Last year Greenpeace petitioned for a judicial review of the decision by UK Ministers to grant Vorlich permits, but the judge deemed the bid "incompetent" and told Greenpeace there were other avenues for it to pursue its case.
Lord Boyd highlighted that a licensing review was underway at the time to ensure the UK regime is compatible with net zero goals.
The £16bn North Sea Transition Deal, signed in March, confirmed that Westminster would not ban new exploration licensing rounds, but there would be far greater scrutiny imposed through the introduction of "climate compatibility checkpoints" for new projects.
The issue has also come to a head through the ongoing debate around the Cambo oilfield, which is awaiting approval from the OGA.
In July 2019, a judge imposed an £80,000 fine on Greenpeace over its protest on board the Paul Loyd Jnr rig, having breached a court order obtained by Transocean.
The standoff cost the taxpayer nearly £140,000 as Police Scotland clocked up hundreds of hours of overtime.
Recommended for you

Greenpeace takes UK oil licensing round battle to High Court