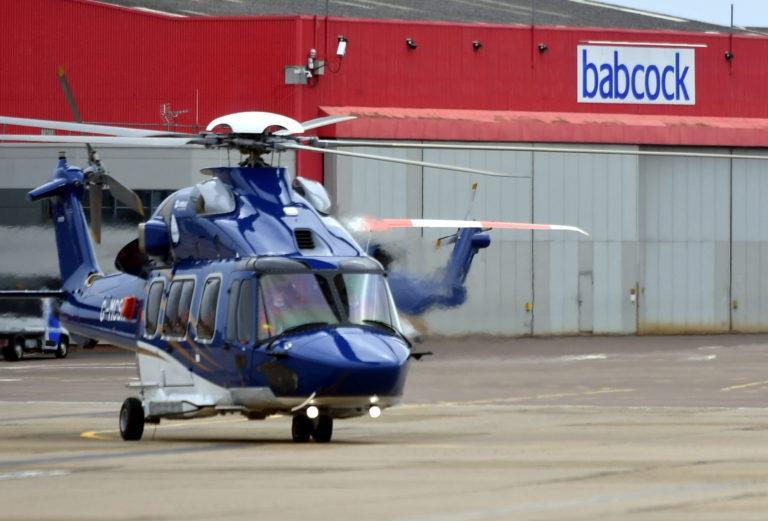 The Babcock oil and gas helicopter operation in Aberdeen is to be renamed while the competition watchdog mulls a takeover by rival CHC.
Earlier this week, Babcock announced the £10m sale of its helicopter business had been "completed", however a Competition and Markets Authority (CMA) process remains ongoing.
The CMA has, however, now granted several derogations allowing certain elements of the deal to proceed while it decides whether to launch a full investigation.
In the meantime, CHC said the Babcock business will be "held separately and operate independently".
As part of that, the CMA has agreed that the Babcock helicopter operation in Aberdeen will be renamed as "Offshore Helicopter Services UK Limited" in order to avoid any perceived association by customers with CHC.
A similar move is also being made for Babcock operations in Denmark and Australia.
Meanwhile, the removal and covering up of Babcock logos has also been permitted.
The CMA issued an initial enforcement order in June, stalling the deal. It has not yet formally started a phase 1 investigation but, once it has, it will have 40 working days to decide on whether to refer the deal to a more in-depth phase 2 investigation or clear it.

In the meantime, the CMA has agreed for Chris Krajewski, a former director at CHC, to oversee Babcock's operation as a "Hold Separate Manager" in the interim.
He will be reporting to the CMA, not CHC, and the watchdog agreed to his appointment on the basis that his past employment with CHC does not create a conflict of interest risk.
The competition watchdog has agreed to CHC making the payments strictly necessary for CHC to become the parent guarantor of Babcock Offshore.
Other derogations granted include extending its insurance coverage to Babcock operations, assistance with cash flow, major incident assistance if required and liaising on employee benefits.
The £10million deal between CHC and Babcock was announced by the latter as "completed" on Wednesday, however the CMA said its process remains ongoing.
The watchdog has power to review the merger even after the deal is complete.
Babcock and CHC first announced the deal, covering around 500 employees, in March.