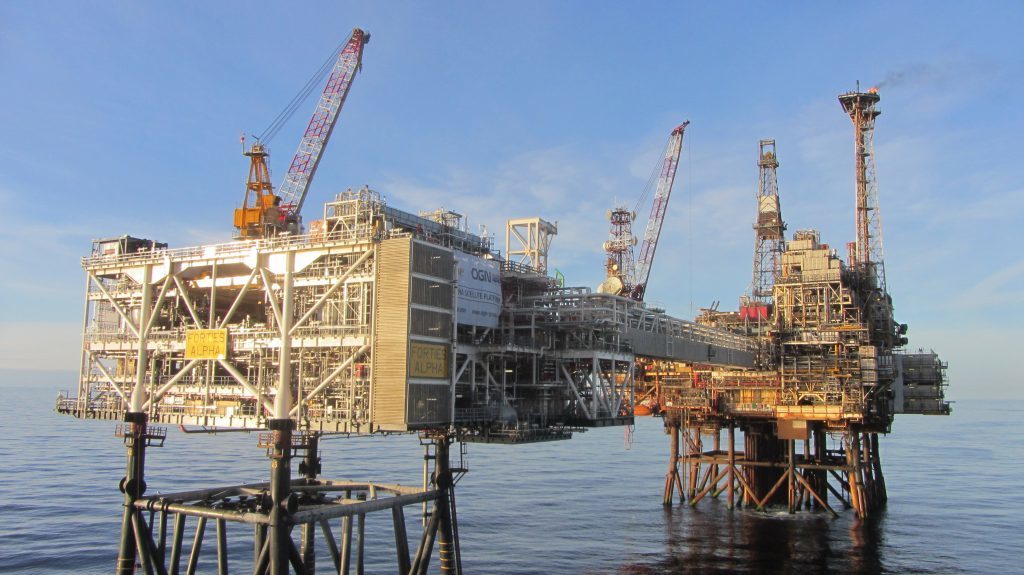 The Health and Safety Executive (HSE) has issued a warning after corrosion was found on a fire safety system on board the Forties Alpha platform.
An improvement notice from the regulator said the "safety critical" piece of pipework was in a "poor state of repair due to corrosion".
Operator Apache has until November 30 to remedy the issue.
HSE said the firm "failed to adequately inspect and maintain the safety critical High-Pressure Fire Water system".
The system was installed on the platform 45 years ago and HSE said there is a requirement for strip removal of a substantial portion of the pipework every five – 20 years depending on criticality.
It added that "failure of the system could result in lack of availability of firewater during an emergency situation, such as a fire or explosion".
A spokesperson for Apache said: "The safety of our people is our top priority and we are actively conducting work on the platform to address this matter.
"Our ongoing inspections have revealed no corrosion that has compromised the integrity of the identified system."
RMT regional organiser Jake Molloy said: "I know from personal experience what happens when your fire systems don't work so I think HSE are absolutely right to categorise it as safety critical.
"As regards Apache's failures, that, sadly, is a reflection of what's going on in the North Sea right now. The drive to reduce costs, the backlogs of maintenance on safety critical kit continues to grow as a knock on effect of the pandemic.
"But in this case, given the age of the kit, you would have expected it to have been done a long time ago, certainly pre-pandemic. Quite clearly that needed attention long before it ever got to the stage that it did."
Forties lies around 100miles east of Aberdeen.
The UK arm of Houston-based Apache Corporation entered the North Sea through its £400million-plus acquisition of Forties from BP in 2003.
Recommended for you

HSE issues second safety warning in wake of missing worker inquiry