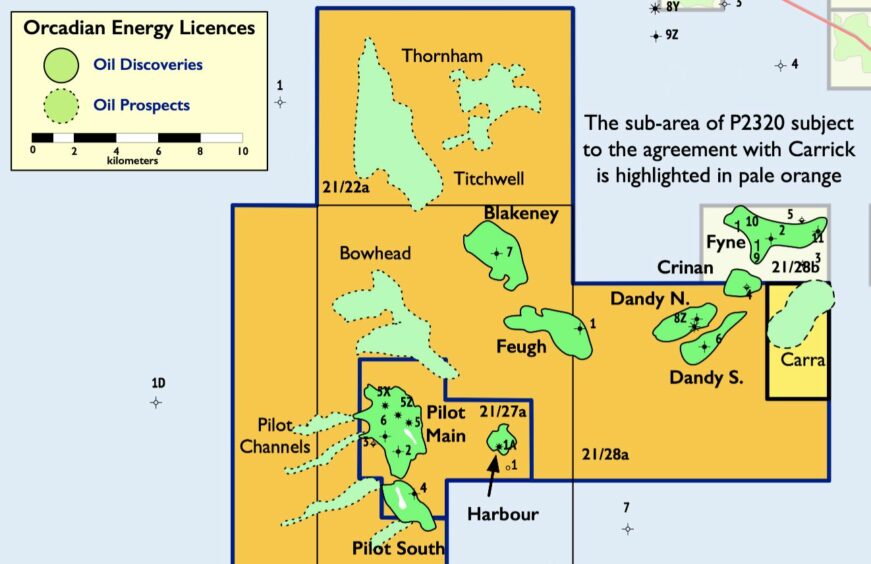 Orcadian Energy (LON: ORCA) has announced a deal to farm out the Carra prospect in the UK North Sea to Carrick Resources.
Carra, in licence P2320, contains recoverable prospective resources (P50) of 30million barrels of oil, according to Carrick.
The two companies are working towards a formal agreement before December 31, which would see Carrick take 50% of the Central North Sea licence which is wholly owned by Orcadian.
In return, Carrick will purchase new seismic data on Carra, work up the prospect to "drill-ready status" and execute a further farm-out.
Carra lies to the south of the Fyne field, which Carrick recently sold its 50% stake in to Rapid Oil Production, led by the former subsea president of TechnipFMC.
Rapid Oil said it hopes to bring the first phase of the 24 million-barrel Fyne field online next year through an extended test.
Orcadian Energy started life in 2014 as The Steam Oil Production Company, but is seeking to develop its flagship 100%-owned Pilot field using a polymer flood scheme.
Chief executive Steve Brown said: "We are delighted to be co-operating with Carrick to make the most of the exploration potential of our acreage.
"Progressing Pilot and the prospects close to Pilot is our main focus and partnering with Carrick to develop a drill-ready prospect on Carra means we will leave no stone unturned in our strategy to maximise value from our assets."
Carrick Resources has been contacted for comment.
Orcadian listed on the AIM earlier this year and is examining the potential for an FPSO on Pilot, which lies around 90 miles east of Aberdeen, with the aim of farming out in order to develop the project.
The firm's concept select report to the OGA has also pitched a floating offshore wind turbine at Pilot in order to power the development and reduce emissions.
Recommended for you

Orcadian agrees seven day extension with potential Pilot operator