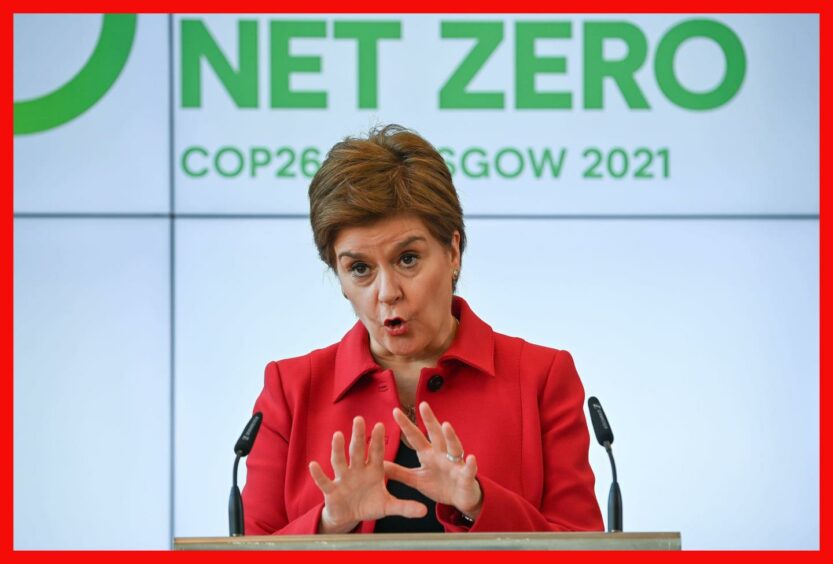 Nicola Sturgeon has said that unlimited recovery of oil and gas is "not sustainable" in keynote speech delivered in run-up to COP26.
In a speech delivered to students today at the University of Strathclyde, the First Minister said that the Scottish Government would no longer support unlimited recovery of hydrocarbons, including oil and gas.
The government has said that its focus "will now be on achieving the fastest possible just transition for the oil and gas sector."
In her speech, the First Minister said: "For countries like Scotland – with a significant and long established oil and gas industry – this is undoubtedly one of the most difficult issues we face as we tackle the climate emergency.
"Tens of thousands of jobs are dependent – currently – on oil and gas production. Those jobs and the people in them matter.
"And of course much of our energy use is still catered for by oil and gas.
"So for countries like ours – with significant remaining reserves of oil and gas – it is tempting to tell ourselves that for both economic and energy reasons, we must keep exploring for and extracting oil and gas until the last possible moment.
"That in my view would be fundamentally wrong."
Ms Sturgeon added that the treating oil and gas "as a safety net" would offer less motivation to speed up the development of alternative energy sources, re-training and delivery of a just transition.
To accelerate efforts, she said the government was developing a dedicated £500 million 'Just Transition' plan for the energy sector, with a particular focus on the north east of Scotland.
"Absolutely central to our work will be protecting and supporting those who currently work in oil and gas," the First Minster said. "We must recognise that those opportunities won't always be so obvious to those whose current jobs feel threatened."
Ms Sturgeon also recognised the role of carbon capture and storage but cautioned against its use as justification for maximised hydrocarbon recovery.  
"The fact is that CCS can help reduce emissions and capture carbon where we have no alternatives – but it does not, and must not mean that fossil fuel extraction in Scotland can continue without limit," the First Minister added.
Learn from "political mistakes"
Responding to the statement Oil & Gas UK (OGUK), the representative body for the UK's offshore oil and gas industry, said that it hoped that politicians "would learn from mistakes of the past" and deliver a fair oil and gas transition.
OGUK said the sector reaffirmed its commitment and central role in helping Scotland achieve its net zero emissions by 2045 target, whilst protecting energy security and the 71,500 jobs the sector supports for people across Scotland.
OGUK CEO Deirdre Michie added: "We need to learn from the political mistakes of the past and deliver a fair transition for the oil and gas sector that protects jobs, the economy and affordable energy while meeting our climate goals.
"The North Sea is a depleting resource which today only meets half of the country's oil and gas needs. No one in this industry wants to deliver more than what is actually needed. It would be helpful to hear more politicians acknowledge the reality that prematurely stopping production here wouldn't make a jot of difference to demand. The cliff edge transition proposed by a minority would see all of Scotland's oil and gas needs met by imports from other countries with no benefit to jobs, taxes paid or environmental accountability."
---
The First Minister's statement marks a shift in the SNP's position for much of the past decade. Potential revenues from Scotland's share of North Sea oil have been central to the party since the 1970s, and formed a key component of the 2014 campaign for independence.
In the run-up to the referendum in 2014, then-Finance Secretary John Swinney said the Scottish government's central prediction for oil and gas revenues suggested Scotland could earn up to £34.3 billion from North Sea revenues in the five years up to 2019. (At the time, the Office for Budget Responsibility (OBR) anticipated less than half that, at just under £15.8 billion).
The dramatic downturn in the price of oil meant North Sea revenues for the whole of the UK totaled just over £3 billion between 2015-20.
The most recent Government expenditure and revenue figures (known as GERS) showed Scotland's geographic share of North Sea revenue fell to £500 million in 2020-21, down from £800 million the previous year.
At a 2017 OGUK conference, Ms Sturgeon aligned her party's position with the principle of Maximising Economic Recovery (MER), stating that: "The North Sea will continue to produce oil for decades to come. It still contains up to 20 billion barrels of recoverable reserves. Our primary aim – and I want to underline and emphasis this – our primary aim is to maximise economic recovery of those reserves."
The MER UK Strategy, which also provided the guiding principles of the industry regulator, the Oil and Gas Authority, was revised in early 2021 to bring the industry in line with the UK's net zero by 2050 target.
But with the Scottish Greens now helping to set the policy agenda, and all eyes on Scotland for the COP26 conference, Ms Sturgeon has made clear that the Just Transition will be the the party's primary aim from now on.
---
OGUK said that oil and gas will continue to be part of a low-carbon energy mix, and that the recent North Sea Transition Deal provides a plan in place to help meet climate obligations and ensure energy security.
The speech follows similar warnings from OGUK in the wake of the political storm around approval of the Cambo project, west of Shetland.
Ms Michie wrote to the First Minister in August saying that "it is key that projects like Cambo proceed" and "further jobs will be lost in Scotland" if investment in oil and gas projects is stopped.
"Beyond oil and gas"
Meanwhile, climate campaigners welcomed the First Minister's speech.
Friends of the Earth Scotland's climate and energy campaigner, Caroline Rance, said: "This is a really significant shift from the Scottish Government to end their years of support for drilling every last drop of oil and gas. The First Minister said that Scotland must lead with actions not words, so this welcome change of heart must be followed with a change of policy that can truly take Scotland beyond oil and gas.
"The UK Government must follow Scotland's lead and now also use the moment of COP26 to end their legal backing for unlimited oil and gas extraction and its climate-wrecking consequences."
Ms Rance also called for the rejection of the Cambo field development, and for Ms Sturgeon to support a ban on all new oil and gas projects.
"Scotland must be careful and resist the oil and gas industry demands for carbon capture and storage which is a dangerous distraction from the necessary action to cut climate emissions from our energy sector and truly transition away from oil and gas throughout the crucial decade up to 2030," Ms Rance added.
Recommended for you

UK government says lack of supply flexibility could leave gas system "exposed"