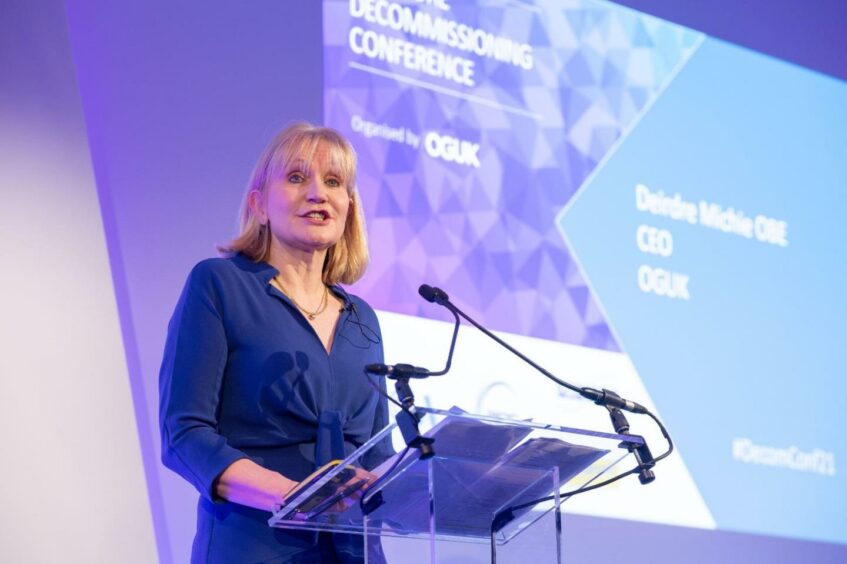 The chief executive of Oil and Gas UK (OGUK) has hit back at what she described as a "simplified but really polarised debate" that the industry found itself at the heart of during the COP26 climate summit.
Deirdre Michie said she was disappointed to find that there was "so much negative and often uninformed noise specifically directed towards our industry here in the UK", surrounding the landmark event.
Ms Michie, speaking at the opening session of the trade body's decommissioning conference in St Andrews on Tuesday, reflected on what she termed "significant challenges" to the existence of the sector in the run up to and during COP26.
"Personally, while I think COP26 did make some good progress, we all know there's much more to be done and we cannot let up in the months and years ahead," she said.
"Given that this is something that we in the UK are committed to supporting, it was actually really disappointing that outside of the conference there was so much negative and often uninformed noise specifically directed towards our industry here in the UK.
"Much, if not all, of that rhetoric failed to acknowledge that we in the UK are, in fact, a sector that recognises the issues that climate change is bringing and that we are changing and we are in action to help drive the Energy Transition and play our part in delivering the net zero goals of 2045 and 2050 in Scotland and the UK respectively."
'We do not greenwash and we are not subsidised'
Weeks around COP26 saw headlines ranging from the role of fossil fuel "lobbyists" being present at the conference, to discussion from First Minister Nicola Sturgeon considering joining an alliance to end drilling for oil and gas.
Ms Michie was also on a BBC panel event during the conference where was accused of uttering a "concatenation of greenwash".
It comes as a recent IEA report called for no new investment in fossil fuel projects, however OGUK argued that oil and gas would still be needed, albeit in a net zero context, for decades to come, citing the Committee on Climate Change's balanced net zero pathway.
The Oil and Gas Authority (OGA) industry regulator recently claimed that the North Sea could wind up by 2030 without new fields being sanctioned, while industry also argues the case for domestic supply instead of imported hydrocarbons.
Ms Michie said the industry aims to keep emotion out of it, however she took to a degree of sarcasm to illustrate a point.
"Not surprisingly I suppose, is we found ourselves the subject what was a simplified but really polarised debate where oil and gas is bad and green is good.
"When we say we are in action, well we're just greenwashing, aren't we? And did you know that we're underpinned by subisidies that sustain us?
"Let me be clear about the UK sector, I cannot speak for other basins, but here in the UK we do not greenwash and we are not subsidised to the tune of £4bn per annum as some allege.
"Indeed we are proud that we use facts and evidence to argue our case. And we do try to keep emotion out of it."
She then added: "If we do stop these new projects then, as per the OGA's report, the sector could be on course to wrap up production by 2030, which would certainly not be good for the economic wellbeing of the UK, Scotland, its communities and its workforce."