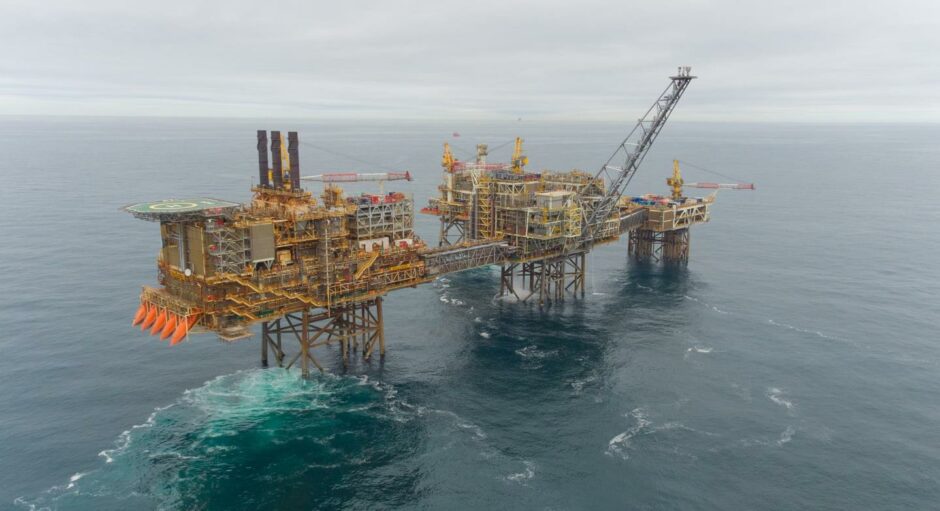 Production has kicked off at a major project designed to extend the life of one of the North Sea's largest producing fields.
CNOOC (TSX: CNU) has confirmed first oil from the £500million Buzzard Phase 2 development, located around 62 miles north-east of Aberdeen in average water depths of about 96 metres.
The second phase is forecast to reach its peak production of approximately 12,000 barrels of oil equivalent per day (boepd) next year.
It will take Buzzard's total production to 80,000 boepd in total, the Chinese operator said.
While fully using the existing facility, the project has also built a set of underwater production systems – two production wells and two water injection wells have been brought on stream.
Xia Qinglong, president of CNOOC, said, "We are very pleased with the commencement of production at Buzzard Phase 2.
"Constant development of the field will strongly promote the growth of the Company's overseas production in the future."
Originally pencilled in for the latter half of 2020, first production from Buzzard Phase 2 was delayed until this year due to Covid.
Emissions reduction options
The project start up comes amidst a growing drive within the UK oil and gas sector to slash operational emissions.
As set out in the landmark North Sea Transition Deal (NSTD), the sector is aiming to cut emissions by 50% by 2030.
Accordingly, CNOOC is progressing a "comprehensive range" of near and medium-term emissions reduction opportunities to help deliver on the target.
This includes investigating options to decarbonise Buzzard's electrical power by working collaboratively with other Outer Moray Firth (OMF) operators that form the OMF Electrification group, chaired by CNOOC.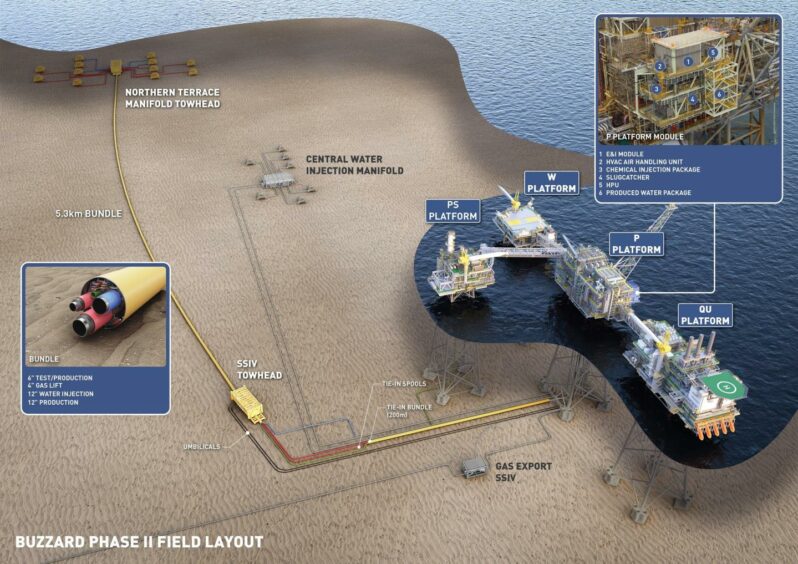 Scott Robertson, director of operations at industry regulator the Oil and Gas Authority, said: "CNOOC Europe and its partners deserve credit for delivering this project in the face of major challenges brought on by the Covid-19 pandemic and commodity price volatility.
"Buzzard Phase 2 is a great example of operators and suppliers collaborating on innovative and incentivised commercial models.
"The pursuit of value-adding contracting strategies in the early stages of projects is a pillar of the OGA's Supply Chain Action Plans and our new Supply Chain Stewardship Expectation, which outlines how companies should engage with the service sector."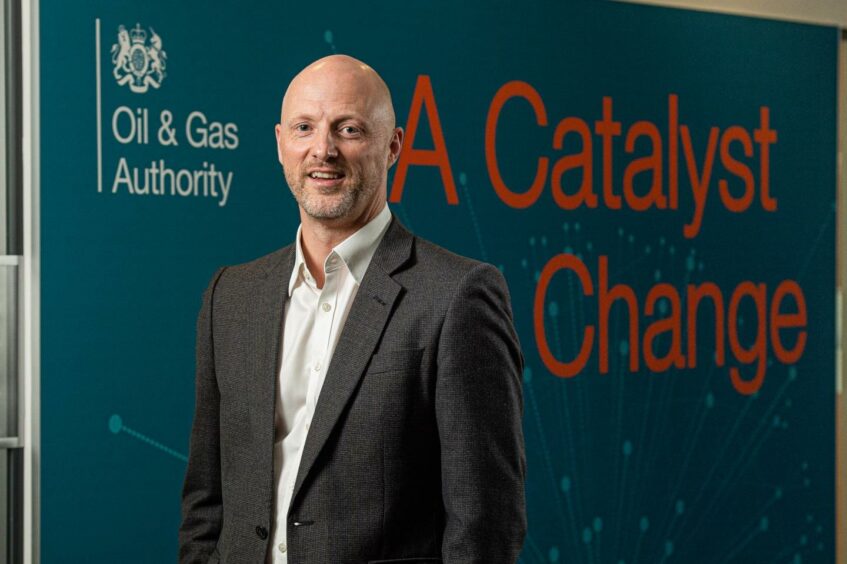 CNOOC said OPEX Group's Emissions.AI software application has been setup for use at the Buzzard, Golden Eagle and Scott assets.
It uses more than 12 months of historic data to identify areas in which offshore emissions can be lowered.
Craig Paveley, vice president, developments at CNOOC, said the company is "progressing significant emissions reduction opportunities" in order to deliver on the NSTD, as well as wider net zero targets.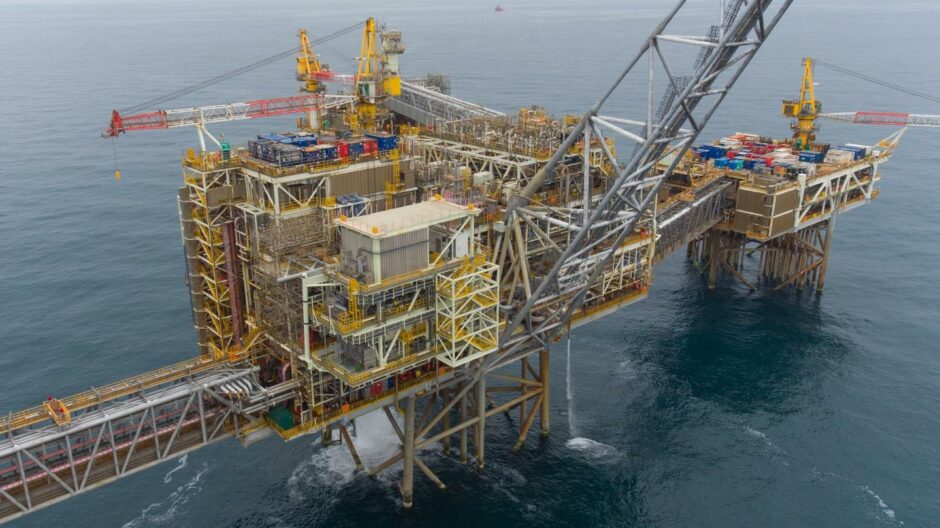 He added: "We are very pleased to have achieved first production from Buzzard Phase 2 safely, within the sanctioned budget and on the revised project schedule, which was significantly impacted by the COVID-19 pandemic.
"Buzzard has supported countless jobs from discovery to present day and continues to provide safe, secure and affordable energy for the UK."
2.6m work hours
CNOOC is the operator of the Buzzard field, which was discovered in 2001, with a 43.21% interest.
The rest is held by Suncor Energy (29.89%), Harbour Energy (21.73%) and ONE-Dyas (5.16%).
Buzzard produced first oil in 2007 and has, to date, produced more than 800m boe in less than 15 years – it is expected to continue producing beyond 2040.
It is understood Buzzard Phase 2 cost around £500 million, in line with CNOOC's estimate in 2017, when the project first sanctioned.
More than 2.6m work hours were executed on the project across numerous sites, ranging from the Buzzard asset to Subsea 7's fabrication base at Wester near Wick
Scott McGinigal, CNOOC's vice president of business services, said: "This was a large, complex project and achieving all of the major construction and commissioning scopes during the pandemic is testament to the hard work and collaboration with our supply chain partners and Buzzard co-venturers."
'Good news for jobs'
First production at Buzzard Phase 2 was toasted by Oil and Gas UK (OGUK) chief executive Deidre Michie, who hailed it as a key to ensuring the skills needed for the energy transition aren't lost.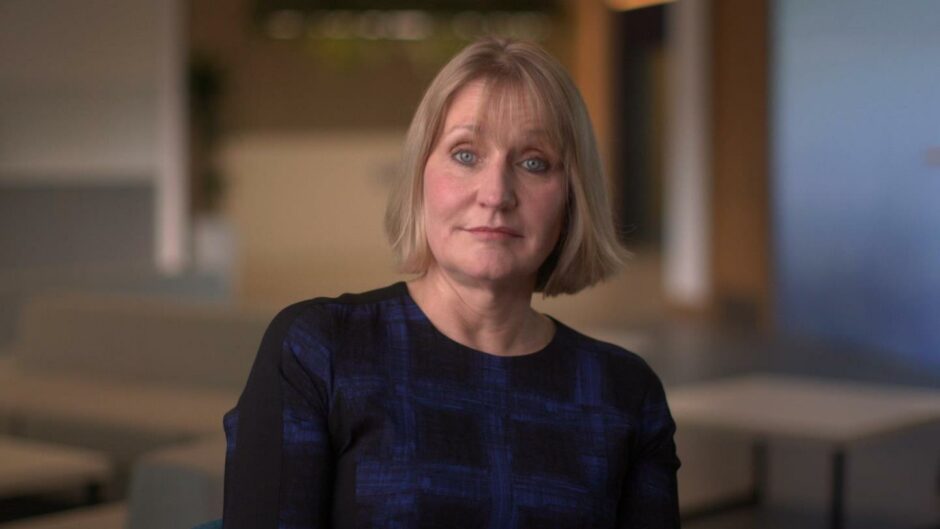 She said: "We welcome CNOOC Europe's announcement today that the Buzzard Phase 2 development has started production. This is good news for jobs, the economy and for the supply chain, especially after a challenging 18 months, largely due to the Covid pandemic.
"The development of fields like this are vitally important for the future of the industry, allowing us to maintain our security of supply while supporting energy communities across the UK, whilst remaining within the commitments industry has made to reduce emissions by 50% by 2030 and be net zero by 2050.
"As well as powering homes, schools, hospitals and workplaces, developments like this also mean we can retain the essential skills we'll need to service the greener energies we're also accelerating, like offshore wind, hydrogen and carbon capture."
Buzzard Phase 2 alliance
In order to deliver Buzzard Phase 2, CNOOC formed a project alliance featuring AGR Well Management, Baker Hughes, COSL Drilling Europe AS, Subsea 7 and Worley.
The alliance worked collaboratively to "minimise schedule and cost impacts", achieving first oil "ahead of the revised schedule and within the sanctioned budget".
A post-executive review to determine the overall success of the coalition will be carried out and it is expected to give a valuable insight into collaborative supply chain models for future projects.
Andrew Stannard, executive vice president UK, Med and Africa regions for AGR, said, "We are delighted to have been involved as part of the alliance. The AGR team have delivered their best experience and practice gathered throughout the company's 30 years' history and unrivalled track record of more than 550 wells.
"AGR's role as Well Engineering and Drilling Project Manager supported the alliance to complete the multiple subsea well campaign.
"I am really impressed to see how all different partners and disciplines came together as one to deliver such substantial project safely and cost effectively."
Steve Wisely, senior vice president, Subsea 7 UK & Global IRM, said: "Subsea 7 is proud to have played a key role in the BPII alliance and the successful delivery of this project. Congratulations and thank you to CNOOC Europe and our BPII alliance supply chain partners who we have worked closely with over the past four years. This again demonstrates how effective collaborative contracting models can be in delivering superior outcomes for every type of project."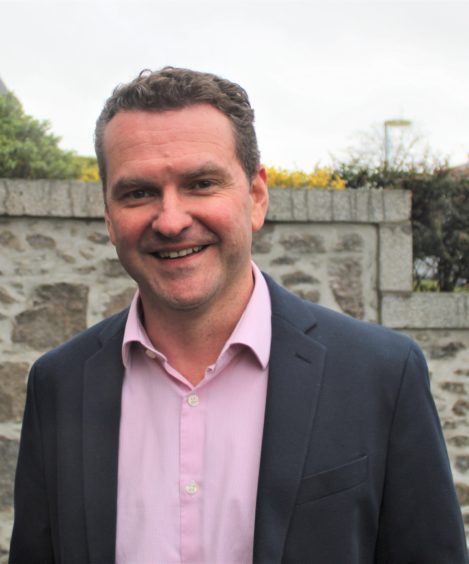 Daniel McAteer, vice president, Aberdeen operations, Worley, said, "The Buzzard Phase 2 development commencing production marks a symbolic milestone for CNOOC Petroleum and the BPII Alliance. It represents unity and defines that supply chain collaboration is paving the way for the future of our industry. Whether that be traditional brownfield scopes of work or partnering on new, innovative energy transition initiatives, we must work together to achieve our common goals."
Romain Chambault, vice president services and offshore, Europe and key accounts, Oilfield Equipment at Baker Hughes, said: "Baker Hughes has a long track record of successfully delivering complex projects, however we've also seen the challenges associated with projects of this scale.
"Working collaboratively with the other companies in this alliance has helped to safely and successfully deliver the Buzzard Phase II development and created a model we hope to see replicated across other major energy projects."
Recommended for you

Outgoing NSTA chief Andy Samuel reflects on UK's Great Energy Transition