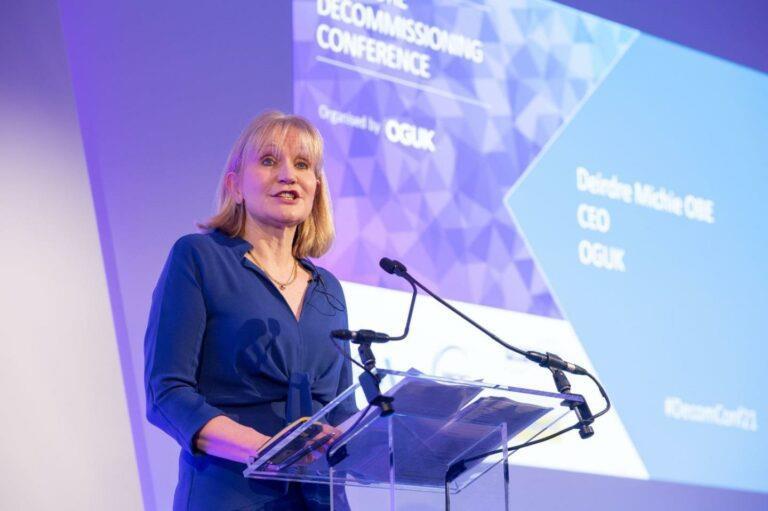 Between COP, Cambo and a host of other increasingly political issues around fossil fuels, EV puts it to Oil and Gas UK (OGUK) chief executive Deirdre Michie that the trade body's rhetoric to defend the sector has ramped up in recent months.
Pausing before her reply, she said: "I think our members…Our members are committed to the energy transition.
"You look around and see what they're trying to do. We're made up of people, of communities, citizens who also want to do the right thing.
"That commitment is genuine and I think when people don't perceive that to be genuine, or don't believe it's genuine, I think we feel that we need to push a bit harder. Because actually it is."
You might argue that, in a year of an energy price crisis, the trade body would not need to fight the case so strongly for having domestic supply of oil and gas.
Earlier this year Ms Michie was on the panel for BBC Debate Night where she performed well for what was ultimately a tough crowd.
The facts on emissions reductions and the implications for overseas imports were presented, the case for local jobs made, but the soundbite from a critic was "what a concatenation of greenwash that is".
Does that represent the views of the wider UK? OGUK doesn't think so.
"This is a minority of folk who are very noisy and we believe that the majority of folk recognise that there is an important role for us to play and are willing to speak with us about it", Ms Michie said.
"I think that polarisation of the debate, though, is a concern. Of course it's not just in our sector, everything seems a bit polarised at the moment, whatever argument we're having.
"So when I reflect back on debate night and I reflect on trying to put some facts into the room, there were some in the room who just weren't interested in hearing that.
"That's a challenge because you do want to come at this with the facts and the evidence. That's something we put the credibility of this organisation on the back of, although sometimes it might help to get a bit emotional in it but, no, we're going to stick to the facts."
'It'd be like if I was to give up synchronised swimming, which I currently don't do'
All eyes were on Scotland this year for the COP26 climate summit, with much made of the role of fossil fuels and whether the industry should be involved in any way.
OGUK did not have a formal role at the event, though colleagues were present in various capacities, Ms Michie said.
She added that oil and gas should have a seat at the table because, one way or another, the industry will play a role in getting countries around the world to their climate targets.
Amid the outcomes and announcements from COP26 were headlines specifically about the North Sea oil and gas industry, the OGUK heartland, from the Scottish Government. With the eyes of the world on Glasgow, discussion of Scottish independence once again bubbled to the surface.
During the opening days of the conference, Net Zero Secretary Michael Matheson was quoted as saying an independent Scotland would continue drilling for oil and gas.
Then, just eight days later, First Minister Nicola Sturgeon said Scotland is "considering joining" the Beyond Oil and Gas Alliance (BOGA), comprised of nations committed to ending drilling for fossil fuels.
This comes after the SNP entered into a cooperation agreement with the Scottish Greens. Energy also remains a UK reserved matter, though there would at least be symbolic significance to a BOGA move for Scotland.
An independent Scotland would continue drilling for oil and gas, says net zero secretary
For OGUK's part, Ms Michie quickly noted that Scotland has not actually joined BOGA and that announcements from the Scottish Government still show appreciation for the role of the industry in the energy transition.
She said: "I think we'd argue that when you look at the countries that have joined up with BOGA they actually don't have industries to speak of. When you look at Costa Rica (for example).
"So we're not comparing apples with apples here. We've got an industry with a significant footprint in the UK and in Scotland, significant jobs are supported, our security of energy supply is based on what we produce. Whereas these other countries have much higher levels of importing and don't have so much to give up in the same way as we do.
"It'd be a bit like if I was to give up synchronised swimming which I currently don't do."
The closest equivalent to the UK's sector is that of Norway. Ms Michie said the country is "fully behind their oil and gas industry as underpinning the energy transition".
She added: "We are always being held up to Norway as being the great place for oil and gas and the great place for the energy transition.
"Look at the statements of support from their Prime Minister. That gives people and companies confidence that that's an area where you can go and invest, where you want to do your oil and gas operations, where the people and the skills will then underpin the energy transition."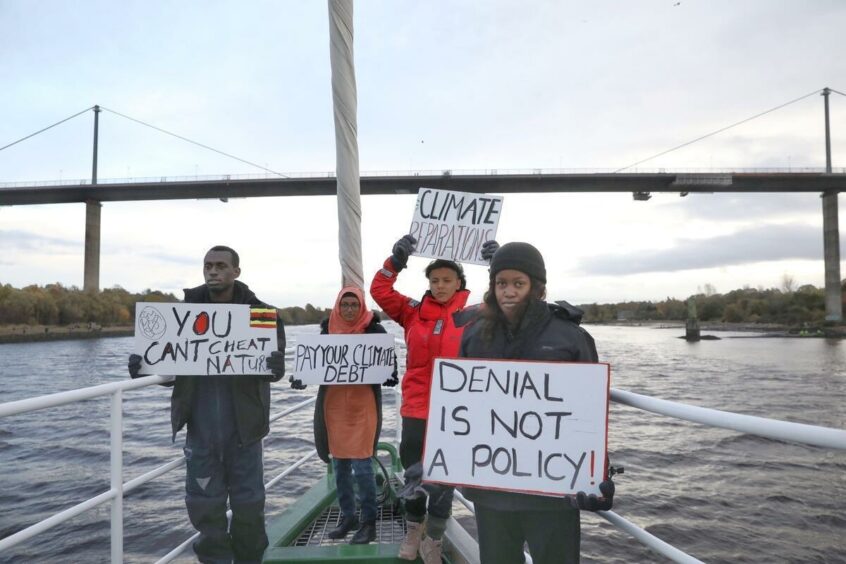 For the UK, Ms Michie also pointed to an Oil and Gas Authority (OGA) report earlier this year which suggested that North Sea production could rapidly tail off by 2030 without approval of new fields.
The regulator has new emissions targets, including a 50% reduction in emissions by 2030 for the sector, under the new North Sea Transition Deal, which all existing and new projects will be subjected to.
"As an industry, it is absolutely appropriate that we are subject to that robust review. On that basis, companies should be putting forward fields that can get through that process successfully.
"We don't have a problem with that."
Electrification of assets will have a big role to play in cutting emissions, as will the gradual decline of production, which OGUK sees as part of the reality of the profile of the North Sea.
But some platforms will simply not be viable for electrification and, as stated by CNR International and echoed by others at the St Andrews decommissioning conference in November, some platforms will see their cessation of production accelerated in order to meet the emissions targets.
Examples like this may suggest that net zero is overtaking the OGA's other agenda of maximising economic recovery (MER) from the North Sea.
On the potential for MER to be overtaken by net zero, Ms Michie said: "I think it is something we have to watch out for.
"What we're all keen on doing is ensuring the balance and that will be a challenge, I think, without a doubt.
"We all just have to work to ensure that we do deliver that balance."
Transitioning
Many supply chain companies and large operators are making moves in the energy transition space.
OGUK expects to see more traction for work in areas such as carbon capture and offshore wind over the next five to 10 years, illustrating the need to avoid a cliff-edge of shutting off oil and gas.
With so much going on in the energy transition space, is the trade body itself considering a rebrand to reflect the changing profile of the North Sea?
Ms Michie replied: "Yeah, because if you look at our members, when you look at the sector, things are changing so we need to move with that. It's something we are looking at.
"To be continued, shall we say."
Recommended for you

'Critical' years for rapid test and deployment of net zero technologies