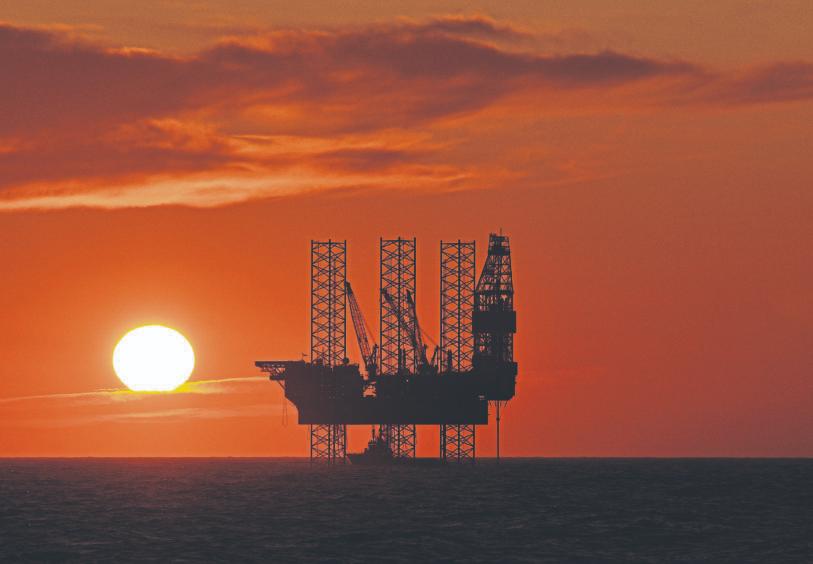 The Oil and Gas Authority's (OGA) Well Insight report says "significant opportunities" remain in the basin, despite rising abandonment and a COVID-related exploration slump.
The 2021 Well Insight report is the second published by the regulator, and aims to offer insight into the state of well activities across the UK Continental Shelf (UKCS).
The report shows that the number of exploration and appraisal (E&A) wells spudded has declined steadily to nine in 2020 – the lowest yearly total on record since the 1960s – from 29 in 2019. COVID-related disruptions also saw the cancellation and/or deferment of 10 wells planned last year.
However, success rates have improved, and over half a billion barrels of oil equivalent (boe) have been discovered in the past three years – including 125 million boe in 2018 and 243 million in 2019 – spurred by large, high-pressure high temperature (HPHT) discoveries in the central North Sea.
Indeed, from those nine wells in 2020, 212 million boe were discovered.
The OGA confirmed that the three-year total includes estimates for the UK's two largest discoveries in a decade – Glengorm and Glendronach – which have both seen resource downgrades since they were first appraised.
Costs too fell in 2020, as lower-risk, infrastructure-led exploration continues to be the dominant trend within the basin, and less challenging wells were drilled.
Meanwhile, an oversupplied rig market led to a drop in rig costs, with services and rentals forming the largest expense for E&A wells in 2020.
Development
A total of 73 new development wells were completed in 2020, down from a high of 106 the year before, when numerous multi-well campaigns were completed.
Total development drilling spend remained high in 2020 at over £2.1billion, largely because of the more complex developments, such as HPHT fields.
As of the end of 2020, only 51 wells were planned for 2021 or around half of those drilled in 2020. However, there is a forecast rebound in drilling activity with central North Sea and northern North Sea leading the way in the years following 2021.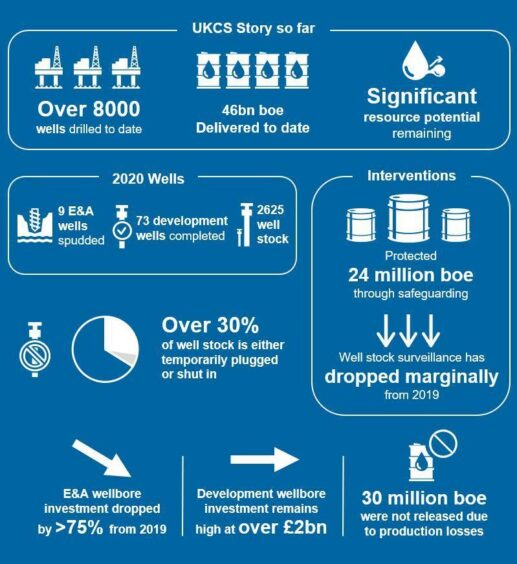 Well stocks
With a total of over 8,000 wellbores drilled so far on the UKCS , the active well stock (excluding those which have been permanently abandoned) comprises 2,625 wellbores, of which 1,736 are producing.
'Shut-in' wells have risen to total 717 – though the report notes some of these may still be valuable if production is restored.
Overall, UK well stocks remain flat, as new wells have been largely offset by those plugged and abandoned (P&A).
Well intervention rates also dropped slightly in 2020 to 22% of total well stock (25% in 2019). These lower rates may be explained by the impact of the pandemic which reduced offshore travel, but the OGA notes that there is clearly "greater potential" for operators to improve well production performance through interventions.
2020 also saw a drop in surveillance, with 608 activities during the year, 54 fewer than 2019. The report points out that just 23% of the well stock was surveyed at all – far below the 50% target recommended by the North Sea Transition Forum's Wells Task Force.
2021 and beyond
Looking to full-year 2021, the OGA expects 20 E&A wells to have been completed, with just shy of 50 per year anticipated in 2022 and 2023.
However, it recognises that much of this year's activity is the result of deferred activity from 2020, and that given the ongoing impact of the pandemic, the UKCS may still experience "a volatile crude price and restricted access to capital."
OGA head of technology Carlo Procaccini, noted: "The pandemic clearly affected industry's activity in 2020, but there are significant opportunities available to operators to improve production performance through more well interventions."
Recommended for you

Bristow Helicopters UK business narrows losses but total debt rockets to £1.68bn