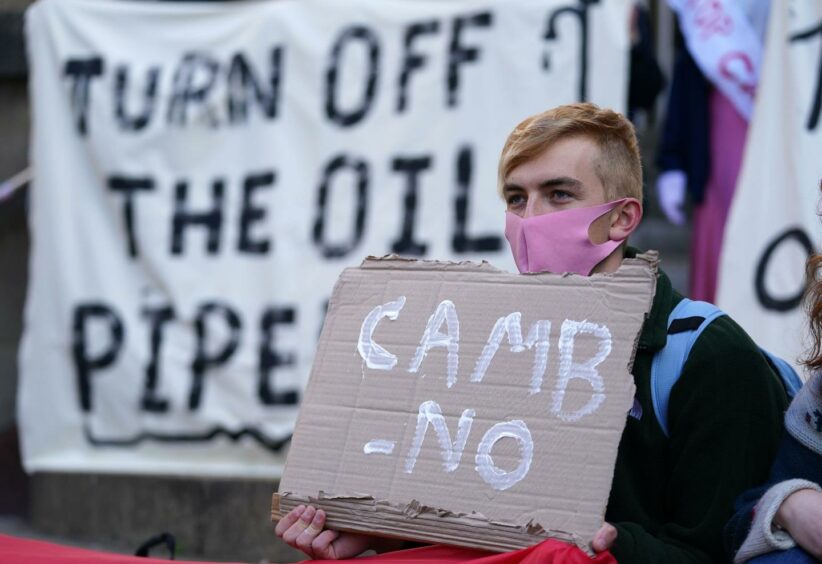 The decision by Shell not to invest in the Cambo project has been deemed a "huge blow" for the UK industry and the potential for emissions-busting technology in the West of Shetland.
"This is definitely a shock", said Yvonne Telford, senior analyst for north-west Europe at Westwood Global after Shell's announcement on Thursday evening.
"It creates uncertainty for future investments in developments in West of Shetland, and perhaps the wider UK Continental Shelf."
Shell, which holds a 30% stake in Cambo, said the "economic case for investment in the project is not strong enough," as well as citing potential for delays.
News came just hours after Oil and Gas UK told an industry event in Aberdeen that 70% of Scots are either agnostic or supportive of Cambo. Sustainability director Mike Tholen said he "look(s) forward to seeing Cambo invested in as the next step on that opportunity" as part of the energy transition.
Gneiss Energy described it as a "huge blow, not only for its partners in the project but for the whole of the UK North Sea".
"Whilst making a case that it was an economic decision, it does seem more likely to many external observers that Shell has bowed to political and societal pressure, particularly from those who have used the development decision on Cambo as a watershed moment for the debate in the UK," a spokesperson said.
"A complete reversal of their previous position has significant ramifications for the broader industry, who will be concerned that it may trigger a domino effect for future investment decisions."
Environmental campaigners have taken this decision as a key win, having campaigned amid COP26 to see Cambo rejected.
'I don't think this kills off the project'
The decision, though, had been expected to come from government and the Oil and Gas Authority (OGA) rather than Shell, who just six weeks ago cited the environmental and economic reasons for maintaining support for Cambo.
Although there is scepticism around whether this is an economic decision, rather than an environmental one, both are likely playing a hand.
Dave Moseley, vice president for North Sea research at Welligence, said that Cambo remains challenging and high cost, which doesn't fit perfectly with Shell's strategy.
"It appears that Shell's investment criteria has been revised, rather than there being significant changes in the robustness of the project, with Siccar Point seemingly remaining committed.
"In a global context, companies are increasingly cautious with regard to high cost developments with lower rates of return. The combination of this, and recent pressure from environmental lobbyists in the UK, makes the case for investment harder."
He added that Shell's exit provides an "opportunity for other companies" although the current climate "makes committing to larger, complex projects increasingly challenging".
That was echoed by his colleague Ruaraidh Montgomery, global head of upstream research, who said losing a technically astute partner like Shell is "definitely a blow" to Cambo, but "I don't think it kills off the project".
Mr Montgomery highlighted that the ultimate decision remains with the UK Government (albeit the OGA regulator has not commented).
"Given the controversy that has dogged this project for a long, long time, I wouldn't say I am shocked by this decision.
"Shell has this global portfolio of opportunities, for Shell it is a relatively small project in their global portfolio and Shell will just reallocate that capital elsewhere."
For Siccar Point's part, the private equity backed operator of Cambo said it would continue to engage with stakeholders and remained bullish about job prospects and the project's energy transition credentials.
Chief executive Jonathan Roger said Thursday that, while disappointed, his company remains "confident about the qualities of a project that will not only create over 1,000 direct jobs as well as thousands more in the supply chain, but also help ease the UK's transition to a low carbon future through responsibly produced domestic oil instead of becoming even more dependent on imports".
West of Shetland – electrification economics
Where the Shell Cambo decision may strike hard is on the potential to reduce emissions from huge existing projects in the West of Shetland.
The OGA is mandating, through the North Sea Transition Deal, that operators drastically reduce emissions, which many operators are pursuing through hub projects to electrify groups of oil and gas assets.
However, should the electrification-ready Cambo fail to proceed then it throws up questions about the economics of doing so for certain projects, such as BP's Clair field.
Ms Telford of Westwood Global said: "There are three offshore processing facilities in the West of Shetlands which are expected to produce well into the 2030s (this does not include the Laggan Tormore hub which is processed onshore in Shetland).
"Projects are ongoing to evaluate power from shore for these, as well as other options for alternative power supply, which included the future developments. Electrification of the basin will not be cheap, but the economics would be better if shared across a higher number of processing hubs and field owners – economies of scale.
"There is therefore a risk that without projects such as Cambo, Equinor's Rosebank and perhaps BP's Clair South, the economics for electrification (or similar) for the existing West of Shetland assets may not stack up and therefore could impact the longevity of these existing production hubs."
2022
As the future of Cambo hangs in the air, around 25miles to the north lies Rosebank, another substantial West of Shetland find, which is due for FID in 2022.
Analysts are slightly split on the sanction date (some expect it in 2023) but Equinor's own timeline is for a decision by May 2022, which is when the three Rosebank licences are due to expire.
Rosebank, deemed one of the largest undeveloped fields in UK waters, is targeting 300million barrels of oil equivalent and, given its similar profile to Cambo, will no doubt face similar scrutiny.
Equinor hopes to leverage its experience in projects like Johan Castberg in Norway and Bay du Nord in Canada to bring down the costs of Rosebank, previously estimated at £4.5billion.
The company also confirmed earlier this year that it is "fully engaged" in a study with Altera Infrastructure on potentially using the Knarr floating production, storage and offloading vessel (FPSO) for Rosebank.
Speaking before last week's Shell announcement, Paul Weidman, head of Oil & Gas at Gneiss Energy, said: "I think Cambo plays a hugely important role in those oil-slanted developments. Rosebank has been on the cards for…many years now.
"I think the outcome on Cambo will have a huge impact on where people devote time, resource and capital to progress these. If they say no to Cambo, why would they say yes to Rosebank? It doesn't make too much sense."
Nonetheless, a host of potential FIDs await which could bring an altogether "rosier picture" for 2022.
Mr Weidman added: "Next year there's a whole raft of potential FIDs and some of these are on very large fields. Apache has a few near-field discoveries it is looking to take FID on in the Beryl area. Spirit and Neptune have sorted their issues out on Pegasus, so that should happen.
"West of Shetland, you've got Glendronach which may make FID. Obviously (TotalEnergies) is looking to sell-down their stake which they've been trying to do for some time. And then there's BP Murloch field around ETAP, and we'll see what happens with Jackdaw.
"So I would say this year has been less than expected on the FID front but I think next year, particularly with gas prices where they are, I think everyone's expectation for long-term gas has moved up from 40-50p up to 60-plus pence, which makes a huge difference for a lot of these gas developments."
Start-ups
Moving to start-ups, Westwood predicted in the beginning of the year that up to 10 projects could begin in 2021, however that has not materialised for a host of reasons including changes to drilling schedules for smaller tie-back projects, which are easily moved.
Most of the fields expected to begin in 2022 are small, and Gneiss sees a relative "gulf" due to Covid-delayed FIDs, with a larger number of projects beginning production 2023 like Seagull, Tolmount East, and Avalon.
However one big arrival expected next year is the FPSO for the Shell Penguins field, with start up potentially following towards the end of the year.
On start-ups, Ms Telford of Westwood said: "Penguins at the very end of the year, Southwark, Catcher North and Laverda. They're very small apart from Penguins, and that's at the end of the year and subject to slippage.
"It depends on sailaway of that FPSO if it's January or March, if it's a good summer or a bad summer. If you've been up that east Shetland basin you know how windy it is…"
Recommended for you

2024: A lost year for North Sea FIDs?