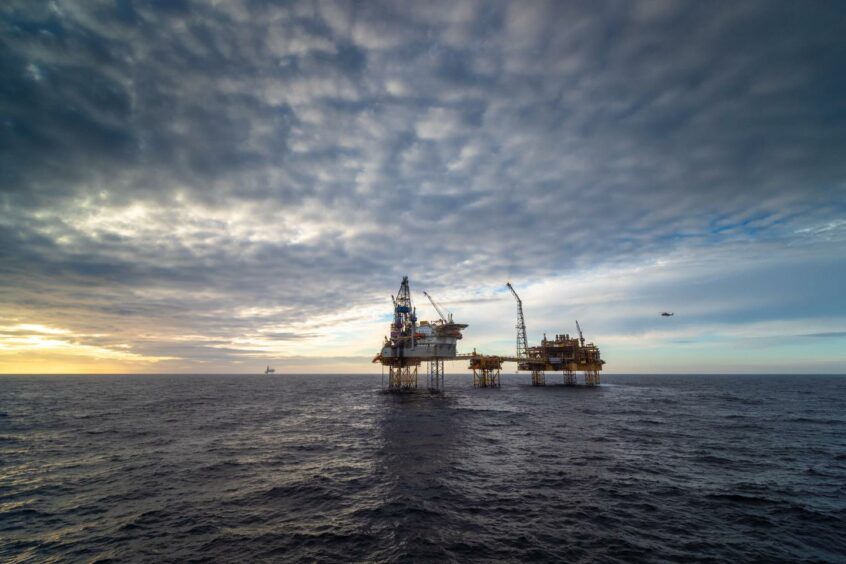 A consultation has been launched today on the design of a climate checkpoint that new North Sea oil and gas projects will have to meet in order to get approved.
Drawn up by the UK Government, the checkpoint will be carried out before each future offshore licensing process and is aimed at ensuring any new permits awarded are in keeping with the UK's climate change commitments.
The consultation, now open for views, sets out potential tests that could be used to assess new licenses.
That includes domestic demand for oil and gas, projected production levels, the increasing prevalence of clean technologies – such as carbon capture and hydrogen generation – and the sector's continued progress against emissions reduction targets.
It will close to submissions on February 28, 2022.
North Sea Transition Deal
A commitment to introduce a checkpoint was made as part of the North Sea Transition Deal (NSTD), a pact between industry and government signed off earlier this year.
It is intended to support the oil and gas sector to transition to a low carbon future, while also maintaining security of supply, supporting high-value jobs, and safeguarding the expertise necessary for the energy transition.
Westminster's energy and climate change minister Greg Hands said: "This new checkpoint will be key to our plans to support the oil and gas sector during its net zero transition. It helps safeguard the future of this vital UK industry as we create more opportunities for green jobs and investment across the country."
The launch of the consultation follows hot on the heels of a whirlwind last few weeks for oil and gas.
Cambo
Changes to the Cambo development have prompted numerous questions about the UK North Sea's attractiveness as a place to invest.
Earlier this month Shell announced it had pulled out of the controversial west of Shetland project citing economic reasoning, though some say public pressure also played a part.
A few days later, Cambo operator Siccar Point Energy opted to press pause on the scheme.
On whether new oilfields like Cambo would be green lit under the checkpoint, Mr Hands said: "This consultation and the climate compatibility checkpoint is within the NSTD, so in that sense this is not new.
"What we are launching is the consultation to work out the details and get voices and views from the industry on how the checkpoint might work.
"It would be too early to say what impact that might have on individual licences in the future, and on particular fields. What I can say in a general sense is that the UK Government remains very supportive of the sector, for near term gas needs in particular but also in making that transition."
Industry regulator the Oil and Gas Authority (OGA) recently promised to get tough in order to ensure the aims of the NSTD are delivered upon.
In an interview with Energy Voice, Scott Robertson, operations director at the organisation, underlined the importance of "compliance" amongst operators.
OGA chief executive Andy Samuel said: "We welcome the launch of this consultation. Alongside the net zero test the OGA is applying to our decisions such as field developments, these proposals recognise the important role of industry in helping meet the UK's energy needs while accelerating the energy transition to net zero."
More scrutiny for new fields
Interested parties, including oil and gas industry stakeholders, will get the chance to weigh in on the design of the new climate compatibility checkpoint.
Respondents are invited to give their views on the proposed principles, structure, and content of the checkpoint.
Using the feedback, the checkpoint will then be established as a new measure to assess potential future licences.
It will ensure any future licences are granted on the basis that they are compatible with the UK's goal to become net zero by 2050.
If the evidence suggests that a future licensing round would undermine progress towards that target, it would not go ahead, UK Government said.
The new checkpoint will add an additional layer of scrutiny to future licences, on top of the existing measures that already apply to UK oil and gas developments.
Operators currently have to adhere to regulations enforced by the Offshore Petroleum Regulator for Environment and Decommission (OPRED), as well as the net zero impact assessment carried out by the OGA as part of its consent process for new licences.
Malcolm Offord, UK Government minister for Scotland, said: "The UK Government fully supports the oil and gas industry in its transition away from fossil fuels to cleaner, greener energy sources, such as wind and tidal power.
"Until we have sufficient supply in those areas, maintaining a domestic supply of oil and gas – albeit reduced  –  will be necessary.
"We are working closely with the industry on the North Sea Transition Deal, and we are consulting to ensure this addresses climate concerns while protecting and creating jobs.
"It will all help us accelerate towards a fully green energy sector in line with the Prime Minister's 10 point plan and our robust 2050 net zero goals."
'Welcome transparency' for industry
The launch of the consultation was welcomed by Oil and Gas UK (OGUK), with the trade body describing it as "important" and "relevant" to many facets of the economy.
OGUK also said it would provide "welcome transparency", but stressed the need for the checkpoint to help maintain investor confidence in the UK North Sea.
Katy Heidendreich, OGUK supply chain & operations director, said: "Our sector strongly supports the UK Government's ambition to demonstrate international leadership in delivering a just transition to net zero emissions by 2050.
"The UK's domestic oil and gas industry has a critical role in maintaining the country's energy security, being a major contributor to our economy and the sector's skills, experience and investment will be key to delivering a successful energy transition at pace.
"Our industry welcomes the transparency that a checkpoint for future BEIS licensing decisions provides. It is vital that this checkpoint is robust and ensures that future licensing rounds are compatible with the UK's climate change ambitions, while maintaining investor confidence in the UK Continental Shelf."