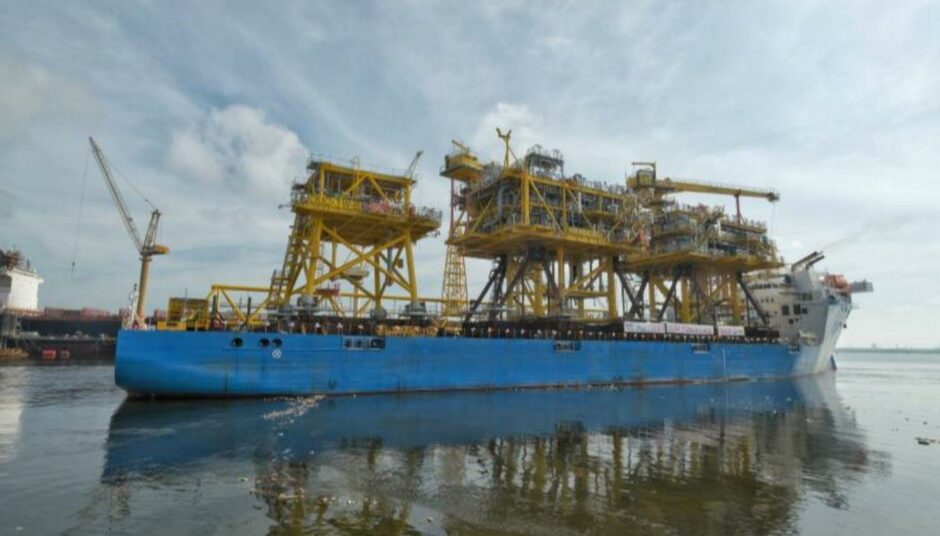 Three topsides bound for the Tyra West redevelopment in Denmark have sailed away from Sembcorp Marine's Singapore yard.
Norway-based project partner Noreco announced the successful delivery from yard and sail away of the three Tyra West wellhead and riser topsides, and two bridges, in a January 10 update.
The topsides, weighing a total of 3,485 tonnes, will now be transported to a site in the Netherlands by the heavy transport vessel Bigroll Beaufort, ahead of an expected installation window in April.
The facilities form part of a major redevelopment campaign at the Danish gas field overseen by the Danish Underground Consortium (DUC), a group comprised of TotalEnergies (43.2%), Noreco (36.8%) and Nordsofonden (20%).
Over $3bn in investment has been committed to the project – which involves both decommissioning old facilities and installing new ones – with the aim of extending the field's operational life by at least 25 years and producing more than 200million barrels of oil equivalent (boe).
The first set of new topsides were delivered and installed last summer.
Noreco acting managing director and CFO Euan Shirlaw said: "The sail away of the topsides is an important Tyra redevelopment milestone for us and it further progresses the project towards first gas in the middle of next year.
"Despite COVID-19 challenges, Sembcorp Marine has demonstrated strong and resilient performance by delivering the new topsides for Tyra – last year for Tyra East and today for Tyra West. With a timely sail away from the yard in Singapore, we are excited to welcome the new modules at the Tyra field later this year after a safe voyage."
Two further deliveries will be made later this year, with the arrival of the accommodation unit from Rosetti's Ravenna yard and the Tyra East G (TEG) natural gas processing topside from McDermott's Batam yard.
First gas from Tyra is now expected in Q2 2023.
In its update, Oslo-listed Noreco also announced renewal of its reserve-based lending facility, and its hedging policy.
As a result of the higher commodity prices in Q4 2021, Noreco said it had into fixed-price swap contracts for additional oil and gas volumes from 2022-24, hedging around 415,000 megwatt-hours (MWh) – roughly 245,000 boe – of gas in summer 2022 at an average price of €50/MWh and around 720,000 barrels of oil in 2023 and 2024 at prices from $65 to $71/barrel.
"By hedging, we seek to maximise pre-Tyra cashflow visibility with an approach that is also mindful of the prevailing market conditions. While this will continue, we do expect to increase our spot market exposure as Tyra first gas approaches in Q2 next year and beyond," Mr Shirlaw added.
The company also announced the appointment of Cathrine Torgersen as head of ESG, through her new role as EVP investor relations and ESG.
Recommended for you

Noreco cites 'outperformance' in Q3 despite minor loss