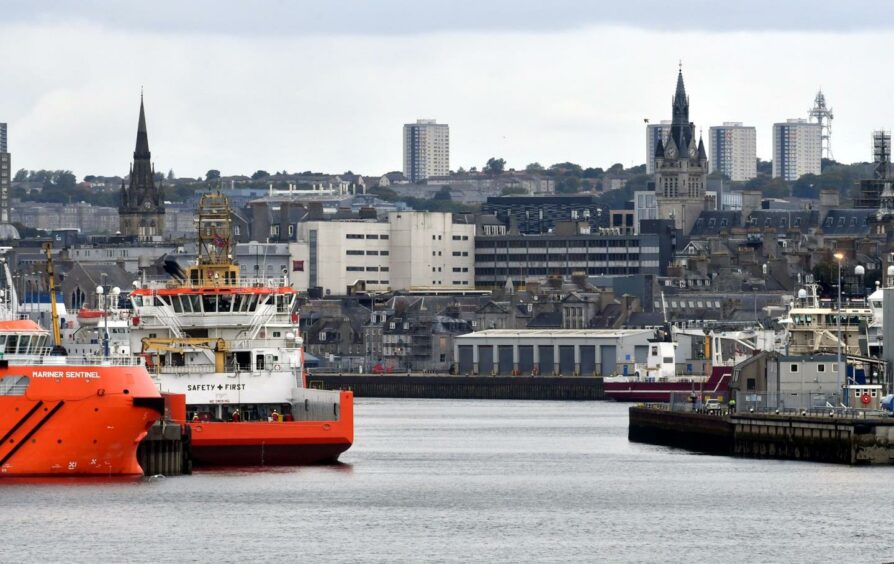 Following criticism in parliament the Scottish Government has replied to a letter from Aberdeen businesses which warned against creating a "hostile investment environment" for oil and gas, but recipients say it does not guarantee new exploration.
Dozens of north-east business leaders penned the open letter in December, warning that remarks calling for an end to oil and gas exploration in the North Sea "threatens future investment" and impacts jobs.
It was signed by 58 figures from the region's business and civic life including Aberdeen City and Aberdeenshire council leaders, Aberdeen and Grampian Chamber of Commerce (AGCC), oil and gas and renewables industry representatives and other private sector groups such as Aberdeen Football Club.
North east MSP Liam Kerr raised the issue again during Thursday's First Minister's Questions, claiming the group had not received a response.
He added that UK energy minister Greg Hands had replied to the same letter within four days, in which Mr Hands said the UK government would "continue to support the oil and gas sector as it transforms."
"When will the Scottish Government respond, or is the lack of a response further evidence of how far the north-east has fallen from its concern?" Mr Kerr asked.
Responding to Mr Kerr's question directly, First Minister Nicola Sturgeon said: "I think that everybody in the north-east would have preferred it if, rather than writing a letter, the UK Government had reversed its decision on carbon capture and storage and made the investment in Aberdeen and the north-east that people there want, which would support jobs and aid our transition to net zero."
The Scottish Cluster project, which includes the Acorn carbon capture scheme, was passed over by government for "Track 1" funding in November last year – a decision Ms Sturgeon later described as "inexplicable."
The co-signatories were later sent an official reply on Thursday afternoon.
47 days
AGCC policy director Ryan Crighton confirmed that after 47 days, and following Mr Kerr's question, it had received a response from the Scottish Government.
Signed by Cabinet Secretary for Net Zero, Energy and Transport, Michael Matheson, the reply notes that the sector "continues to play an important role not just in our economy but also our energy security."
"I firmly agree that we in government need to work with and support the oil & gas sector, to ensure that we are harnessing its strengths to meet our emissions reduction targets, and to secure the economic benefits that a just transition to net zero will bring," Mr Matheson wrote.
Mr Crighton said the reply "falls short of a commitment to future oil and gas exploration, which will be required, but acknowledges the vital role that the sector has to play in protecting the UK's energy security and supporting 70,000 jobs."
"We look forward to further dialogue with the government on this issue in the coming weeks."
"The energy transition opportunity for Aberdeen could in fact be bigger than the oil and gas industry – but to get there, we need strong leaders, ones who are willing to cut through the noise, see the big picture and get our transition steps in the right order to protect jobs, provide retraining opportunities and create new ones."
'Shaken investor confidence'
December's co-signed letter followed several high-profile spats over the continued role of North Sea oil and gas.
Scottish Greens co-leader Patrick Harvie was earlier quoted as saying that "only the hard right" continues to support new oil and gas extraction, leading to a backlash from industry and politicians.
The letter stated that "no one in denial about the direction of travel" to get to net zero, but said that the characterisation of "who's good, who's bad" was overly simplistic as the sector attempts to make a gradual transition while protecting jobs.
It said statements calling for a cliff-edge end to new exploration and production have "shaken investor confidence and placed tens of thousands of jobs at risk", adding that government "must avoid a repeat of what happened to our mining communities in the 1980s".
A Scottish Government spokesperson said Thursday evening: "We are clear that our focus must now be on achieving the fastest possible just transition for the oil and gas sector – one that delivers jobs and economic benefit, and also ensures our energy security and meets our climate obligations."
The government said its Just Transition Plan, developed as part of a refreshed Energy Strategy, would set out how the economic and social impacts of this transition will be managed.
"This will have co-design at its heart, meaning that, far from abandoning the oil and gas industry, those who stand to be most impacted by the transition to net zero are given a voice in determining their future."
"We are clear that the North Sea has a vibrant future in renewable energy, hydrogen, and carbon capture utilisation and storage.
"As the First Minister set out in the Chamber, an important way to support the north-east economy would be if the UK Government reversed its decision not to award Scottish Cluster carbon capture project clear and definitive Track-1 status."