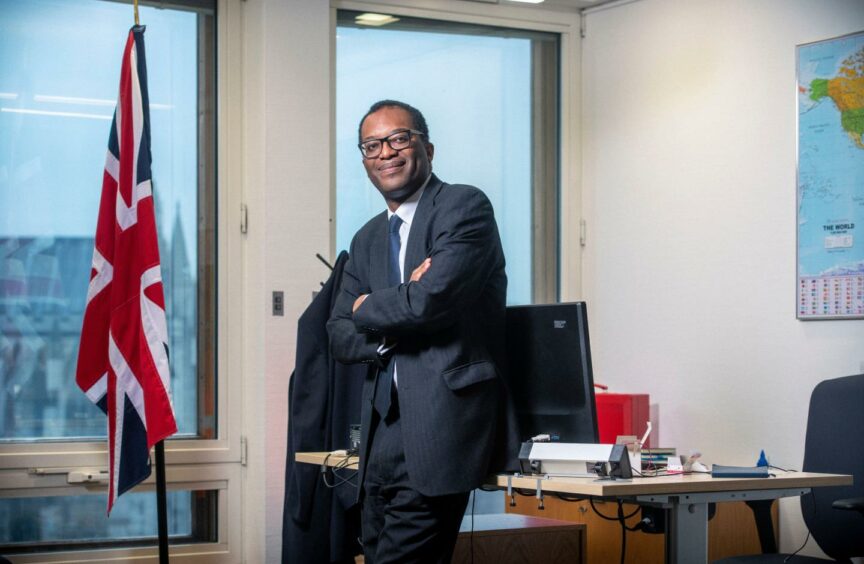 The UK's business and energy secretary has defended the role of the oil and gas industry in the transition to net zero.
Kwasi Kwarteng says the government cannot simply turn its back on the sector and the "250,000 people in this country" that rely upon it for work.
He also made the case for domestic supply, arguing that oil and gas produced in the North Sea is "much cleaner" than in other parts of the world.
While the industry has made progress on its commitment to transition, the environmental impact of burning oil and gas means some still regard it as the architect of climate change.
That has resulted in a steady rise in calls for Westminster to terminate North Sea production and prioritise green energy.
There are fears that doing so however would forego thousands of jobs and stifle the UK's efforts to create the technology needed for net zero.
And without addressing demand for oil and gas, it would also force a rise in imports, meaning the benefits of production would be offshored.
In a video shared on Twitter, Mr Kwarteng said: "You can't simply turn your back on an industry overnight. You can't simply flick it off like a light switch and then forget about it.
Turning off North Sea oil and gas would put energy security, British jobs and new industries at risk – and we'd just end up importing more from abroad

This has to be a transition, not extinction 👇🏾 pic.twitter.com/sSpVnaQAKf

— Kwasi Kwarteng (@KwasiKwarteng) February 9, 2022
"You've got 250,000 people in this country who work in the oil and gas sector and they have a livelihood. Beyond that, if we were to switch it off, we'd still import the stuff from around the world, which doesn't make any sense at all. Our system for producing oil and gas is much cleaner than in many other jurisdictions.
"The whole point is it's a transition; we're transitioning to net zero, not simply switching the light switch off of a very important industry."
The debate rumbles on
Though the pace of change may not be quick enough for some, many oil and gas companies have already made big strides to transform their operations.
Supermajors BP, Shell and TotalEnergies all secured leases in ScotWind, opening the door for them to build huge offshore wind farms in Scottish waters.
Other oil and gas companies, like Equinor, Eni and Neptune Energy, are involved in carbon capture and storage projects that will help to decarbonise hard to abate sectors.
On an oil and gas front, firms are working with the regulator to bring down the environmental footprint of producing fossil fuels through the likes of platform electricfication.
Nevertheless some regard these moves as a public relation stunt, and point to the sums that companies are still spending on their hydrocarbon operations.
The term 'greenwashing' has become ubiquitous in debate around the energy transition, with climate campaigners and politicians accusing North Sea companies of trying to shroud their true intentions.
Recommended for you

Offshore Energy industry and its role in security and a low carbon future