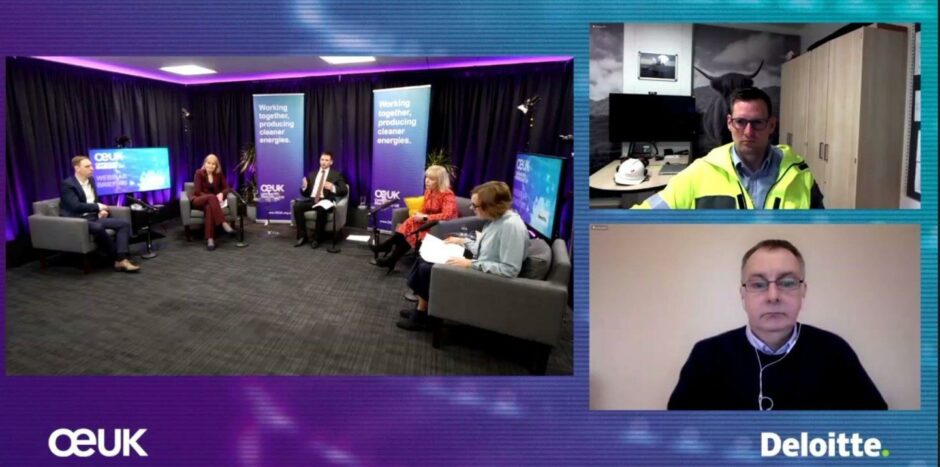 Offshore Energies UK (OEUK) chief executive Deirdre Michie says the trade body will champion an "inclusive future" as it enters a new dawn.
Formerly Oil and Gas UK (OGUK), the organisation officially adopted its new name on Monday after confirming the anticipated switch last month.
As OEUK, the North Sea body will widen its remit to include renewables technologies like carbon capture and storage (CCS), hydrogen and wind, on top of oil and gas.
To mark the rebrand the organisation hosted a virtual industry event on Wednesday morning.
Moderated by Energy Voice's Allister Thomas, it featured representatives from some of the North Sea's biggest players, including Equinor and Neptune Energy.
Ms Michie kicked off the session, reflecting on the rebrand and what it means for the trade body going forwards.
"As a member owned and member led organisation, we're championing an inclusive future, which recognises we need to use every tool at our disposal to provide energy security and tackle net zero," she said.
"It is a really exciting and positive move that can help us reach across the energy mix. We want to work collaboratively with stakeholders and other organisations so that together, we can tackle the challenging issues of our time."
In broadening its remit, OEUK now encompasses green energy sectors that are already covered by other trade bodies, like Scottish Renewables and Scottish Carbon Capture and Storage.
On how it will avoid treading on its contemporaries toes, Ms Michie said: "We're certainly looking to work very collaboratively with those other organisations and have been discussions with them already.
"There's an awful lot of work and opportunity out there; there's plenty for us all to be getting after."
Joining the session directly from the North Sea was Arne Gurtner, senior vice president UK & Ireland offshore at Equinor.
Equinor itself went through its own rebrand in 2018, changing its name from Statoil to reflect its transition to become a broad energy company.
Speaking from the Norwegian firm's Mariner platform, east of Shetland, Mr Gurtner said: "As we are evolving as a company, hand in hand with our supply chain, it makes perfect sense that OGUK evolves into OEUK.
"OGUK has been a real strong supporter of the industry through collaboration, advocacy and, not least, policy development. In my humble view, we need even more as that while we are diversifying our energy portfolios."
Another company that is working to add more strings to its bow is North Sea operator Neptune Energy.
In addition to its oil and gas activities, the company is developing innovative CCS and hydrogen projects, such as the DelpHYnus scheme.
Alexandra Thomas, managing director for Neptune in the UK, hailed OEUK's rebrand as an "acknowledgement" of all the decarbonisation activities going on in the sector.
She said: "It really underpins the contribution and full participation of the sector in the energy transition and the opportunities that holds."
Attendees also heard from John Underhill, the incoming director of Aberdeen University's Interdisciplinary Centre for Energy Transition.
He pondered the change in attitudes towards the oil and gas sector, saying that industry workers have gone from being heroes 50 years ago, "almost to zeroes" today.
But Mr Underhill is hopeful that the energy crisis that has gripped Europe could go some way to reversing that.
"If anything, the last few months and the challenges that we've seen in gas supply has led people to ponder and pause, to think about the relevance of the oil and gas industry and the North Sea and what it contributes in terms of security of supply," he said.
"It is a much more nuanced argument, and more people are becoming aware that the North Sea has a contribution to play. By extending its scope, I would say that OEUK is really well placed to represent the various parts of the sector and contribute to the solutions."
A key measure of success for the energy transition, and the companies delivering it, will be industry's ability to replace oil and gas jobs with new, low carbon ones.
Sian Lloyd Rees, managing director of Aker Offshore Wind UK and OEUK's supply chain champion, urged the sector to overcome the mind-set that transitioning employees increases costs.
She said: "There is a myth that needs to be busted – oil and gas people are too expensive and they're no use in the energy transition or other industries.
"This industry has been through so many ups and downs for a number of years. We're finding as we straddle both sectors there is no difference in price point, in capability or in training."
James Bream, chief executive of Katoni Engineering, also feels there's an opportunity for a "mind-set change" within the industry.
He said: "There has been so much work historically in oil and gas that maybe people have never had to lift their heads and think about it. A lot of smaller companies have said we can't move into other sectors, it's too difficult.
"I don't believe that; if people really want to get after it they can. Some of our engineers now are working on water and industrial projects, and it's the same skills that are required. People just need to think a bit differently and apply their skills in a different way."
Recommended for you

Labour's North Sea plan poses 'clear and present danger' to energy security