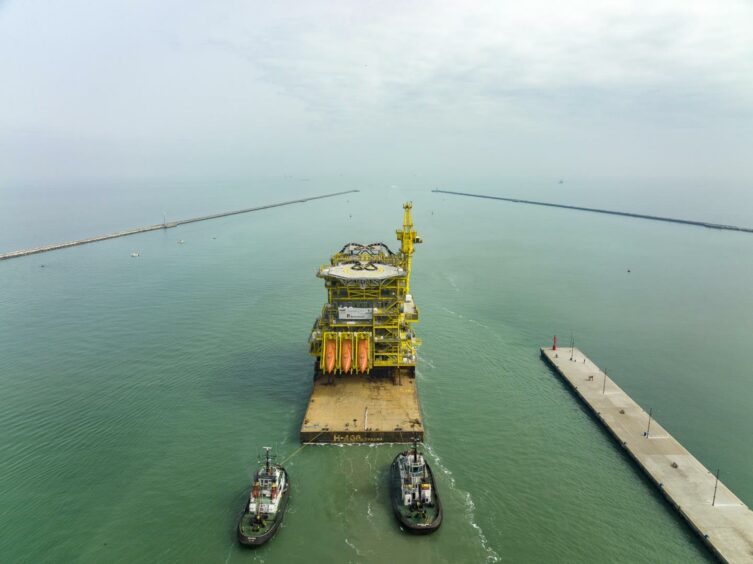 A new accommodation and utility module for Denmark's Tyra field redevelopment has sailed away from Rosetti's yard in Ravenna.
TotalEnergies and its Danish Underground Consortium partners Noreco and Nordsøfonde announced that the module had left the yard on Italy's east coast on Wednesday morning.
The unit was fabricated at the Piomboni yard by Rosetti Marino and TotalEnergies, taking some 2.8 million work hours to construct.
It left the site on Heerema Marine Contractors' Barge H-408, which will sail the 5,400-tonne facility to the Tyra field in the Danish North Sea.
The seven-level facilities feature utility and living quarters over seven levels, including a helideck, and an overall deck area of 3,500 square metres.
In addition to housing offshore crew, the unit also has a state-of-the-art control room, a water system turning sea water into potable water and all fire water and emergency power for Tyra II will be run from the unit.
Upon arrival at the Tyra field, the accommodation unit will be installed by the world's largest crane vessel, Sleipnir.
The utility and living quarters are one out of the five remaining modules – including the processing module and three Tyra West well head and riser modules – to be installed and powered up before the gas field is back onstream in 2023.
Meanwhile a trio of platforms are en route to nearby Tyra West from Singapore, having left Sembcorp Marine's yard in early January.
The redevelopment of Tyra is expected to deliver approximately 60,000 barrels of oil equivalent (boe) per day to Denmark.
"We are very proud to announce the completion- and sail away of the accommodation unit for Tyra II. Rosetti and TotalEnergies have fabricated what will be a modern and high-tech home away from home for the offshore crew and have also shown a strong performance by delivering high degree of completion with minimum carry-over and with zero accidents," said Noreco EVP for upstream Marianne Eide.
"The completion and sail-away of TEH is a key milestone as the DUC gets closer to a near-doubling of production with Tyra onstream from Q2 2023," added the company's acting managing director and CFO Euan Shirlaw.
"The reinvigorated facilities also provide modern infrastructure that will unlock the further development of the DUC's material discovered resource portfolio at a substantially lower emissions intensity. Tyra is a first step in unlocking a valuable and strategically important future for the DUC."
Recommended for you

Semco Maritime secures five-year contract with TotalEnergies in Danish North Sea