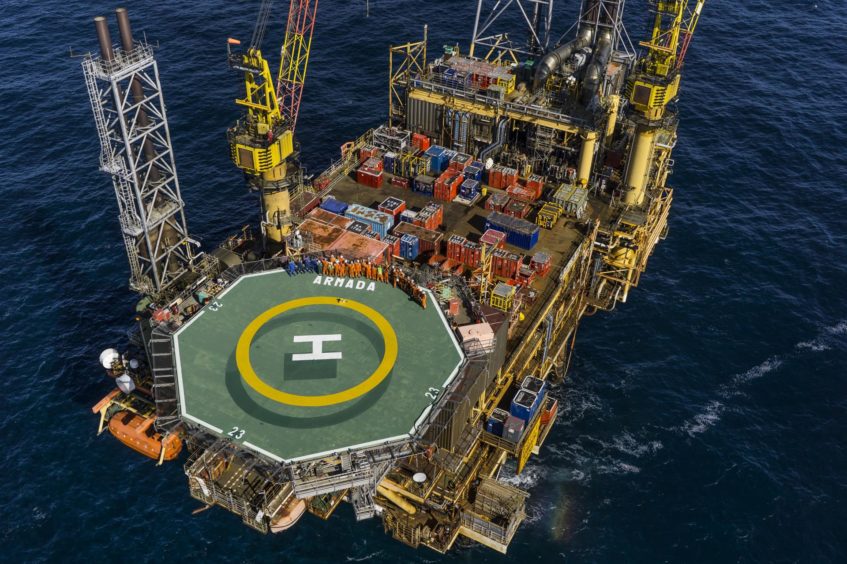 Harbour Energy posted pre-tax profits of $315 million (£239m) for full-year 2021, and expects a windfall of up to £1.3bn in free cashflow by the end of the year as higher commodity price prevail.
Releasing its annual results on Thursday, the London-listed independent noted a jump in revenue from $2.4 billion (£1.8bn) in 2020 to $3.6bn (£2.7bn) last year. Profit after tax was some $101 million, a significant improvement on $778m (£590m) losses in 2020.
Looking to its forecast for 2022, at average prices of $100/bbl for oil and 200p/therm for gas through the year, the group expects to generate between $1.5-1.7bn (£1.15-1.3bn) of free cash flow after tax "with the potential to be debt free in 2023."
Harbour said its improved results were driven by higher revenue and lower impairments, though these were offset by higher cost of sales and exploration and evaluation expenses.
Meanwhile, net debt rose by $700m to $2.3 billion (£1.8bn) at year end, mainly as a result of drawdown prior to its merger, Harbour said.
Production averaged 175,000 barrels of oil equivalent per day (boepd) in 2021, up slightly on the 173,000 boepd seen the year before.
However, Harbour is yet to announce first gas from its long-delayed Tolmount project in the southern North Sea.
The company said today that platform commissioning was "largely complete" and that start-up was "underway", although it now has just weeks to make its stated deadline of first gas within Q1 2022.
The company's 2P reserves increased to 488 million boe, representing 157% 2P reserves replacement. However, while the addition of Premier Oil's portfolio contributed to the boost, disappointing development drilling at Tolmount also resulted in a reserves downgrade last year.
Looking ahead to 2022, Harbour reported a "strong" balance sheet and expects production to rise by roughly 15% to 195-210,000 boepd, on the back of average production of 219,000 to the end of February.
It said the increase would be underpinned by a full year of production from the Premier portfolio and from Tolmount.
2021 saw successful drilling at Elgin Franklin, Everest and Beryl in the UK and Natuna Sea Block A in Indonesia, the company noted, while production in 2022 is expected to benefit from lower planned maintenance levels and contributions from new wells including at the J-Area and Catcher Area in the UK, and Chim Sao in Vietnam.
Its opex and total capex guidance remain unchanged at $15-16/boe and $1.3 billion (£1bn), respectively.
This expenditure will support a programme across its portfolio, including 23 infill and development wells and several well intervention campaigns. In addition, Harbour pointed to ongoing production and plant optimisation, including several compression projects and gas reinjection programmes, helping to underpin future production and offset natural decline.
The year will also see the company move forward without former Europe chief executive – and founder of predecessor Chrysaor – Phil Kirk, who stepped down at the end of February.
Commenting on the results, chief executive Linda Z Cook said: "2021 was a transformational year with completion of the merger, our third significant transaction since 2017. As a result, we became a public company with a global footprint and the largest London-listed independent oil and gas company.
"With our scale, our commitment to producing safely and responsibly, our robust balance sheet and track record of successful M&A, I believe we are well placed to deliver value creation, growth and shareholder returns."
The company's board has proposed a dividend of 11 cents per ordinary share, subject to shareholder approval at the AGM held on 11 May.
Directors also proposed a buy back programme of up to 15% of the company's issued ordinary share capital, authorisation for which will be put to a shareholder vote at the meeting.
Analyst reaction
An analyst note from Jeffries Group affirmed the company's strong production in the final quarter of the year, suggesting that Tolmount first gas "could be additive rather than just supportive."
Ashley Kelty, senior research analyst for oil and gas at Panmure Gordon noted that: "The start-up of Tolmount will help lift production and offer growth for the longer term.
However, he added that 2021 was "always a year of consolidation" for the company in the wake of the Premier Oil merger, and the recognition of the "assorted quality" of the latter's portfolio.
"While higher oil prices will help, there is little scope to significantly grow the business quickly as a lot of the assets are mature and declining fast," Mr Kelty added.