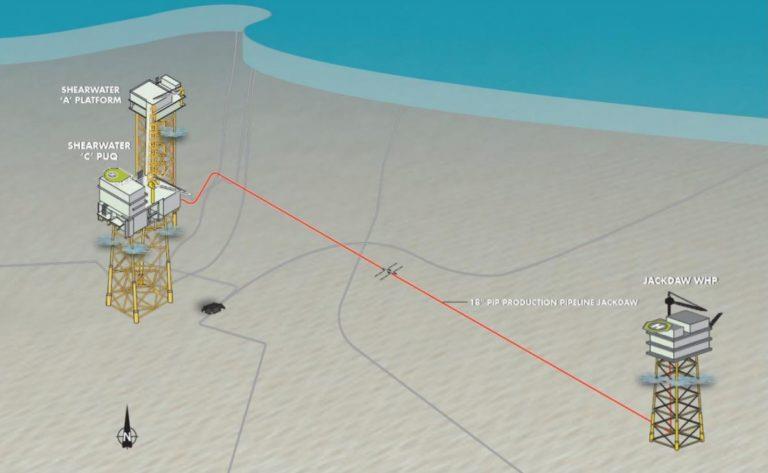 Shell has unveiled new plans in a bid to get its rejected Jackdaw gas field in the North Sea back on track.
The energy giant was prohibited by regulator OPRED to progress the project in October on environmental grounds.
However the supermajor has now submitted a new plan for Jackdaw, which it said could account for 6.5% of UK gas at its peak, with the aim of first production in Q3-Q4 2025.
Shell said the project would see £500 million spent in the UK.
It comes as Britain is seeking to use more domestic North Sea gas as it seeks to wean itself off Russian supply, and to try to help protect consumers from skyrocketing prices.
But environmental campaign group Uplift has argued that Jackdaw ultimately won't help households huge energy bill hikes in the coming months.
Shell was "disappointed" in October with the OPRED decision, which is understood to have been linked to Shell's plans to vent excess gas at Shearwater in order to reduce the corrosive CO2 content in the pipes, rather than bring it directly to shore via the slightly closer Judy platform.
OPRED had questioned why Shell hadn't opted to tie-back Jackdaw gas to the Judy installation operated by Harbour Energy.
Shell argues that the Judy option would "ultimately result in the same volume of CO2 emissions (offshore and onshore", however the long-term benefits of producing via Shearwater makes it the right decision.
Linked to that are plans to electrify the Shearwater hub in the central North Sea, reducing emissions, and to use the Acorn carbon capture and storage project at St Fergus in Aberdeenshire in order to sequester Shearwater emissions.
Shell said that investment in the project is only possible due to "integrated value chain benefits" such as on Shearwater export infrastructure and onshore processing facilities at St Fergus and Mossmorran.
No other hub could unlock this value, it said, adding that "the only realistic alternative to the extraction of Jackdaw gas via Shearwater is, in effect, not to extract the Jackdaw gas at all".
Shell is, however, now making adjustments to bring a higher percentage of gas to shore via Shearwater in order to meet the regulator's requirements.
'How does this help us now'
A 30-day consultation with OPRED is now underway and, should things proceed, it's understood a key final investment decision could follow within the next two to three months, though this depends on the timeline of other regulators such as the Oil and Gas Authority.
Environmental activist group Uplift said that, given the years ahead before Jackdaw reaches peak production, it won't benefit consumers.
Director Tessa Khan said: "How does this help us now, or the one in four people in this country who are going to struggle to pay their energy bill in the Autumn due to soaring gas prices.
"What use is a new gas supply that you can't afford, even if is produced in the UK?
"This isn't about our energy security, it's about Shell being able to continue to make vast profits."
A Shell spokesperson said: "Jackdaw is expected to produce 6.5% of the UK's North Sea gas – enough to heat 1.4 million homes – with operational emissions of less than 1% of the whole basin.  It would help secure fuel supplies that UK homes and businesses will still rely on for years, while Shell and others scale up low-carbon solutions of the future.
"These include a planned carbon capture and storage facility where Jackdaw's gas will come ashore. Being worth half a billion pounds to the UK supply chain, the Jackdaw project would bring significant economic benefits to the UK."
Jackdaw would be produced by a normally unmanned wellhead platform, with gas and condensate tied back to Shearwater.
Q3-Q4 2025 is a year later than previously planned for Jackdaw, with the shift due to its plans to address OPRED's concerns.
Part of Shell's argument is that Jackdaw could help meet the Committee on Climate Change's estimate that around 8.5 billion barrels of oil equivalent will be needed from the UK North Sea to meet demand, as set out in the CCC's Balanced Net Zero pathway to 2050.
Recommended for you

Shell kicks off drilling at Jackdaw field