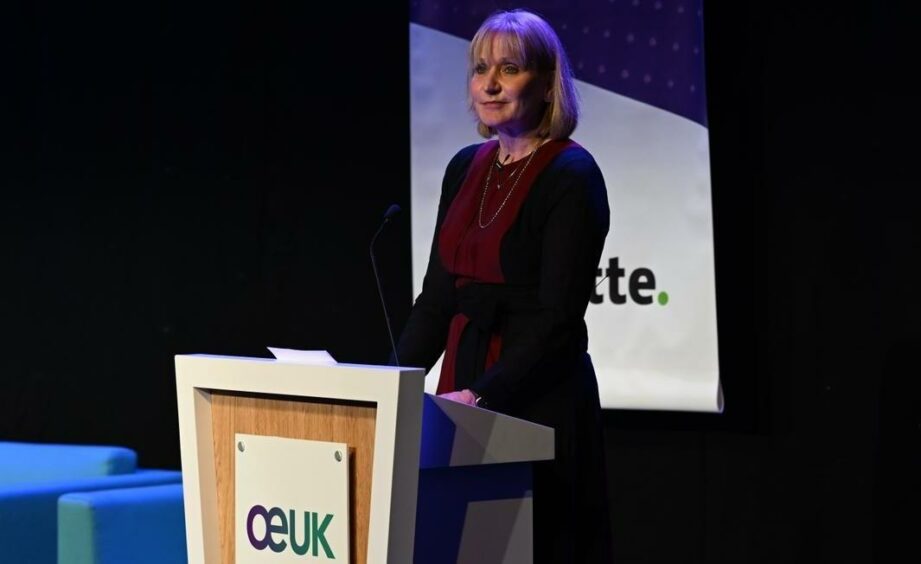 A senior oil and gas figure has stressed that "no one" in the sector "wants to benefit or profit" as households struggle to pay their energy bills.
Chief executive of Offshore Energies UK (OEUK) Deirdre Michie says the surge in commodity prices means industry has come under the spotlight for "all the wrong reasons" recently.
Speaking during the launch of the trade body's 2022 Business Outlook report in Aberdeen, she underlined the growing significance of domestic supply in easing the energy crisis following Russia's invasion of Ukraine.
As part of a wide range of sanctions, Westminster is trying to reduce the UK's exposure to Russian gas and oils, which accounts for 4% and more than 10% of supply respectively.
It has led to prices hitting levels not seen in years, fuelling an already growing cost-of-living crisis for millions of people.
In its Business Outlook report, it was revealed that gas imports from Norway to the UK topped domestic production in 2021.
In response OEUK called on its members to invest in the North Sea to raise production and shore up the UK's reserves.
Ms Michie said: "The world is changing fast and the events of the last few weeks have had a major global impact, on top of those ongoing effects we continue to see from the pandemic. So as we watch the geopolitical and humanitarian crisis unfold in eastern Europe, energy has come under the spotlight once again, and for all the wrong reasons.
"The volatility and escalation of the commodity price crisis is causing real harm to consumer and the economy, and no one in our sector wants to benefit or profit from such dreadful events.
"But given all that is going on, we do have a very important role to play because what is becoming clear is that energy security is indeed a matter of national security, and we can be a part of the solution, just as we were during the Covid crisis."
Scores of oil and gas companies have reported bumper profits in recent weeks off the back of the price increases.
It led to calls for the Chancellor to hit industry with a windfall tax to help households, though Rishi Sunak opted not to pursue the idea during his Spring Statement last week.
"He knows that we are already bringing in enhanced tax payments and he understands the benefits that increased investment will bring," Ms Michie told attendees at OEUK's first event since changing its name from Oil and Gas UK.
"The UK Government has absolutely rallied around the sector, and if we are to maintain this support we need to invest, and that means in oil and gas, carbon capture and storage, hydrogen and wind."
Ms Michie also reinforced the industry's full support for the sanctions enacted against the Kremlin by the UK Government.
She says OEUK "wholeheartedly condemns Putin's invasion" of Ukraine.
The trade body has formed a "cross industry resilience group" to help coordinate activities , specifically around humanitarian support.
Ms Michie said: "I know many companies here today are doing what they can to provide support to our colleagues in Ukrainian oil and gas companies."
Recommended for you

UK government plans new oil and gas 'price shock' tax mechanism post-EPL