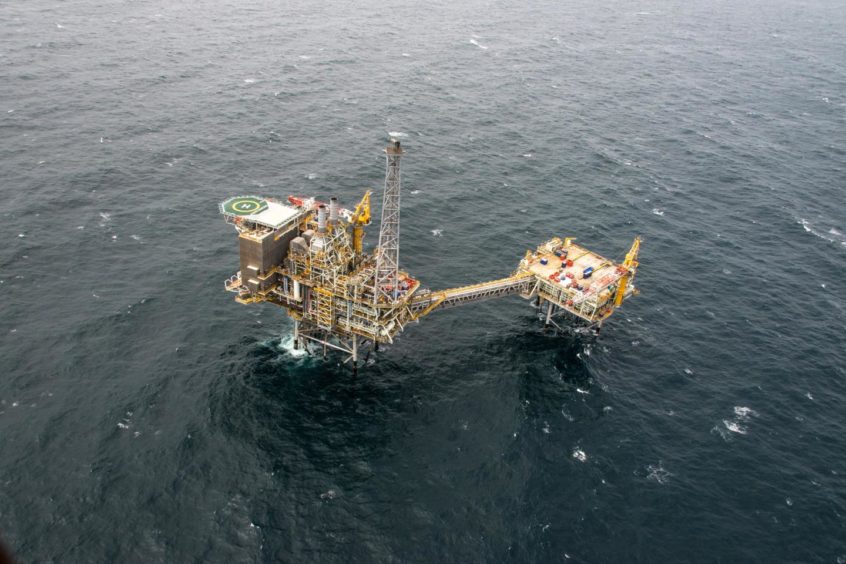 The North Sea's new class of operators could be poised to further strengthen their dominance in the basin with several major assets expected to hit the market.
Harbour Energy (LON: HBR), NEO Energy, Waldorf Production and Ithaca Energy have all been named as "likely bidders" for Cnooc's (TSX: CNU) UK portfolio by Welligence vice president Dave Moseley.
Reports emerged last week that the Chinese oil giant is carrying out a "strategic shift" of its operations that includes bowing out of the North Sea.
Bank of America has been picked to start preparing a formal sale of the company's UK assets in a deal that could be worth more than $3 billion, according to Reuters.
Big stakes in big fields
It means stakes in a number of North Sea fields could soon be up for grabs, including the giant Buzzard field.
Mr Moseley said: "With Cnooc and ONE-Dyas's interests in Buzzard (43.21% and 5.16% respectively) available as part of corporate plans for both to exit the North Sea, a material stake in one of the biggest producing fields in the UK is on the market.
"Cnooc is seeking to sell its UK portfolio, which along with Buzzard includes interests in the Golden Eagle, Scott and Telford fields, the recently downgraded Glengorm discovery and multiple exploration licences in the West of Shetland and central North Sea."
With oil prices at their highest level for years there is likely to be stiff competition for Cnooc's UK assets.
Multiple players in the mix
Harbour Energy already has a 21.73% stake in Buzzard – alongside Suncor Energy (29.89%) and ONE-Dyas (5.16%) – making it the "most obvious candidate", said Mr Moseley.
Similarly NEO holds almost a third (31.56%) of Golden Eagle – operator Cnooc (36.54%), EnQuest (26.69%) and and ONE-Dyas (5.21%) have the remaining shares.
Aberdeen-based Waldorf also recently acquired interests in Scott and Telford fields as part of its ongoing North Sea acquisition spree.
There existing activities mean NEO, Waldorf and Harbour Energy are all likely to be in the picture as and when Cnooc decides to sell up.
Mr Moseley said: "Likely bidders include Harbour Energy, NEO and Ithaca, which have all been growing aggressively in the North Sea.
"With Harbour Energy and NEO also holding interests in Buzzard and Golden Eagle respectively, these are arguably the most obvious candidates.
"Waldorf is another likely candidate. Its acquisition of MOL's UK portfolio included interests in Scott and Telford and a successful bid for CNOOC's portfolio would see it increase its interest to over 60% in Scott and over 80% in Telford.
"Suncor, whilst already a partner in Buzzard and Golden Eagle, may seek to grow further but its plans to exit Norway means it likely sees the UK as non-core in its global portfolio."
The trend continues
He added: "A sale of Cnooc's UK business would follow the exit by many of the Japanese companies, North American majors and utility companies in recent years.
"These have been replaced by a new group of North Sea-focused, largely PE-backed E&P's which have sought to maximize value from mature assets."
Another factor that plays into Cnooc's hands is that much of the animosity towards oil and gas that existed post-COP26 has thawed.
Cnooc at a 'crossroads'
With the war in Ukraine still raging, the focus for policy makers has shifted to energy security and how the North Sea can support that aim.
Neivan Boroujerdi, research director, North Sea upstream at research body Wood Mackenzie, says Cnooc has now reached a "crossroads", with its UK production base "now in decline".
He said: "With E&Ps riding high on current prices, it could be an opportune moment to sell even if price volatility is not necessarily conductive to deal making. The UK Government has softened its approach to industry and with a windfall tax seemingly off the table, the buyer pool will be attracted to what is a highly cash-generative business.
"Prospective acquirers are likely to come from the group of public and private equity-backed independents already active on the shelf. Existing operators may appear the most likely but the Cnooc team would bring knowledge and experience to a newer, non-op player looking for a platform for further growth.
"New private equity money is more of a wildcard, where the lack of certainty around exit routes muddies the value proposition."
Yvonne Telford, senior analyst at Westwood Global Energy Group, said: "The timing of the move is likely sparked by the potential to cash in on the assets, which will be perceived as quality opportunities in the UK, especially with elevated oil and gas prices. The strategy though is also driven by a shift to invest more in its domestic oil and gas activities to provide increased energy security to meet the steady growth in energy demand in China. Geopolitical tensions have added to the strategy shift, particularly the perceived risk of sanctions on CNOOC following Washington backlisting the company and the process to delist the company from the New York Stock Exchange begun on 26 February 2022.
"In the UK, CNOOC operates the Buzzard, Golden Eagle and Scott platforms and has a non-operated interest in Farragon. Westwood estimates 2022 production from the portfolio at c. 50,000 boepd. Since its global acquisition of Nexen for US$15.1 billion in 2013, when annual net production was c. 109,000 boepd, production has been in decline driven mainly by Buzzard. The lack of exploration success at Glengorm and the poorer results from the Buzzard Phase 2 development may have dampened CNOOC's appetite for continued investment in the UK. The company is having exploration success elsewhere globally, such as China and Africa, where there may also be lower political risks. For potential buyers, the CNOOC portfolio is likely to be attractive, with relatively high production from Buzzard and further infill opportunities at the Golden Eagle Area. The challenge in this volatile price environment though will be alignment of buyer and seller expectations for the package."
Recommended for you

NEO Energy: Profits and production surge at UK's fifth-largest producer