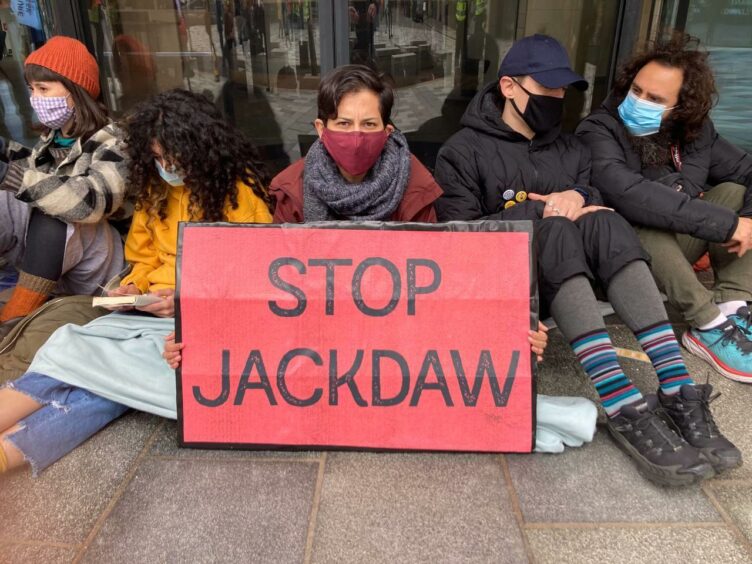 The group leading the charge against the controversial Cambo field has launched a new campaign targeted at Shell's Jackdaw gas field in the North Sea.
The campaign launch was marked with a rally outside UK government offices in Edinburgh on Wednesday afternoon.
The Stop Cambo campaign has been a focal point for action against the controversial oil field west of Shetland, backed by operator Siccar Point Energy and minority partner Shell.
Organisers have now turned attention to the Jackdaw gas field – 100% owned and operated by Shell – for which the supermajor is currently seeking approval from offshore regulators.
The gas condensate field lies some 155 miles east of Aberdeen and was discovered in 2005. It is estimated to hold reserves of between 120-250 million barrels of oil equivalent (boe).
🚨The UK is considering approval of Shell's new Jackdaw gas field🚨

Jackdaw won't lower bills or make our energy more secure. But it will produce pollution equal to half of Scotland's annual emissions.

This field can't go ahead. The fight to #StopJackdaw starts now ⤵️ pic.twitter.com/md6Cj008g7

— StopCambo (@StopCambo) April 13, 2022
Stop Jackdaw's organisers state that further fossil fuel developments "will keep us locked into the broken energy system that is failing both people and planet," and called on Prime Minister Boris Johnson to "reject Jackdaw and all new oil and gas fields."
"People power stopped the Cambo field and we have to repeat that success with Jackdaw," they said.
They argue that that new oil and gas developments will not bring down soaring household energy bills, and called for a "rapid scale up" of renewable power, warmer homes and a just transition for workers and communities reliant on oil and gas.
However industry proponents said that protestors' plans, while well-intentioned, would result in higher emissions and reduce the UK's energy security.
Revised plans
Shell was prohibited by the Offshore Petroleum Regulator for Environment and Decommissioning (OPRED) to progress the project last October on environmental grounds. In its correspondence, OPRED questioned why Shell hadn't opted to tie-back the field to the Judy installation operated by Harbour Energy.
However, last month the supermajor submitted new plans, with the aim of first production in Q3-Q4 2025.
Moreover, Jackdaw was named in reports suggesting the government would look to fast track key developments this year amid a drive for greater energy independence.
A Shell spokesperson said: "Jackdaw is expected to produce 6.5% of the UK's North Sea gas – enough to heat 1.4 million homes – with operational emissions of less than 1% of the whole basin.  It would help secure fuel supplies that UK homes and businesses will still rely on for years, while Shell and others scale up low-carbon solutions of the future. These include a planned carbon capture and storage facility where Jackdaw's gas will come ashore.
"More widely, we are planning to invest £20-25 billion in the UK energy system over the next decade – more than 75% of this will be in low and zero-carbon, including offshore wind, hydrogen and electric mobility."
It has previously said the project would see £500 million spent in the UK and, at peak, output from the project could account for around 6.5% of UK gas supplies.
The North Sea produces enough gas to meet just under 40% of the UK's demand, with the remainder sourced from imports.
The Stop Jackdaw campaign argued that burning gas reserves from Jackdaw would create pollution equal to half the annual emissions of Scotland.
Responding to the campaign launch Deirdre Michie, chief executive of trade body Offshore Energies UK, said: "Offshore energy companies like Shell are the driving force behind the UK's race to net zero, rolling out renewable energy projects in wind, hydrogen and more every week. But we can't make a switch to renewables overnight – nearly 75% of the UK's energy needs last year were met by oil and gas. So at a time of national and international crisis, new projects like Jackdaw and others are all key to safeguarding this country's energy security.
"While well-intentioned, campaigns to stop domestic production would actually result in increased global emissions, as the UK would simply ship in the oil and gas it needs from other countries, at a greater carbon footprint. That would be more damaging to the environment and more threatening to our energy security. What sense does that make?"
Stop Cambo organisers claimed a major victory when Shell announced in December that it would not invest in the project.
However, the oil giant still holds its 30% stake in the development, while the acquisition of Siccar Point by Ithaca Energy last week may provide new impetus to push the field through.
A government consultation on whether or not to approve plans for Jackdaw runs until 18 April 2022.
Recommended for you

North Sea firms relinquish swathes of licences to NSTA regulator